Women's Ministry is Broken
Women's Ministry is Broken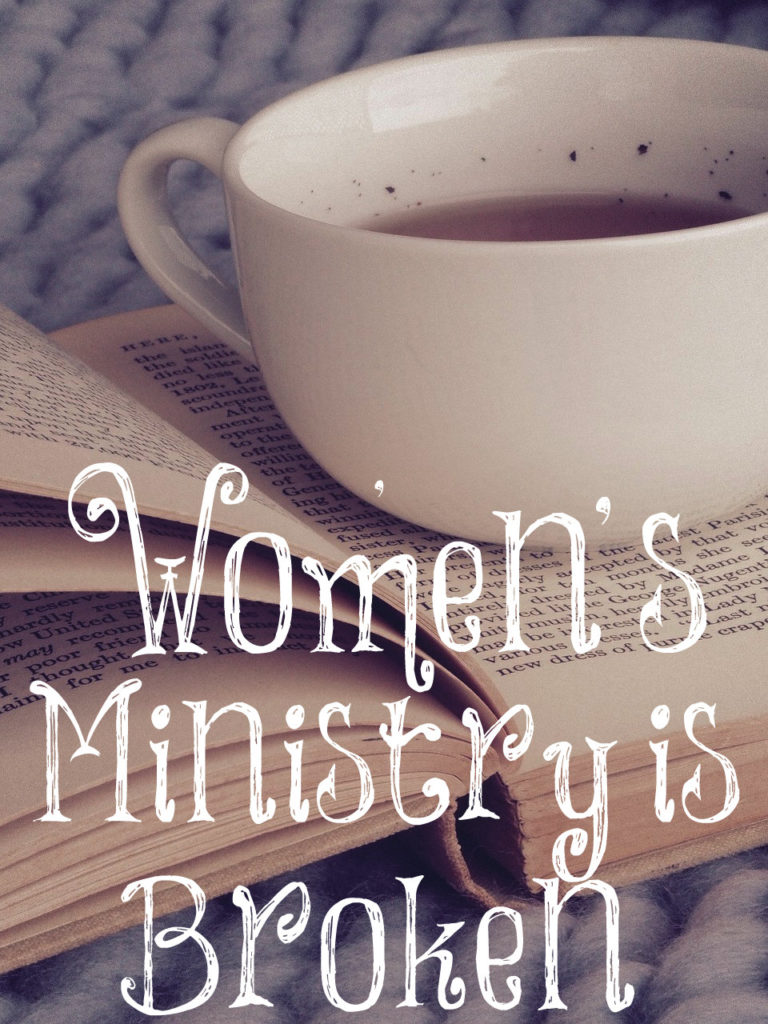 Written By Robert Truelove
The truth of the matter is we are all unprofitable servants, even when we are faithful to the master.
So likewise ye, when ye shall have done all those things which are commanded you, say, We are unprofitable servants: we have done that which was our duty to do.
—Luke 17:10
Jesus wants us to be faithful to our calling and humbly acknowledge that we are just doing what we are supposed to do. Herein is the problem that plagues the typical evangelical woman. She doesn't know what her calling is, she is subsequently discouraged, and lives an unfulfilling life.
To address this problem we have the never ending series of "women's ministries." Women flock to these "ministries" in the hopes of gaining some sort of "breakthrough." They are taught their purpose can be realized by either starting their own "women's ministry" or working within one already established.
The entire paradigm of the "women's ministry" is broken. It's a vicious cycle. Women are trapped in the lies of feminism and find their Christian lives to be unfulfilling. They seek answers from a "women's ministry" and are ultimately taught they will find fulfillment by involving themselves in "women's ministry." This doesn't address the calling of the Christian woman and further obscures it.
But are not the mature women to "teach the young women" (Titus 2:4)? Oh yes, certainly…and here we find an answer when we look at the context…
The aged women likewise, that they be in behaviour as becometh holiness, not false accusers, not given to much wine, teachers of good things; that they may teach the young women to be sober, to love their husbands, to love their children, to be discreet, chaste, keepers at home, good, obedient to their own husbands, that the word of God be not blasphemed.
—Titus 2:3-5
A Christian woman should be taught to find her calling first and foremost IN HER HOME. The domestic duties of the home are her sphere of Christian leadership, for she is to be a "keeper of the home." Her first ministry is to her husband and children as she loves and serves them as a Christian wife and mother. This is WHO the Christian woman ought to be!
This is the comprehensive witness of the Scriptures.
When a Christian woman seeks to "find herself" outside of the home, it is not piety but rebellion. Such women make poor wives and mothers but it doesn't have to be that way.
Christian women who lay hold of their calling by faith, believing in God's role for them, discover their purpose. Contentment and fulfillment will follow.
Strength and honour are her clothing;
and she shall rejoice in time to come.
—Proverbs 31:25
(Of course, Robert received MANY angry comments to this post, so he wrote the following in response because of course, the Proverbs 31 woman had a career, said many!)
I don't think Proverbs 31 works as a good proof to encourage women to work outside of the home however. All of the things mentioned are part of the fulfillment of her domestic duties (which are quite extensive). It also speaks of the incredible competency of the godly woman.
That said, I realize there are many women, married and single who have to work outside the home. I'm sure this was a reality in the 1st century as well. Does this then negate the calling of women to the home?
What about single women? I was not particularly addressing single women nor do I feel that I need to qualify every iota since the Bible addresses this subject in the same way without stopping to qualify. See Titus 2:3-5…all young women aren't married with children are they? Did Paul find it necessary to stop and qualify what he meant?
The reality is, the Bible is very controversial on this subject today because it speaks very plainly to it and the world hates it. I refuse to qualify it to the point it no longer means what it clearly means which is precisely what is being done today.
That wives are to submit to their husbands…somehow today means she has total veto power over all decisions.
Wives are to be the keeper of the home…somehow now means train as a young woman for a career, marry, and share the keeping of the home with the husband.
There is numerous absurdities like this being passed off under Biblical language. You're not going see me doing that (by God's grace I trust).
In the context of church history, it is an indictment to how off kilter our generation is that a post such as this would be considered highly inflammatory. I could post some citations from some of the most well respected pastors and theologians from church history on this subject that would make my post appear to be most gentle by comparison.
I will therefore that the younger women marry, bear children, guide the house, give none occasion to the adversary to speak reproachfully.
1 Timothy 5:14