Why Organic Food is So Expensive
Why Organic Food is So Expensive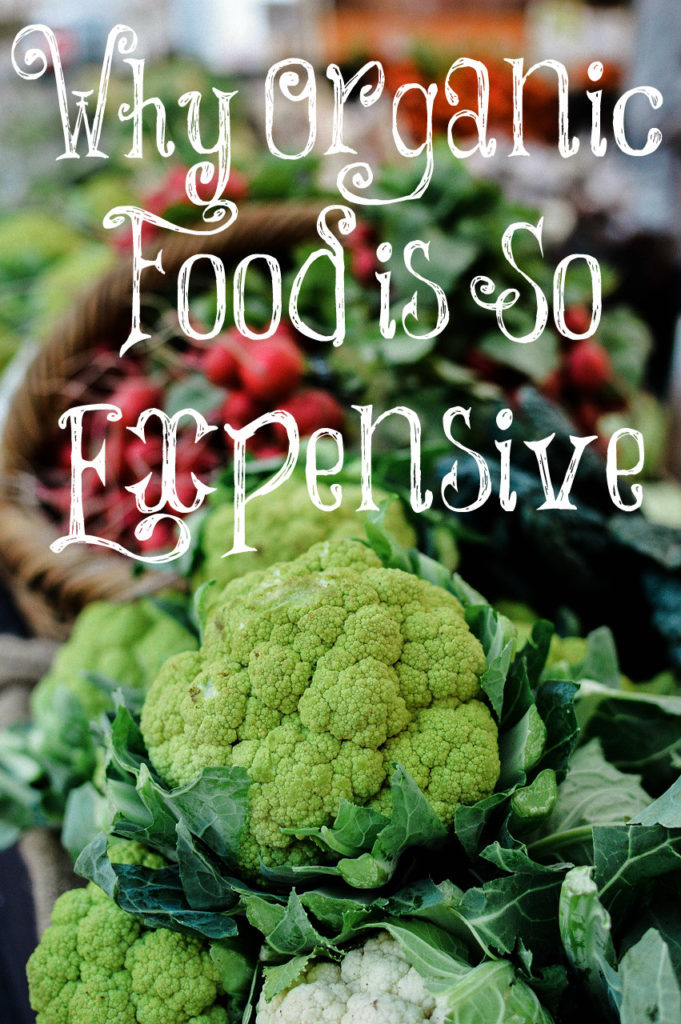 My mom fed us organic foods since the time I was five years old. I mostly eat organic foods and fed it to my children when they were growing up. Yes, it's more expensive but I don't want all of the toxic chemicals sprayed on foods that are conventionally grown.
I have been reading a book called "The Dirty Life: A Memoir of Farming, Food, and Love" by Kristin Kimball. Someone recommended it on one of the blogs I follow. It's not a Christian book. She's a feminist and they lived together before marriage. She didn't want to take her husband's last name since she liked her last name and none of her married friends took their husband's last name. Her husband told her he would take her last name then because he didn't want their children to have hyphened last names. (It shows the sorry state of today's feminized culture.)
After they married, she wanted a break from her husband and went to Maui for a job but while there, she figured this out: "It wasn't Mark or the farm or marriage I was trying to shake loose from but my own imperfect self, and even if I kept moving, she would dog me all the way around the world, forever." So she went home.
They fought often about ways to do things on the farm even though he had farmed for many years and she had only been a city, career woman up until they met. It clearly shows the trouble when there is no leader or head. She finally realized another great truth after her time in Maui: "Without me to struggle against, without the constant chaos of our first growing season, without the pressure of our impending wedding, he seemed to have found his own steady rhythm. I worked my way into it, looking for the harmony this time, instead of conflict."
This book is about a couple who decided they wanted to farm without any chemicals (toxic or  non-toxic) and grow almost all of their own food. They wanted to be able to sell the food year round to families so it's quite an adventure that they took upon themselves. Their lives are difficult but rewarding. She learned to love it!
There are a few things that I want to point out from this book. The first one being God's curse to man after the Fall. "And unto Adam he said, Because thou hast hearkened unto the voice of thy wife, and hast eaten of the tree, of which I commanded thee, saying, Thou shalt not eat of it: cursed is the ground for thy sake; in sorrow shalt thou eat of it all the days of thy life; Thorns also and thistles shall it bring forth to thee; and thou shalt eat the herb of the field; In the sweat of thy face shalt thou eat bread, till thou return unto the ground; for out of it wast thou taken: for dust thou art, and unto dust shalt thou return" (Genesis 3:19).
Now, read what she wrote about organic farming: "My existence, from daybreak to dark, became focused on the assassination of weeds. Before that first year, I'd filed 'agriculture,' in the card catalog of my head, in the same general place as 'nature.' As in many things, I was so wrong. Farming, I discovered, is a great and ongoing war. The farmers are continually fighting to keep nature behind the hedgerow, and nature is continually fighting to overtake the field. Inside the ramparts are the sativas, the cultivated plants, soft and vulnerable, too highbred and civilized for fighting. Aligned with nature, there are the weeds, tough foot soldiers, evolved for battle."
Then she wrote why organic food is more expensive than conventionally grown food: "If you ever wonder why organic vegetables cost more, blame the weeds. The work on a conventional farm that can be done with one pass of the sprayer must, on an organic farm, be done continually, from germination to harvest, by physically disrupting the weeds." It's a lot easier to spray crops with a bunch of toxic chemicals that kill weeds than it is to deal with the weeds without the chemicals which this couple and many other organic farmers do. Organic farmers take on God's curse and conventional farmers have learned how to avoid it with great cost to the health of many.
This couple's cows grazed on clover and grass in the warmer weather and on hay (that they had made) during the cold months instead of on GMO corn like conventional cows are fed today. All of their animals ate the foods they were created to eat, thus the eggs and meat they provided were nutritious and building up of one's health instead of tearing it down.
The toxic chemicals that conventional farmers use aren't only killing the weeds. They are killing the worms which make the soil rich and full of nutrients and the crops soak up the toxic chemicals that people eat. The chemicals are killing our bees which are essential and they are polluting our environment. Then we wonder why cancer rates are so high today.
I shop at a locally owned health food store. All of their produce is organic and marked with labels that tell where and how far away the food was produced so we are getting food that isn't sprayed with chemicals and is freshly picked. Along with eating organic foods, I have learned to make Einkorn Sourdough bread, kefir, fermented vegetables, and chicken broth. None of these things are very expensive but it's worth it to do what I can for good health then leave the rest in the Lord's hands. Man cannot improve upon food the way God created it to be eaten.
And God said, Behold, I have given you every herb bearing seed, which is upon the face of all the earth, and every tree, in the which is the fruit of a tree yielding seed; to you it shall be for meat.
Genesis 1:29
Every moving thing that liveth shall be meat for you; even as the green herb have I given you all things.
Genesis 9:3