Working Mothers are Better for Their Children?
Working Mothers are Better for Their Children?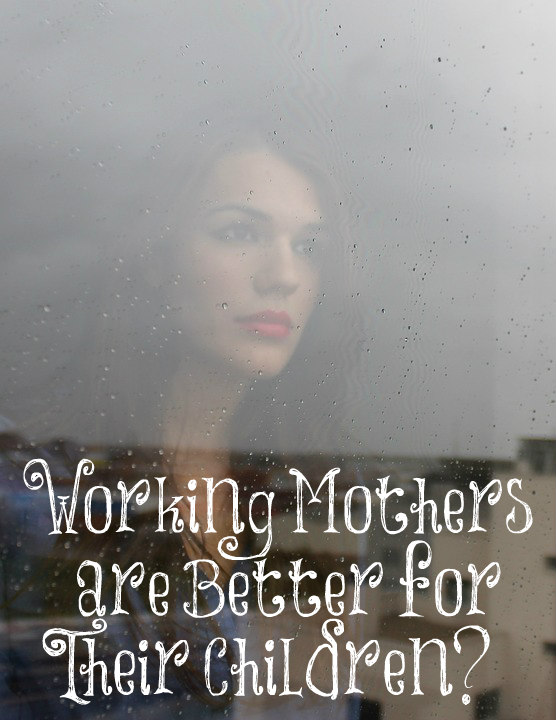 Women have told me that they are better mothers because they work away from their homes and children. Other women have told me their mothers were better mothers because they worked away from their homes. Could this be true? It is only true if the mothers are abusive and/or neglectful but others than this, no, these are lies they are telling themselves to justify working outside of the home.
God commands mothers be home full time with their children. He wants them to love their children, nurture their children, raise them in the nurture and the admonition of the Lord, protect their children, and discipline them. These are the mothers' responsibility and no one else. No one can take the place of a mother in a child's life. No one can love them like a mother. Children need and want their mothers.
Child care workers can't do all of these things that mothers are called to do. Public and private school teachers can't do it either. They shouldn't be expected to do it. God has given mothers these responsibilities.
Yes, some mothers must work: single mothers, divorced mothers, widowed mothers. But they still need to do whatever they can to petition the Lord to make a way for them to be home full time with their children. The children need them just as much as any other children need their mothers. Never underestimate the power of prayer to God Almighty. He wants you home full time with your children, and He tells us that His commands are not burdensome.
When women work outside of the home, something always suffers and it's usually more than one thing. Since they are being paid and working for a boss, most of their time and energy goes to making sure they are doing a good job at work so they won't be fired. They come home exhausted and give the leftovers to their children. They rarely have anything to give to their husbands. I know. I worked full time for the first two years of my oldest child's life.
We weren't created to be help meets to a boss. We were created to be help meets to our husbands. Yes, some husbands require their wives to work. They fail to see the advantage to having their wives at home. In this case, take it to the Lord daily and ask that He convict and change your husband's mind.
Instead of making up lies about what is best for your children in order to justify your choices, search out God's Word and make your choices by this. There's only one Truth in this world and it's God's Truth. His ways are perfect, women! Our culture's ways are destructive.
He maketh the barren woman to keep house, and to be a joyful mother of children. Praise ye the LORD.
Psalm 113:9