Modesty Matters to Our Holy Lord
Modesty Matters to Our Holy Lord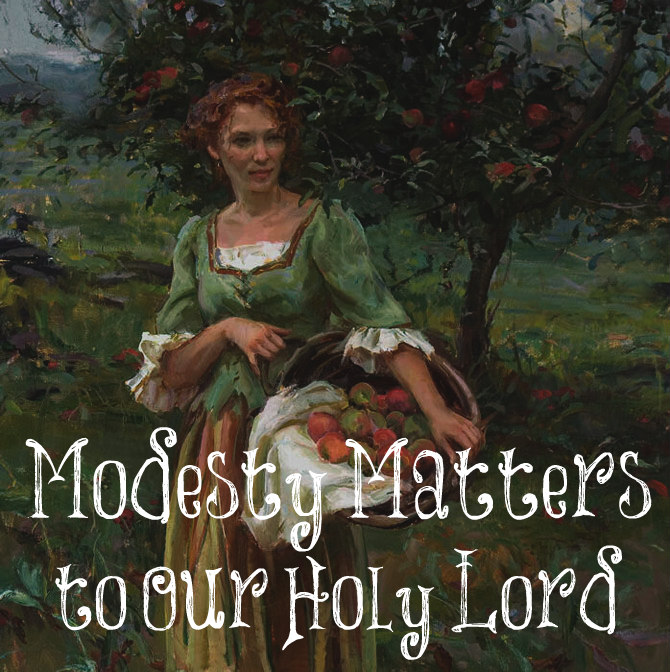 Written By David C. Cook
MODESTY MATTERS TO OUR HOLY LORD! I HOPE YOU WILL READ AND SHARE THIS. Clothes were created by God to "cover and conceal" the body and not to "allure and reveal" the body. Modesty involves dressing in such a way as not to draw attention to the body. Immodesty is dressing in a way that is indecent and sensual and reveals pride of appearance above being humble and pleasing the Lord in dressing in a way that does not cause others to look at our bodies.
Worldliness when it comes to how we dress is a 'silent issue' in most churches, while clothing is a 'big deal' in peoples lives. A lot of time and money is invested in buying clothes, but is MODESTY a big priority in your mind when you buy your clothes? Are you seeking to please God or to 'look good' in the eyes of people?
MODESTY- 'Is dressing appropriately and living with self-control and avoiding wrong and indecent conduct. IMMODESTY-'draws attention to yourself and your body while modesty focuses on inner beauty, which is reflected in outward appearance and behavior.'
THE WAY WE DRESS AND OUR MOTIVES MATTER TO GOD AND THEY SHOULD MATTER TO US WHO CLAIM TO KNOW GOD!!
As followers of Jesus, we are called to set an example in all areas of life including what we say, what we do, and how we dress. Godly modesty will maintain a proper standard of dress that will not cause others to lust and to stumble! Modesty frees you from focusing excessive time and attention on yourself while immodesty puts all the focus on you and your body.
The most attractive aspect of a woman's life must be her godly character not her clothes. This applies to men also. We must be humble and modest.
This is a message not of legalism but of obedience! Is Jesus really Lord in this area of your life? These are basic principles about modesty and immodesty. Godliness and modesty go together whereas godliness and immodesty are opposites. Modesty matters to God and should matter to us. Paul was writing to pastor Timothy and giving biblical and basic guidelines in how women should dress and that modesty would honor God and reflect reverence and godliness in 1st Timothy 2:9 when he says women should wear modest clothing. And do not expect the ungodly fashion industry to produce modest clothing.
Modesty is the outward expression of inward holiness of heart. Dressing immodestly can cause others to have impure lustful thoughts which would make both people guilty. It is wrong to have lustful thoughts but its also wrong to wear clothes that draw attention to one's body and stir up lustful thoughts.
OUR CLOTHING SENDS A MESSAGE ABOUT OUR HEARTS. IF WE PURSUE GODLINESS IT WILL SHOW UP IN THE WAY WE DRESS AND PRESENT OURSELVES.
These days many who confess to know the Lord dress very immodest and do not care what others think. Jesus is not Lord in how they dress and attending church can be quite shocking to many whose holiness that is in their heart has inspired them to dress modestly.
Skin tight clothes, very short skirts, and plunging necklines that reveal so much of the body never can please the Lord. Clothes are meant to cover and conceal not to lure and reveal. Men also are to dress modest and set a godly example for others to follow. You cannot mix godliness with immodesty. (1st Tim.2:9-10,1st Peter 3:1-6) The way you dress should be a reflection of a woman who is living godly and is full of good works. Carefully read these two passages.
The source of modesty is one's inner character. Modesty is the outward expression of inward purity. Dressing in a way as to stimulate impure thoughts is wrong. Many clothes are designed on purpose to make you look sensual and make you look like a sexual object looking to attract the wrong kind of attention. Friends examine your heart before the Lord and see if you may be guilty of causing others to stumble because of your immodest dress.
Peter says that a 'meek and quiet spirit, which in the sight of God is of great price,' meaning God highly values godly character while many value good looks and looking sexy. Think about the amount of money spent on immodest clothes and think how little time is spent of growing in godliness?
Proverbs 31:30 'Charm is deceitful, and beauty is vain:but a woman that fears the Lord, she shall be praised."
THE WAY YOU DRESS IS MAKING A STATEMENT AND SENDING A MESSAGE. BUT WHAT KIND OF MESSAGE ARE YOU SENDING?
*Photo By Daniel Gerhartz