Higher Paying Careers Make it Harder for Women to Be Home Full Time
Higher Paying Careers Make it Harder for Women to Be Home Full Time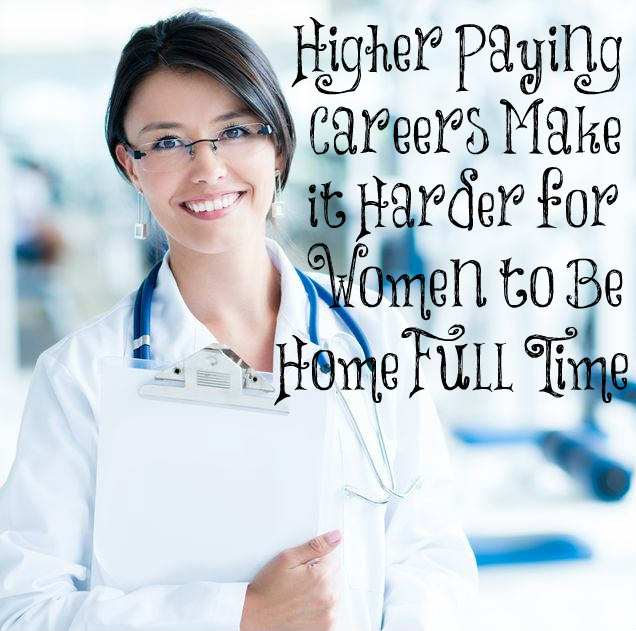 Are there ways that younger wives can help prevent their husbands from asking them to leave their homes and children in the care of others to make money? Fran wrote a great comment on my post asking the questions if wives can disobey their husbands if they ask them to work outside of the home:
"I'd say that at most, a wife whose husband demands she work could seek out creative ways to supplement income from home, and then work to save money by keeping a very tight budget. Then go to her husband and make a rational case that what she saves by producing a small income from home and not having to spend money for gas, daycare, a second car, meals out, etc., is more than worth it. I think this would be extra challenging for a woman with a larger income (doctor, lawyer, engineer) to make the same case, but even then, there are creative ways to work remotely, part-time, do consulting, etc. I think you are right that cultivating the home as a sanctuary is key."
Throughout my years, I have known women who were doctors or had other professions that required a lot of schooling, time, money, debt, and energy to achieve. Once they had children, they wanted to be home full time with their children but they couldn't because either they were still paying off the debt and/or they couldn't justify all of the time spent in pursuing their careers to give it all up to be home with their children.
This is why I will NEVER advise that a young woman whose desire is to be a wife and mother pursue a career such as these. These careers actually are the only reason one needs a college education since most other women graduate with a degree that they will never use. Yes, teaching doesn't take nearly as many years but the cost to get a credential these days can be too high for the amount of debt one will accumulate from it.
Another thing that happens with women in high money-making careers is that their husbands don't want their wives to give up their lucrative careers, thus the women are forced to stay in them and miss raising their own children which is a shame. I don't care how many women tell me they want female doctors, these doctors' children need them a lot more than these women do. Besides, many women will continue to pursue higher education and these types of jobs so there will always be female doctors but for godly women who want to raise their own children, this isn't a career they should pursue.
Women pursuing these careers are also taking these jobs away from men who need them! In talking to one man who is in medical school, more than 50% of the students are women and all but one of the top ten students in the class are women. This is awful, in my opinion. I know this from reading that women are much less reliable in these positions since they want to be home when their children are sick and they miss more work time because of pregnancy, birth, and recovery, whereas men don't have any of these issues.
Lastly, women feel much more comfortable divorcing their husbands when they make good money. Contrary to popular opinion, it's good for women to depend upon men for their protection and provision. It's the way the Lord created them to be. Women are the nurturers and homemakers and men are the providers and protectors in God's perfect plan.
Unless a woman is a doctor or some other profession that makes a lot of money, it makes little sense for her to leave home for work. It's much better for her to learn to live simply and carefully within her husband's income. Therefore, warn young women who want to go into these high earning professions of this fact. If they want to be home full time with their children, it's best for them to not pursue this career direction.
I will therefore that the younger women marry, bear children, guide the house, give none occasion to the adversary to speak reproachfully.
1 Timothy 5:14