A Wonderful Way to Spend Childhood
A Wonderful Way to Spend Childhood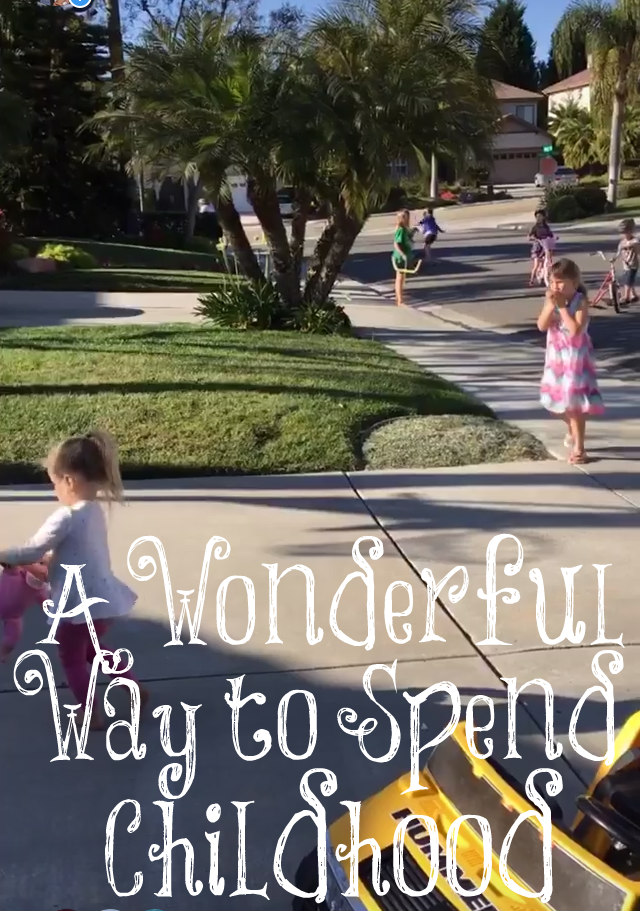 According to this article, "Roughly 25% of Americans live like vampires, hardly ever venturing outside and living through their computer and television screens while doing all their shopping through Amazon, according to The Washington Times.
"Peter Foldbjerg, the head of daylight energy and indoor climate at Velux, a window manufacturing company, said an increasing number of Americans do not get adequate outdoor time, including fresh air and sunlight.
"'We are increasingly turning into a generation of indoor people where the only time we get daylight and fresh air midweek is on the commute to work or school,' said Foldbjerg."
For about 30 hours a few days ago, I had three of my grandchildren stay at my home while their parents had a little bit of a break to enjoy their anniversary. I picked them up in the afternoon and had them until the next night. When they woke up in the morning, I fed them breakfast and they played contentedly in the home until "papa" woke up.
Around 9:00 am, they asked if they could go outside in front to play. I was outside in front with them until 6:00 pm! It was an absolutely beautiful day and it's amazing what fun children have outside in the fresh air and sunshine. Children need a lot of large muscle movement. They don't need TV or iPad watching. There is a huge advantage to living out in the country where children have a lot of room to run, climb, and play. It's not only good for their body but for their mind too.
For the first few hours, it was just my grandchildren playing with various things we have for them to play with. Around noon, a neighborhood girl came home from school and played. I always like my grandchildren to play where I can see and hear them.
By mid-afternoon, there were probably eleven children out in front riding bikes, scooters, skateboards, and a battery-operated car. The roads were kind of blocked off so the cars would clearly see the children. The children would all yell out "CAR!" so the children would get out of the street and the cars would creep slowly by and the people would wave to us.
Around 5:30, my neighbor across the street yelled out to me, "You get the greatest grandma award!" He had seen that I was outside all day with the children. Most of my neighbors came out for one thing or another and remarked how much they loved seeing children all playing outside together since it's a rare site to see these days.
This is how childhood should be! When Ken and I take walks every day around our neighborhoods, it's rare that we see even a few children playing outside. When I was a child, we played outside until the sun set!
I realize that most of you don't have time to sit outside for nine hours a day and watch your children play but how about an hour or two? I did this when my children were young and we all loved it. The children would all play and the mothers would chat. Just by me sitting out in front of my yard with my grandchildren, many other children and even adults joined us.
When I put my grandchildren to bed at night, they conked out! They were happy and exhausted. I fed them healthy food for meals, made them make their bed and clean up after themselves, and let them play. What a wonderful way to spend childhood, after they do their schoolwork and chores, of course!
Every good gift and every perfect gift is from above, and cometh down from the Father of lights, with whom is no variableness, neither shadow of turning.
James 1:17