Abandoning Children to Work Outside of the Home is a Violation of Scripture
Abandoning Children to Work Outside of the Home is a Violation of Scripture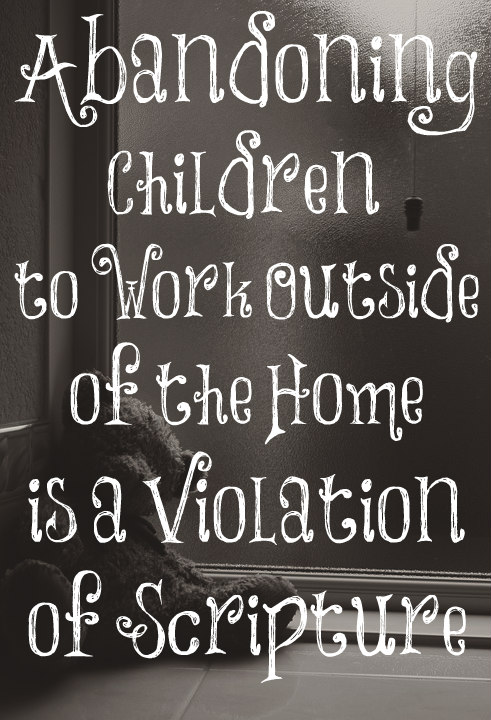 Preached By Pastor John MacArthur
Young women are to be workers at home…workers at home. What does that mean? That means what it says, workers at home, home workers. God must have written that for our day when millions and millions and millions of women are working mothers outside the home. Millions of them have young children. In fact, the statistics of the number of women who work outside the home and have children under three is staggering; it's something like a third of all mothers with children under three work outside the home.
You wonder why there are delinquents? This is a very fascinating term, workers at home, oikourgos from ergo, to work; and oikos, home, work at home. Your task is at home. A woman's task, a woman's work, a woman's employment, a woman's calling is to be at home.
I mentioned 1 Timothy 5:14, "I want younger widows," of course implied here, but it touches then all women, "to get married, younger women, get married," that's where I got my introduction. Get married! Bear children! You hate this: Keep house! That's what it says. Get married, bear children, keep house and give the enemy no cause, no occasion for reproach. A married woman is in a safer place, a more spiritually beneficial place, a more protected place. She must care for her husband; it's a more selfless place. And she must care for her children and it's again more selfless.
This isn't hard to figure out. This is a divine principle. Abandoning children to work outside the home is a violation of Scripture. You say, "Well, my kids aren't home while I'm at work." That's not the point. That doesn't change the obligation because they went to school. It's the home that you prepare when they aren't there that makes the home a home. If you arrive when they arrive and leave when they leave, it's unlikely that the home will be the kind of home the children need.
Working women contribute to lost children, delinquent children, children who have lack of proper understanding of God-ordained roles in the home, terrible decline, drugs. We don't even talk about the working woman phenomenon of adultery and divorce. And for a woman to be the bread winner…you say, "Well, our house payment requires two jobs. We both have to work." Then get another house and have a family.
In fact, for men, 1 Timothy 5:8 says, "If anyone…meaning a man…doesn't provide for his own, especially for those of his household, he's denied the faith and is worse than an unbeliever." The point is the man is the provider and the protector and the security and the woman is there to care for the children and the home. Working outside removes her from under her husband and puts her under other men to whom she is forced to submit.
I will therefore that the younger women marry, bear children, guide the house, give none occasion to the adversary to speak reproachfully.
1 Timothy 5:14
***Here is another great sermon by Pastor Robert Reed on Keepers at Home.
***Here is a YouTube I made yesterday about the blessings of having my mother be a keeper at home even after all of her children were raised.