Truly Enjoying Being Homemakers
Truly Enjoying Being Homemakers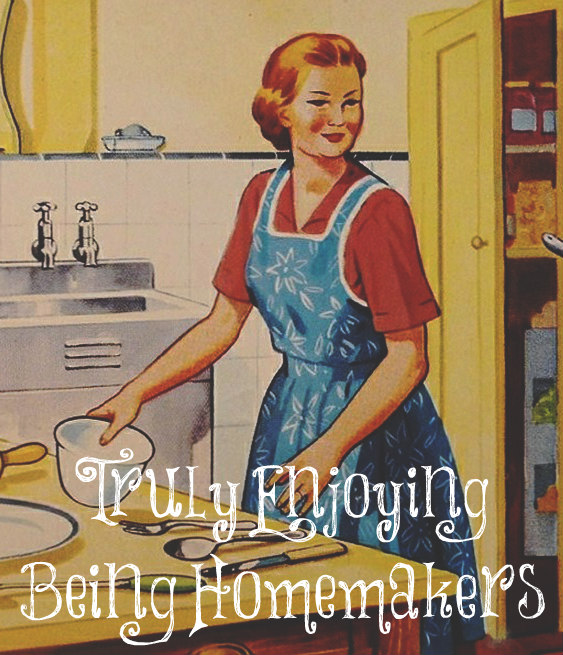 God commands women to be keepers at home. We are to work hard in our homes. Work is good for us and what God intended for us. He tells us that "whatever [we] do, do it heartily as to the Lord" (Colossians 3:23). This includes working hard in the home. It's not doing our "chores" quickly so we can get back to scrolling through Facebook or Instagram or watching TV or shopping just to go shopping and spending more money. No, it's doing our work in the home as best to the best of our ability.
I knew a woman years ago who was married and had no children. She did everything she could to make sure she had as little housework as possible. She bought her husband polyester shirts so she wouldn't have to iron them. I remember thinking how odd this was since she had no children and she didn't have a job. Why did she try so hard to make so little work at home?
Many women do this, however. They cook food from packages or get fast food, dry clean their clothes, use housekeepers often even though they don't need them, and other things like these so they don't have to work much at home. I understand why career women would do these things since they are home so little but why would full-time keepers at home do this unless they were ill or injured and couldn't do these things? We already have so many things to make our work easier at home from dishwashers, to washing machines, dryers, ovens, running water, refrigerators, stores to buy our food, and so many other conveniences. I think this is why women get easily bored at home.
No, we aren't to be "busy" by getting our hair and nails done frequently, going to appointments, shopping to shop, and running here and there. We are to be busy at home but how can we do this when there's not much to do because of all of the modern conveniences? If a mother has many children, then she will automatically be busy taking care of them but what about those who don't have many children and are easily bored at home?
I encourage you to be intentional about making your home a place of beauty and order. When you are being a keeper at home, you are glorifying the Lord, just as when you love and obey your husband, love your children, are being sober, chaste, discreet, and good. All of these bring glory to God and adorn His Word.
Buy the best ingredients that you can for your family. Fix nourishing food that is delicious. Spend time in creating good food for your family from scratch. Clean up as you go. Teach your children how to cook and clean as well. Don't hurry through this process since this is what God calls you to do. Do it heartily as unto the Lord! My sister loves to cook and she cooks a lot: healthy, nourishing food from scratch. As she cooks, she prays over those she is cooking for and praises the Lord for His abundance to her. What a wonderful thing to teach your children!
When you make your bed, clean the bathrooms, fold the laundry, vacuum, dust, organize, clean the refrigerator, garden, sweep, and all the other household work that is required for a home to stay beautiful and in order, do it all as if you were doing it for the Lord Himself because you are! This is His calling on your life along with raising those precious children He has blessed you with and caring for the husband that He has given to you. Let your children see the joy of the Lord as you work in your home. Don't ever make it out to be a chore but something that is good and right. God calls us to work hard and the place He has called us to work hard is in the home, so do it with all of your might, do it carefully, and learn to enjoy it.
God wants us to be full of joy no matter what we're doing whether it's cleaning toilets or changing a dirty diaper. Just having toilets to clean is a blessing (sanitation helped our lives immensely) and we know that children are a great blessing from Him. The joy of the LORD is our strength! Families don't need grumpy mothers. They need joy-filled mothers who build their homes up instead of tearing them down. Learn to truly enjoy being a keeper at home, dear women. This is God's perfect calling upon your lives.
For the joy of the LORD is your strength.
Nehemiah 8:10