Activities While Being "Stuck" at Home
Activities While Being "Stuck" at Home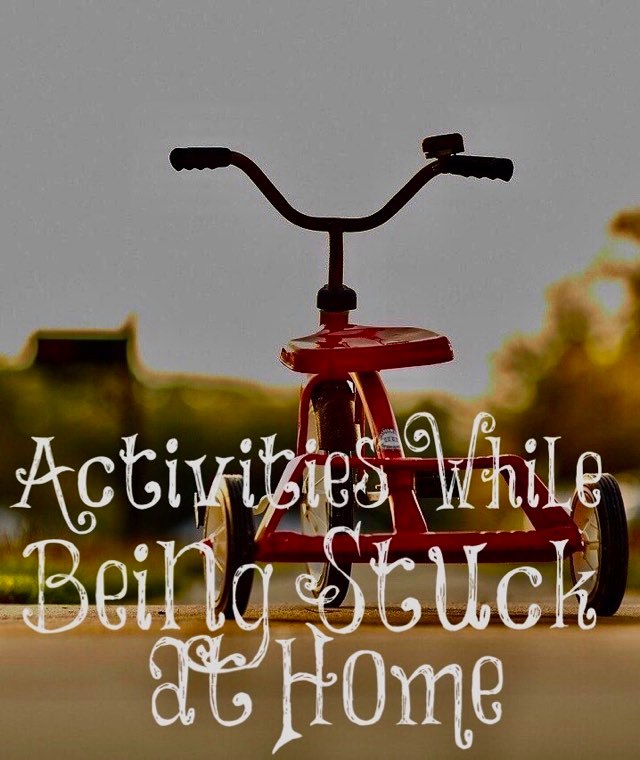 We all are stuck at home right now. This is a new concept for many people. For many years, I was stuck at home since I was so sick but now we all are choosing to be stuck at home to try and prevent the spread of this virus. Many mothers who work full time away from their homes are experiencing something they've never experienced before – being home with their children 24/7. I asked the women in the chat room for ideas on how to spend this time. They had many great suggestions!
"We'll be baking, doing crafts, playing board games, puzzles, working on some cleaning and organizing projects, watching movies, and playing outside now that the weather is getting nicer. I'll fill the sandbox today for the younger children and maybe get out the trampoline."
"Teach them to cook, read books aloud, watch documentaries, go for walks/hikes, paint rocks for garden markers, and clean up the yard."
"Have tea parties, make bread, go on a walk, draw with your children, read to them, watch Bible stories on YouTube, do school work with them, give the dog a bath, clean something together, use it as an opportunity to organize something or start a chore chart, and play games."
"What I love for my two year old is paint brushes, a cup of water, and colored construction paper. They can 'paint' and there's no actual paint to make a mess. Or big paint brushes and water, and they can water paint outside on the fence!"
"Have family dinners, organize a closet, declutter your home, paint a room, organize the garage and barn, and enjoy conversing with your family and listening to them."
"Build a fort in the living room with chairs and blankets, then have a picnic in there!"
"Scavenger hunt. We would do outside ones and inside using bible verses."
"Forage in your own area. Look for plants that are edible. I haven't done this but it is a remarkable idea with the children."
"This is a link to virtual field trips. There are many neat ideas where you visit via the web – places like museums, zoos, international locations, etc."
"We have three children under three so these are their favorite activities that I do with them inside at home. Coloring. Sometimes to make it more fun for them I tape a long strip of paper on the floor and we all lay down and color. My boys love it!
"Dishes – either at the sink or I make their own 'sinks.'  This is a huge hit! Sensory bins. This has saved us during the winter with a new baby. I have a few different ones: construction trucks with sand and black beans/split peas with dinosaurs/water beads with underwater creatures. I keep them in long bins under our guest room bed so they are easy to access. With younger children, they of course need to learn to keep it in the bin and not to put anything in their mouths, but my younger son learned quickly since if he did either of those he wasn't able to continue playing with it with his brother.
"Cleaning – my boys love cleaning! They have their own spray bottles (with water) and I let them spray the windows, the floor or certain toys and they get to clean them. Also if you have a handheld vacuum that is a lot of fun for kids!"
"Don't over schedule. There's no need for the children to be busy for six hours like they are in school. Look into deschooling. Just relax and enjoy your kids. My boys are 10-14 years old. They do math, Bible, read, and my youngest practices cursive. After that, they do their chores and are outside playing with the neighborhood children."
"We made homemade cream cheese today and then turned it into a cheese spread to use on crackers. My girls had a ton of fun with it. It's super easy."
It's a great time to help them to memorize Scripture and hide His Word deeply in their hearts.
She looketh well to the ways of her household, and eateth not the bread of idleness.
Proverbs 31:27