She Lives in Constant Tranquility of Mind
She Lives in Constant Tranquility of Mind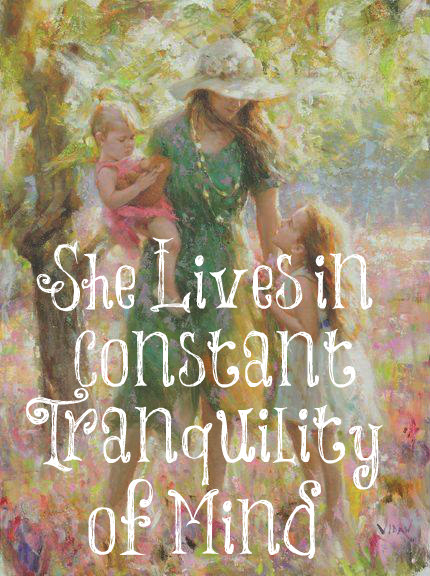 Many women are anxious and fearful these days and I don't blame them. It's a scary time since it's unknown what the future holds. Life has abruptly come to a halt but as women who love the Lord and understand that this is NOT our home, we can rest in the Lord because we know that He is sovereign over all. The following was written by Mario Brisson and I end this post with a few quotes from commentaries of old on this same verse.
Question: How does a Proverbs 31 woman react to the Corona virus chaos?
ANSWER: SHE LAUGHS AT THE DAYS TO COME! ???????
With all the chaos, panic, worry, anxiety, and fear going around as a result of the Corona Virus Pandemic, I thought it would bless us all to take a moment to examine Proverbs 31. Here the virtuous/godly woman is described in great detail. In verse 25 it says:
"She is clothed in honour and strength AND SHE LAUGHS AT THE DAYS TO COME!"
Now let's pause! Why is that? Why is it that when she reaches that inevitable moment of weakness, realizing that the painful present, and most certainly the unknown future, are outside of her control? … She LAUGHS ? ?? !
NOTE: It's a laughter that comes not from a prideful, self-trusting attempt to let nothing stand in her way; rather, it's a humble, God-trusting laughter that steps out of the way in quiet submission and hope.
She laughs because she KNOWS GOD IS SOVEREIGN! She KNOWS God and because of this relationship with Him, she is able to be FEARLESS in the face of anything the future here in this fallen world can throw at her.
Sisters and brothers, we NEED in this time to take a moment and LAUGH AT THE DAYS TO COME! No matter how dark, evil, and twisted things get … GOD IS IN CONTROL AND WILL BRING ALL THINGS BACK INTO PROPER ORDER … ON THE FINAL DAY!
So, if you're fearful of the days to come, I believe God had me write this post for you. Please be encouraged. Take a moment to reflect and see that at the root of this fear lies doubt in God. Get to truly know your Father and you will, as the Proverbs 31 woman did, laugh at the evil days ahead!
So join me in saying "Future persecutions, hardships, trials, tribulations, … BAHAHAHHA YOU GOT NOTHING ON MY GOD! BAHAHAHAHA ???????????????????"
"She lives in constant tranquility of mind, and a confident and cheerful expectation of all future events, how calamitous soever, partly because she hath laid in provisions for a rainy day, and chiefly because she hath the comfortable remembrance of a well-spent life, and, which follows thereupon, a just confidence in God's gracious providence and promises made to such persons." (Matthew Poole's Commentary)
 "'…And she shall rejoice in time to come' – Aben Ezra interprets it of old age, or of the world to come; and Jarchi and Gersom of the day of death: having fullness of food and clothing, she is not afraid of want in old age, or in any time of distress that may come; and having a good name, laughs at death, and departs in peace; so these interpreters.
"The church of Christ fears no want at any time, nor need any of her members; they have a clothing that never waxes old, a righteousness that will answer for them in a time to come; their bread is given, and their waters are sure; they shall want no good thing; all their need is supplied from Christ; they have hope in their death, and rejoice then and sing, 'O death, where is thy sting?' 1 Corinthians 15:55; they will have confidence in the day of judgment, and not be ashamed; shall come to Zion with everlasting joy; and shall rejoice with Christ, angels and saints, to all eternity." (Gill's Exposition of the Bible)
Strength and honor are her clothing; and she shall rejoice in time to come.
Proverbs 31:25