An Atheist Living Out Biblical Womanhood
An Atheist Living Out Biblical Womanhood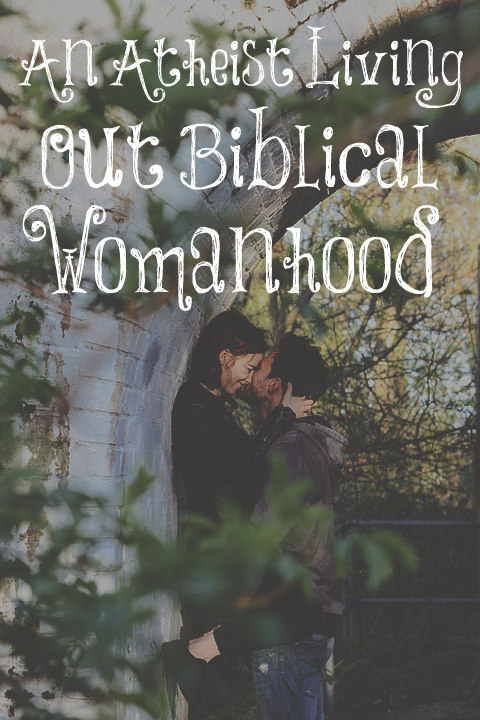 It's a sad day when unbelievers are living out Christ's commands better than believers. This is a comment that was just left on one of my videos from my YouTube channel: "I am an atheist but was raised in a very conservative Christian home. Because of this, I still have conservative morals and values. It is ridiculous how often people find it necessary to criticize my being a stay-at-home mom, non-drinking, modest dressing, and my husband being the leader of our family. It is something you just have to deal with.
"The fact that they have such strong opinions about how I live my life (which is none of their business) says far more about them than it does me. I just let it roll off my back. I have a great marriage and life BECAUSE of the values and standards I have [which are God's commands even though she doesn't acknowledge it]. My home is peaceful, my body is healthy, and my conscience is clean."
First of all, there are NO atheists. We are clearly told this in Romans 1:20, "For the invisible things of him from the creation of the world are clearly seen, being understood by the things that are made, even his eternal power and Godhead; so that they are without excuse." All of creation shouts the existence of a Creator.
Even though she denies the existence of God Almighty, she clearly acknowledges that His ways are best and is living them out. Those who refuse to believe will receive God's blessings as they live out His commands to us, but what are His temporary blessings on this earth compared to the blessings of eternal life? Nothing in the scheme of things, since our lives on this earth is a mist.
Unfortunately, this woman who calls herself an "atheist" lives a more biblical lifestyle than most women who call themselves Christians. She has tasted His ways and seen that they are good. Of course, they are. God is good and His will for us is good but unless you believe in Him, you will not inherit eternal life.
Repent and believe, women! Read the book of Acts when the apostles began the Church age by proclaiming Christ and belief in Him. They would tell the people to repent and believe, and then be baptized. Everyone is a sinner in need of a Savior. There's no way into eternal life without our sins being paid in full. Christ paid them for ALL who believe. Now, we can have a personal relationship with God and go directly to His throne to praise, thank, and petition Him. What a God we serve!
But without faith it is impossible to please him: for he that cometh to God must believe that he is, and that he is a rewarder of them that diligently seek him.
Hebrews 11:6