We Weren't Created to Be Alone
We Weren't Created to Be Alone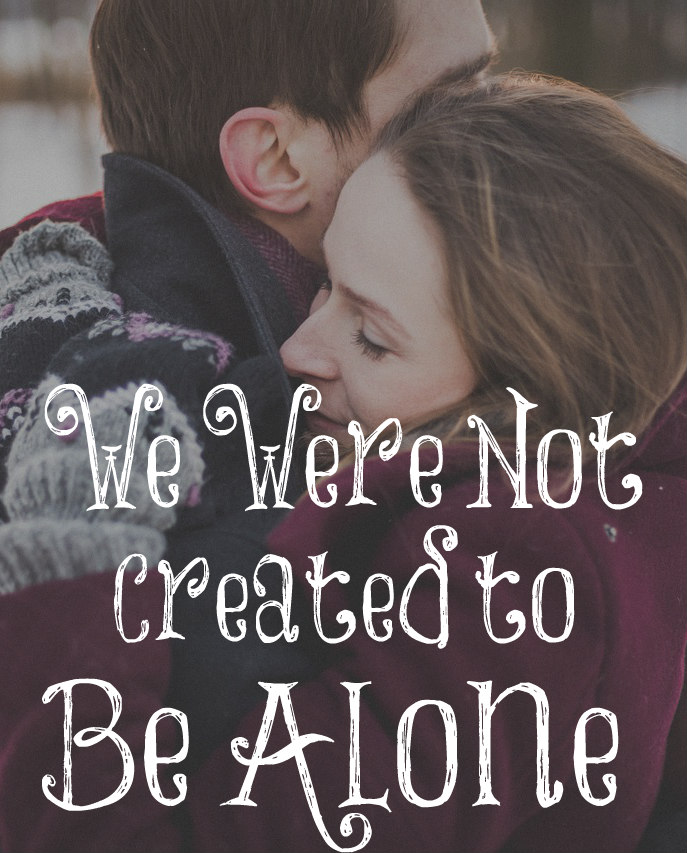 My favorite type of fictional novels are historical fictional novels written by Christians, and Jack Cavanaugh is one of my favorites. I read "Songs in the Night" trilogy many years ago but have enjoyed it again recently. Cavanaugh studies history and this book was about WW2. It's an excellent read!
There are a few paragraphs that I want to share with you. In the story, the main character is a married preacher man with a pregnant wife. One of his sermons was written based upon Ecclesiastes 4:9-11.
"'Two are better than one; because they have a good reward for their labour. For if they fall, the one will lift up his fellow: but woe to him that is alone when he falleth; for he hath not another to help him up. Again, if two lie together, then they have heat: but how can one be warm alone?'
"What a powerful passage about companionship. We were not created to be alone. Every human being has an intrinsic need to share life with another. We are stronger, better, happier when we have someone with whom we can share life's experiences.
"And while this passage teaches a welcomed truth about the advantages of two persons who are mutually committed to each other, the benefits of those joined in marriage are far greater.
"Ephesians 5:31: 'For this cause shall a man leave his father and mother, and shall be joined unto his wife, and they two shall be one flesh.'
"O blessed mystery! Love knows nothing of arithmetic. Love transcends such menial concepts. In marriage, one plus one equals one. They are no longer two (one man, one woman), but one flesh.
"Some couples, to their detriment, never comprehend the bliss of this concept. They struggle against the truth. Attempting to live as though they were still separate beings, they torture and scar themselves as surely as if they had taken a blade to their conjoined bodies. Oh, but those who embrace this essence of marriage, to them is reserved a joy that is unparalleled in this world or the –"
"'Let nothing be done through strife or vainglory; but in lowliness of mind let each esteem other better than themselves. Look not every man on his own things, but every man also on the things of others.'
"This then, is the key: If a man and a maid commit themselves to each other in this fashion, I can virtually guarantee them many years of happiness in marriage. And just the opposite is true, too. If a man and maid spend their days thinking only of themselves – their needs, their wants, their desires – I can guarantee a marriage of endless strife and bickering. This is a powerful truth, not to be taken lightly, to be ignored only at one's own peril.
"Never once have I had a husband or wife come to me for counseling and say, 'My spouse thinks only of my good, night and day. They're constantly doing the things I want to do, never what they want to do. I can't stand it anymore! I want a divorce!"
My husband and I have been married almost 40 years. I can tell you that there is nothing better in life than growing old with one person who you have raised children with and now are enjoying grandchildren together. It's a blessing that God has bestowed upon us. Do all you can to be the wife and mother that God has called you to be. You will reap His blessings; for He promises us that we will reap what we sow.
Whoso findeth a wife findeth a good thing, and obtaineth favour of the LORD.
Proverbs 18:22