An Epidemic of Christian Wives Divorcing
An Epidemic of Christian Wives Divorcing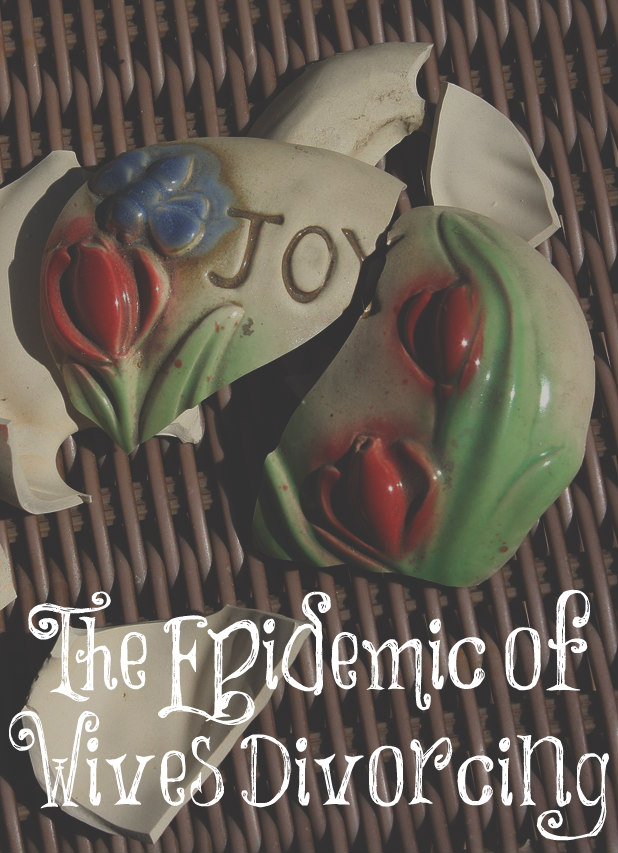 Written By Ken Alexander
It is heartbreaking each time I hear of a good Christian man being divorced by his Christian wife. It seems that there is an epidemic of Christian wives being dissatisfied in their marriages or being the cause of blowing up their marriages with selfishness. I venture to say that this blog has saved many marriages already and will continue to do so, Lord willing, as it gets to the heart of the disease of feminism and a woman's desire to be in control of her man.
Bob has become a good friend of mine who sought help a few years ago with his difficult wife. He loved her dearly even through her struggles, but he wrote TTW seeking help. As is the custom, Lori received the email and I responded with a familiar theme:
"Let's first make sure that you are not the problem, Bob. How are you doing with loving your wife and living with her in an affectionate and understanding way? Let's have you make a list of the things you can be doing differently and see if showing more grace and trying to meet her at her needs will produce the results you are looking for.
"One thing that you must insist upon in your home is that everyone will do all things Christian. You cannot expect the Lord to bless your marriage if you are not holding yourself and your family to the simple standards that we are given in God's Word.
"Be kindly affectioned one to another with brotherly love; in honor preferring one another" (Romans 12:10).
"Let no unwholesome word come out of your mouth, but that which is good to the use of building each other up, that it may minister grace unto the hearers" (Ephesians 4:29).
"And be kind to one another, tenderhearted, forgiving one another, even as God in Christ forgave you" (Ephesians 4:32).
"If you bite and devour one another, watch out that you are not consumed by one another" (Galatians 5:15).
"Do not deprive one another" (1 Corinthians 7:5).
"Love one another; as I have loved you" (John 13:34, 35).
This same advice and theme has played out regularly the past few years and to all of the hurting men who seek my counsel. The initial reaction from a few is: "Hey, I am here for help with my wife, not for me!" But most of the men were truly at their whit's end seeking help and willing to do almost anything to restore their marriages. So step one of solving any issue is to make sure that the men are not the problem.
As these men tried out this advice they had to learn how to say "No" and, "That is unacceptable" without getting angry or upset. After all, what Satan desires is to get both spouses wallowing in the mud of sin together. When one spouse no longer will climb into sin as a reaction to the other, it places the other spouse in an awkward position of having their sin exposed clearly. No longer can they start the fight hoping the other will give them excuse to justify why they are upset and angry in the first place, because the other is no longer arguing and fighting. They are acting like a Christian should, even in the midst of their turmoil.
The second phase of trying to restore a marriage comes with asking one's spouse to do things God's way in the marriage. Yes, these husbands were instructed to play the "submission card" that is so clearly given to wives in the Word, but to do so while maintaining all of the other principles of Christian love and living at the same time. They could not expect God to bless their marriage if they are not doing their part in it. But part of being in a Christian marriage is to be head and show loving and gracious leadership.
Bob set about holding his wife accountable for her temper and angry words spewed at him and the children by simply calling her out on it each time she did it. When she overspent regularly and put the family in a lot of credit card debt, he took the family finances away from her and gave her a generous $1,000 a month allowance as she regularly complained about how "controlling he was."
"You can't tell me to stop yelling at the you and the kids, or make me be submissive!"
"Yes, honey, I can point out to you when you are sinning in our home and I can ask you to be submissive, but you are right in that I cannot make you submit. All I can do is ask you to talk to God about that."
Surprisingly for many of the men I have counseled, just doing these things helped restore their marriages, and some are having a wonderful time together. But for the majority of these men nothing seems to work. They try being loving and affectionate just to be rejected. They try devotions and prayer together and she has some excuse why she can't do it. They call her out on her sins and she gets more and more angry and bitter.
Some have tried it all from being submissive themselves for a month to their wives to prove it's not so hard, then to becoming a man of the manosphere and taking leadership whether they have a follower or not. Nothing they try seems to work, and often the wife will confess in her less angry moments, "I know I am the problem, but I don't know how to stop it."
One would think that just saying that would be a big breakthrough as the awareness that "I am the problem" should, in a healthy mind, begin to seek solutions to unhealthy behaviors. But in many cases, the final results are Christian wives walking away from their marriages in epidemic numbers because they are seeking relief from the pain that they themselves are causing.
Perhaps, in many cases, the root cause can be traced to bitterness and anger that started even before they got married. Broken and unhealthy homes often deliver broken and unhappy brides whose unhappiness is masked during the honeymoon through baby making stage, but 10-20 years later, it appears no different than what they saw or felt growing up.
Perhaps the root cause is a desire for control as the feminist lies are now planted firmly in most of the young Christian wives' hearts. No longer do they go into a marriage with an attitude that believes love is sacrificial giving of oneself to another, but rather love is now a two-way street that says, "I cannot love you if I do not feel I am getting from you what I believe I need."
In a men's group that I am a part of, a young man asked what is he to do if his wife is no longer giving him sex because she complains that he is not loving her well. The main responses he received was that when he gets home each day, he needs to go about chasing down her needs. Give her affection, help with the children so she gets a break, make dinner, give her a foot massage and listen to her. All great things for a loving husband to do but guess what? It is just a short term bandage on the real problem. Many of us found out that no matter what we did, it only kept us on a treadmill of feeling we had to perform in order to be loved. When the degree to which our wife loves us is based on how we performed for her that day or hour, it is doomed to mediocrity and "tit for tat."
So where have things gone so wrong that eight out of ten Christian divorces are initiated by unhappy wives? We have a silent epidemic in our churches that no pastor wants to talk about. For that matter, many are unaware that they are part of the root cause with their unwillingness or inability to preach both sides of God's marriage design. Every time I have heard a sermon in a church about God's plan for marriage, it is a one-sided showing. Whether it is Father's Day or Mother's Day, or it's just part of the passage of the book the pastor is preaching through, there is one consistent theme:
"Husbands, love your wife as Christ loves the church and let me explain to you all that this means with laying down your life for her."
"Wives, submit to your husbands, and let me tell you everything that that does NOT mean, and you husbands had better never tell your wives to submit!  That is very unchristian of you as your wife can decide what she wants to submit to and what is not worthy of submission. She is not your slave and was not born to be your helper, but your partner."
This plays out over and over again in our churches, then add to that women's Bible studies that refuse to teach what God commands the older women to teach, and instead turns into "Please, pray for my marriage as I am feeling so unloved as my husband is always working and not helping me around the house. Then he wants me to be affectionate and I just can't."
Bob, Joe, Fred, Dave, Paul, and John were all divorced by their wife last year, except one did divorce his wife after she left him and the kids for the eighth time and asked for the divorce. Lori and I are heartbroken each time we hear of another wife divorcing her husband and family. That's right. The children know full well that Mom is the problem. Dad may not be perfect but he was the one trying to keep the marriage together and everything he tried wouldn't work because his Christian wife had been poisoned by feminism and the appeal of the apple of happiness. She was convinced she could be happier walking away from God's clear Word to her and she is destroying her husband and family.
Can God do a mighty work in the midst of such sin and restore each one of the family members and spouses? Yes, he can, but will He when we walk in clear disobedience to His commands? What about "God hates divorce" do we no longer understand in the church? Wake up, pastors, to see that what once may have been true, that it was the husband who was at fault for breaking up the marriage, is no longer the norm. The norm in the disintegration of the Christian marriage is confused Christian wives who are getting nothing but a clanging sound when it comes to God's design for a happy and healthy marriage. Instead of preaching regularly about everything that submission is not, consider trying to tell wives what submission does look like and expect them to be just as obedient to the Word in this area as they are in others.
Would that not be a radical vaccination program for the church if this next Father's Day your pastor boldly stood up in the pulpit and repented of his fear of women in his church? Where He proclaimed loudly and boldly everything that willful wifely submission looks like and what love, true sacrificial love for a husband should be in Christian marriage? To do this might start a revolution where the church no longer bought into feminism's lies that it is equality in marriage that is the key to happiness. Instead your church would find that marriage done God's way is no different than living the Christian life God's way. It comes from simple obedience to His clear commands without excuse or obstruction. It is this simple for all who desire to do things God's ways and reap His many blessings.
Wives, submit to your own husbands, as to the Lord. For the husband is head of the wife, as also Christ is head of the church, …  so let the wives be to their own husbands in everything… Husbands, love your wives, just as Christ also loved the church and gave Himself for her.
Ephesians 5:22-25