Anything That Attacks the Family is Bad For Society
Anything That Attacks the Family is Bad For Society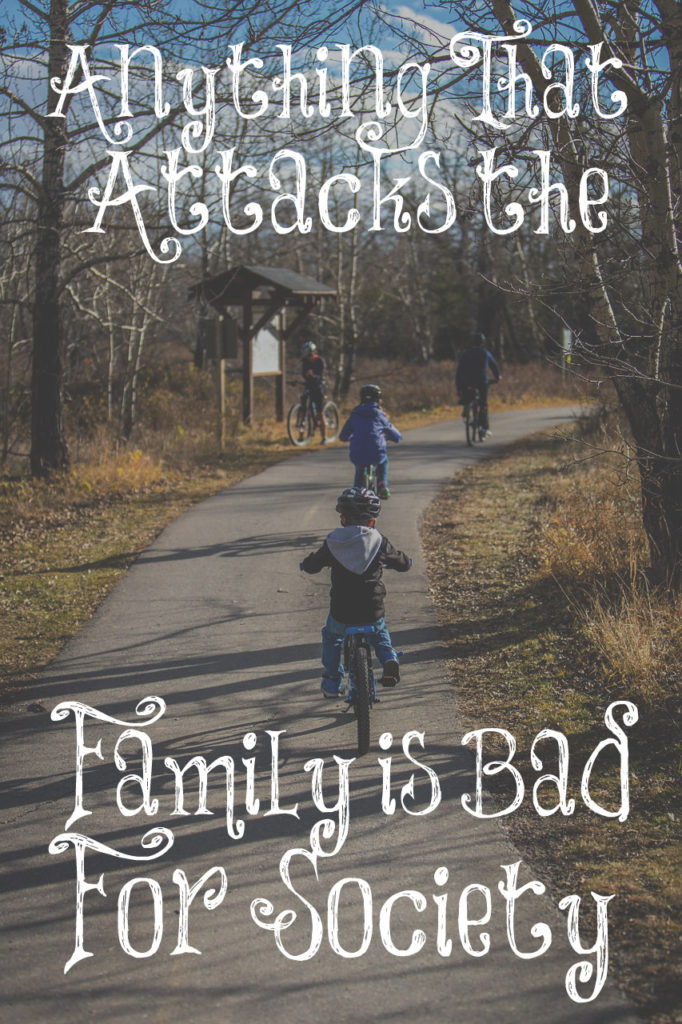 The family is under attack today (as I have written repeatedly about) and no nation can last for long if the institution of the family is destroyed.  Dale Ahlquist wrote about this destruction and some prophetic sayings of G.K. Chesterton, who was a theologian in the early 1900s. (I enjoy these men's teachings from long ago!)
"Chesterton was so consistently right in his pronouncements and prophecies because he understood that anything that attacked the family was bad for society. That is why he spoke out against eugenics and contraception, against divorce and 'free love' (another term he disliked because of its dishonesty), but also against…compulsory state-sponsored education and mothers hiring other people to do what mothers were designed to do themselves. It is safe to say that Chesterton stood up against every trend and fad that plagues us today because every one of those trends and fads undermines the family."
He is right on! Sadly, our culture promotes birth control, divorce, free love, public schooling, and day cares. The Church remains relatively silent on all of these issues, unfortunately. Birth control prevents the life of human beings and most of it has dangerous side effects. Divorce is destructive to all involved. Free love isn't free and it isn't love. Public schooling (run by a godless government) takes children away from their parents all day long for most of their growing up years and teaches them anything they deem important, like it's fine and dandy for children to have two daddies and sex education which has no biblical admonitions in it (like purity and abstinence until marriage). Day cares take mothers away from their babies. None of these destructive forces are promoted in God's Word because they all attack the family.
"In 1926, he warned, 'The next great heresy will be an attack on morality, especially sexual morality.' His warning has gone unheeded, and sexual morality has decayed progressively. But let us remember that it began with birth control, which is an attempt to create sex for sex's sake, changing the act of love into an act of selfishness. The promotion and acceptance of lifeless, barren, selfish sex has logically progressed to homosexuality."
God created sex for a husband and wife to enjoy each other but also to be fruitful, and multiply, and replenish the earth (Genesis 1:28). However, most Christian couples use birth control for a few years after getting married and then again once they have a couple of children. They have taken away one of God's primary reasons for marriage and sex, for their own pleasures thus attacking the family.
If they don't think they're financially ready, they fail to trust God's provision. If they have a lot of student debt, they were unwise in their youth to build up this debt unless it was for the husband to have a good career which will enable him to pay it off quickly, but there's nothing shameful about living simply after marriage to have children.
"The world has made a mockery of marriage that has now culminated with homosexual unions. But it was heterosexual men and women who paved the way to this decay. Divorce, which is an abnormal thing, is now treated as normal. Contraception, another abnormal thing, is now treated as normal. Abortion is still not normal, but it is legal. Making homosexual 'marriage' legal will not make it normal, but it will add to the confusion of the times. And it will add to the downward spiral of our civilization. But Chesterton's prophecy remains: We will not be able to destroy the family. We will merely destroy ourselves by disregarding the family."
It saddens me to hear about so many "Christian" women who have gotten divorced. It's definitely epidemic even in the Church. Thankfully, there are women in the chat room who are "standers." They are standing strong in the Lord and winning their husbands back without a word (1 Peter 3:1-6). Some of their husbands are adulterers, others are addicts, some are worse than "infidels" by not providing (1 Timothy 5:8), and others are unkind. They understand what is at stake in their lives, in their husband's lives, and in their children's lives. They wait patiently while growing in godliness and resting in the Lord, even though there is a lot of suffering. They are willing to do this because they understand the value of family and God's love for it. Today's culture hates suffering but God uses it for good. (Study 1 Peter thoroughly.)
Contraception is abnormal. Married couples should want children. It's culture who has warped their thinking. Our children are our greatest blessings. Abortion and homosexuality destroy families but thankfully as Chesterton said, "We will not be able to destroy the family." As long as God is on His throne, which is forever, there will be a remnant who believes in family and will do all they can to make it strong and influence society for good. God created the family and no one can permanently thwart His will.
Build ye houses, and dwell in them; and plant gardens, and eat the fruit of them; Take ye wives, and beget sons and daughters; and take wives for your sons, and give your daughters to husbands, that they may bear sons and daughters; that ye may be increased there, and not diminished.
Jeremiah 29:5, 6