Bringing Clarity to Women in Ministry
Bringing Clarity to Women in Ministry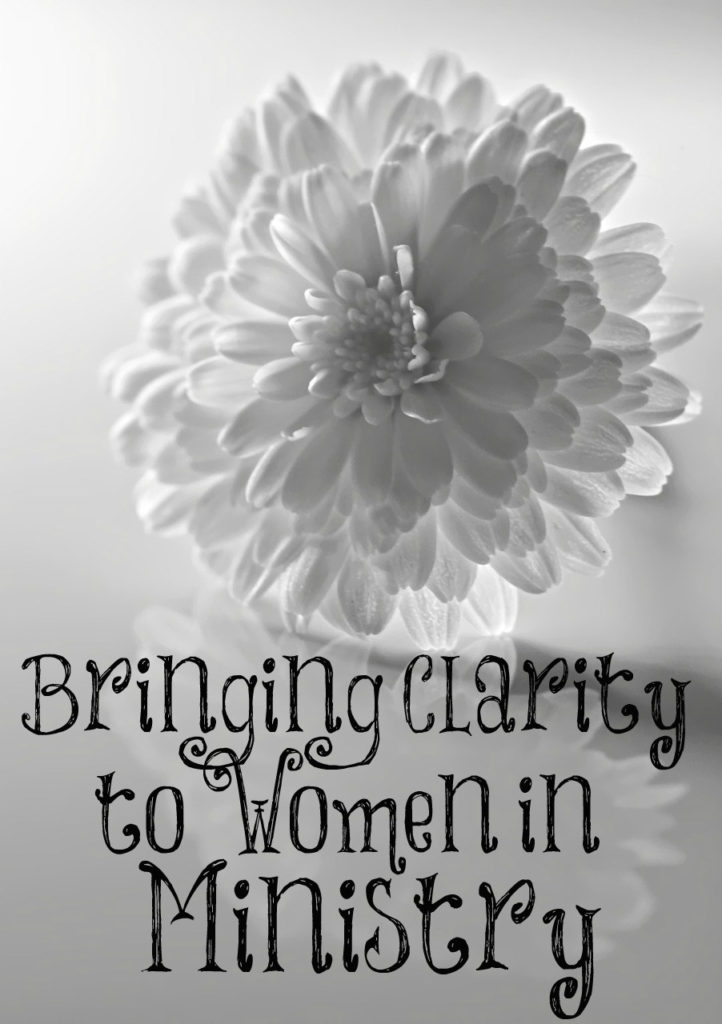 One man tried to convince me that women should be able to preach and teach men from an article written by David Scholer at Fuller Seminar called Women in Ministry. I handed this over to Ken to answer!
Lori asked me to take your comment. I was accepted at both Fuller and Talbot back in in 1979 and chose Talbot over Fuller precisely because Fuller, was in my opinion, and that of many other Christians, joining the Slippery Slope warned of by Howard Lindsell in his book, Battle for the Bible. Once the authority of the Word is undermined, it leads to what we find in the church today conveniently picking and choosing what it wants to believe.
 If one accepts what Scholer is saying in his article that forms the basis of Fuller's doctrinal position on women in ministry, God in His infinite wisdom did not see fit to give us a clear understanding of what role women were to have in the church, and furthermore, the church missed God's real message for 2,000 years. But this professor and others finally got God's message, which comes ironically at exactly the time feminism is taking our culture by storm. What a coincidence!
It is not that I disagree with everything Scholer is writing as the Kingdom of God is wide open to all for ministry, young or old, male or female, single or married, and there is indeed no distinction in God's kingdom between the value of genders.  All believers are called to evangelism, apologetics, serving others, and all the gifts are open to both genders.
Our position is not against women in ministry, but rather that any woman in ministry simply must heed the apostle's clear and direct prohibition,
"I do not permit a woman to teach nor to exercise authority over a man" (I Timothy 2:12).
I would assume it is easy to understand why we hold this position, and I am baffled by those who are upset with us over it when it is the position of the church for almost 2,000 years. We are told by some to pray that God might show us "the hidden meaning" in the Word to see that the plain teaching of the Word on this matter and church history are no longer to be followed.
Space does not permit me to take on all of Scholar's article, and again, we agree with much of it concerning women in ministry, but we must protest his fundamental conclusions as dishonest. I know his intent was biblical scholarship, but the result was nothing more than we see from many others who try make A + B = 23 when A and B are not even numbers. Inference and supposition can never wipe out a clear message from God on a matter, especially not one that is this important. Here are four of his main arguments that are invalid, especially when trying to eliminate something so clearly stated in God's Word and defended by the whole of Church history.
Scholar takes on Paul's appeal to the creation story as the first leg of his attack. Essentially, Scholer wants us to believe that Paul was simply wrong when he wrote, "For Adam was formed first, and then Eve. And it was not Adam who was deceived, but the woman who was deceived and fell into transgression" (I Timothy 2:13-14). I wonder how many other things the apostle was simply wrong about in God's inspired Word?
Many do not realize this, but it is vital for Scholer and others to try and wipe out what Paul says here, because if what Paul is saying is true, then the whole argument that Paul's admonition is cultural gets wiped out by Paul's own explanation right there in the context. Paul's defense of his admonition is not to appeal to anything in the culture of the day but goes to the very first culture ever, creation. Paul says that women are not to teach men or lead them; First, because it is God's order of things; and second, because Eve was deceived and Adam was not. This may reflect that women can be more easily deceived, or is a result of the curse of the fall, but either way, by Paul defending his admonition with the creation story it wipes out any argument that what he is saying is "cultural."
Scholer writes:
"The word 'helper,' then, is not to be understood as an expression of submission and service to man; rather, the woman as helper serves God with man."
So to Scholer, Eve was not to be Adam's helper but was to be God's helper. He argues that God is called our Helper in 29 places in scripture so Eve's position as helper should not be seen as service to her husband.  Of course the whole church for 2,000 years missed this important point.
Scholar goes on and says,
"The statements of judgment for disobedience (Genesis 3:14–19) are descriptive ones of future realities, which involved a supremacy/subjection relationship between man and woman. These statements are not creation mandates; rather, the relationship of  mutuality, partnership, and equality portrayed in Genesis 1:1–3:7 is now sadly marred by sin."
Okay, let's assume that God's original design of mutuality, partnership, and equality is sadly marred by sin, why didn't Jesus and the apostles, or God in His Word, address that this should change in the church and tell us directly that women may teach and lead men? Just a few examples might have done it, but certainly a direct command would have changed Church history forever. Instead, God's Word says the exact opposite of what Scholer is advocating.
The third leg of Scholer's argument we have no issue with on its surface:
 "Jesus's inclusion of and ministry to and through women within his own life and teaching were a powerful witness to the early church of the partnership of women and men within its membership and ministry."
Jesus certainly did raise the status of women in His day and treated them with respect. Christ and Christianity has done more for women than any other religion or manner of thought. Women are indeed, as person, equal with men yet created different for different roles. God also outlined an order of things, not because He favors man, but because it is what is His best for the church and society.
The fact that women gave the first news of the resurrection or that the Samaritan woman evangelized her whole town, is not preaching or teaching.  Just because the church desperately needs women in ministry, and God greatly uses women in ministry, does not invalidate what God's Word clearly teaches about woman not to teach men or exercise authority over a man.
Unfortunately, Scholer is being intellectually dishonest here to try to get things the way he wants them to be and not what the Word teaches. How do we know this? If God intended for female leadership home and church He had every opportunity to set the record straight throughout history by elevating women into leadership, as Kings and priests in Judaism, as disciples of Jesus, as elders in the early church, as pastors, priests and church leaders throughout history. The "many" examples Scholer and others refer to throughout history could all be named on less than half a page.
One may be able to, as Scholar does, go grasping for straws on this question and find a Deborah and Priscilla, even a Phoebe, Junas, add them all up and assume they were ministers, you will not find one who is said to be a leader of a church, in a church, or teaching a man. Not one. And among these "few" women in ministries, not one can be shown to teach a man or exercise authority over him in the church. No not one of the six to ten women that can be named.
Now we have the apostle Paul, God's top theologian, writing authoritatively, "Let wives submit to their own husbands in everything" and "I do not permit a woman to teach or exercise authority over a man." It's not like this important correction Scholer is arguing for could not have been made when Paul taught us about the home and church leadership. Yet instead of being inclusive of women as elders, Paul wrote an elder is to be, "The husband of one wife!"
On all counts, and every turn of history, Scholer wants us to believe that God in his infinite wisdom allowed a mistake in understanding the Christian woman's role in the church … until now of course, in the age of liberation and feminism. This is in direct contradiction to what the apostle Paul writes, but Scholer has discovered by "many inferences" the truth, long hidden from the church. Truth that is setting countless women free to teach men and lead churches, all the while rarely, if ever teaching what God's Word commands them to teach to the younger women. Because if they followed it, it would wipe out most of their ministries as God commands the older women to:
 "teach the young women to be sober, to love their husbands, to love their children, To be discreet, chaste, keepers at home, good, obedient to their own husbands, that the word of God be not blasphemed" (Titus 2:4-5).
 In conclusion, God has always been quite clear and the church has been clear. Scholar and all the others who want to define women's equality as not having to accept male leadership in their home or church are being dishonest with the Word, history and themselves. The best one can do on this subject from the view Scholar is taking is to be honest enough to accept that God's intent was indeed male leadership and yet, somehow in these latter days, God has poured out His Spirit and gifted women to do something that goes clearly contrary to His Word.
This is very dangerous ground, as what else is God no longer holding to in His Word? Is gay marriage and polygamy next? Will God adapt His will and desires as cultural mores change, or are we to be salt and light, fixed upon the narrow road given by His inspired and inerrant Word? Unfortunately, once started the church and parachurch organizations seem bent on sliding down the slippery slope of making modern culture authoritative over God's Word.
If Jesus can go to a cross fulfilling each and every word God had spoken, we should be doing the same, even when it doesn't fit with our desires and what we think of as potential in life. After all is said and done, Jesus and God's Word are inseparable. Let's not let the latest feminist outcry push us into "culturally" making God's Word and church history all wrong on this important matter. Instead, let's assume that ALL Christian women, especially those gifted in teaching, do indeed have a great place in God's ministries, but it is not in teaching men or exercising authority over them in the church.
If women are to teach, they should make it a priority to teach that which God instructs them to teach other women how to be great wives. moms and keepers at home.  This is the message sorely lacking in our modern churches, not one more Biblical expositor, no matter how gifted or talented she may be in public speaking and motivation. These things are not the gifts of the Spirit, but human gifts, now mistakenly used to lead many women away from their primary roles, hence helping Satan achieve His ends as feminism wreaks havoc on our Christian families, and often their own family.
For what does it profit a woman pastor/teacher if she merits the whole church, but loses her family and the next generation of godly children?
For what shall it profit a man, if he shall gain the whole world, and lose his own soul?
Mark 8:36