Feminism Leads to Barrenness and Infertility
Feminism Leads to Barrenness and Infertility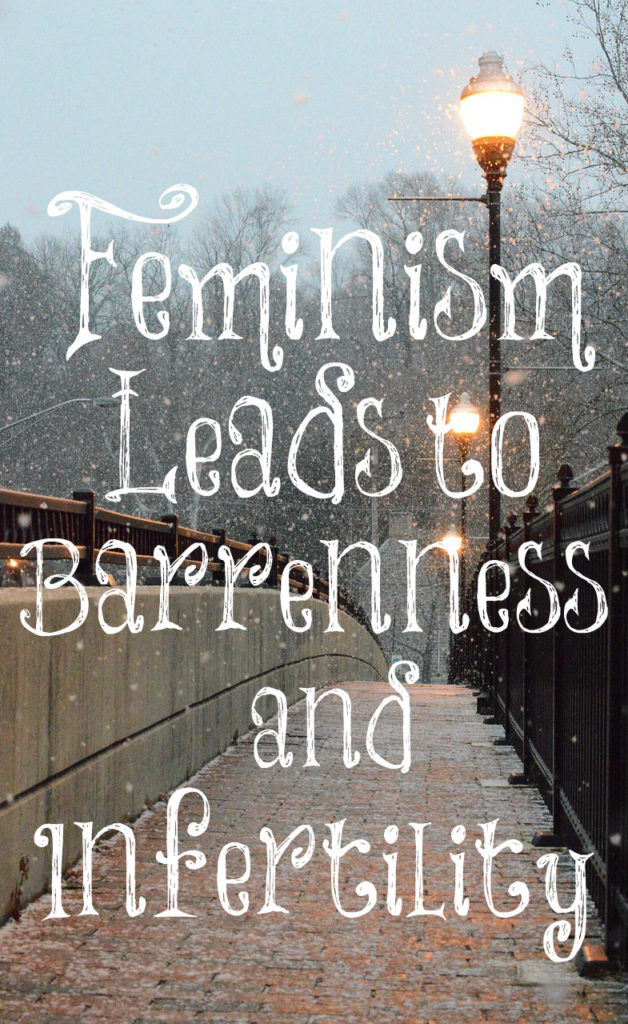 "Once upon a time, women wanted to get married and have kids. They wanted other things too, but marriage and motherhood was first on the list. As a result of this natural desire, women needed to find a 'marriageable' man, aka a good man who could also make a comfortable living. This arrangement allowed women to raise their children without the burden of earning an income. Men understood this arrangement, and, seeing as they aren't the ones who bear children, it made sense. In fact, they took pride in being able to provide for their families. Then feminists came along to implode this entire arrangement…" (Suzanne Venker)
"The defining characteristics of feminism are not femininity and fertility, but barrenness and infertility." A woman shared this tragic article with me last week called Will Europe's childless leaders halt demographic decline? If you aren't convinced of the evil of feminism, I pray this article will convince you and you will go back to the ancient paths the Lord has set for us.
The top European leaders are childless. How has women voting created this (You know, that "great" accomplishment of feminism)? "For example, many of French citizens who cast their vote for Emmanuel Macron in the recent French presidential election were women. Before the election, 62 percent of female voters said they would back Macron." Women are now choosing our leaders which is NOT a good thing.
Here are some of the other sobering facts from this article:
"A recent survey conducted by the Pew Research Center shows that the number of young men in the US who want to marry has dropped to the lowest level ever recorded." 
"Feminism was largely successful in severing sex from reproduction. This was considered progressive, a step forward that liberated women from caring for their children, so they could join the labor market and realize themselves."
"The decline and fall of Rome has been explained by its decadent and 'bachelor culture,' much like what afflicts us in northern Europe. It is important that those who want to keep Western civilization alive do not amputate its roots and then think that it can still survive. Or should survive."
Did you know that in past generations the Church was vehemently opposed to birth control? Now we can see why. The fruit of it has been evil. This was written in 1946 by Dr. John Rice: "Those who would encourage widespread use of contraceptives, and other artificial methods of birth control or prevention, are in the minority and have always been opposed by most of the Christian and moral leadership of the world." Oh, how far the Church as fallen.
Mr. Rice goes on to tell of a wise Christian writer, Dr. B. H. Shadduck who facetiously suggested in his pamphlet, Stopping the Stork, that if people want to limit the size of their families they should wait until the child is two years old and then decide whether to kill it or not. Once babies are born, we love them and understand that they are a great blessing from God.
We are reaping the fruit of the leftist (Satan's) agenda which is to kill, steal, and destroy. They have killed babies (abortion), stolen away the rights of many children to be born (birth control), and destroyed marriage, thus destroying nations. Let us not fall into lock step with this madness but seek the Lord and what He has plainly written in His Word. He created marriage and He created it for life. He creates children and calls them a blessing.
John Rice told a story of a man who had eight children and some of them were in college. The youngest was getting older when he found out his wife was pregnant. They weren't too thrilled about it but that baby was the biggest blessing to this family. Even when the college age children came home, all they wanted to do was to play with that baby! Children bring joy and happiness to the home.
Mr. Rice had six children of his own. (Just because you don't use birth control doesn't mean you'll have 18 children!) "In my own home there have been eight of us to eat around the same table, eight of us to have family worship together. There was always somebody to play tennis with, or somebody to sing with, or somebody to play checkers or dominoes with…Our children never wanted to go to other people's homes to play or visit. Other people's children came to our home where there were so many people and where there was always something doing! My children never needed expensive toys to play with. People are more fun to play with than toys."
This world needs godly offspring more than it needs anything else. Gaining a college degree and a career can't even compare to bearing and raising children who are eternal beings. If you are young, married, and fertile, go have babies and raise them for the Lord! Then train your sons to work hard and want families of their own and teach your daughters to want to marry, bear children, and guide the home. Most importantly, teach them all about the perfect ways of the Lord and the joy of living for Him!
Lo, children are an heritage of the Lord: and the fruit of the womb is his reward. As arrows are in the hand of a mighty man; so are children of the youth. Happy is the man that hath his quiver full of them: they shall not be ashamed, but they shall speak with the enemies in the gate.
Psalm 127:3-5