Are Husbands Powerless to Do Anything?
Are Husbands Powerless to Do Anything?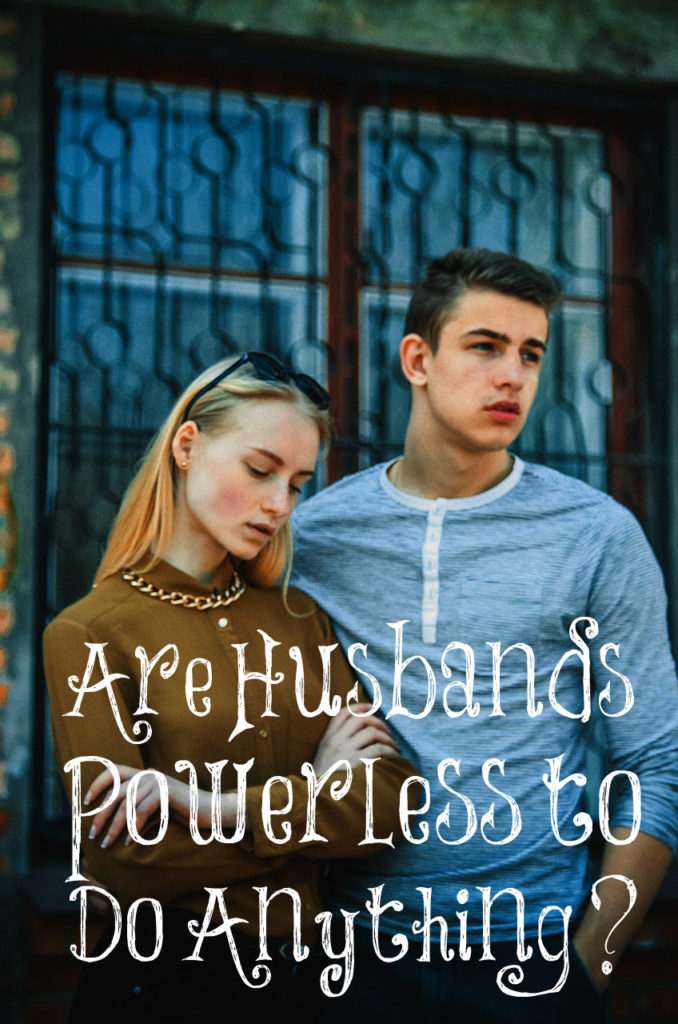 If a man is married to a woman who spends money like crazy (money they don't have) and is putting the family deeply into debt, is there nothing he can do about it? If a man has a wife who goes out drinking with her friends frequently and comes home drunk, is the husband powerless to do anything?
Last week, I posted an old post on Facebook called "Should Husbands Ever Discipline Their Wives?" I have hesitated writing about this again because it brings up so much controversy but then I reminded myself that this has never bothered me before. I try to seek the truth from God's Word and His alone.
God created the husband head over the wife. He is her leader. She is to obey him and submit to him in everything. This is God's ordained authority structure in the home. But many women balk at the idea of a husband "disciplining" his wife. Before I go on, I want to make it clear that I am NOT speaking about any form of physical abuse. I will never support this. I am writing about a husband trying to stop a wife from doing bad behavior.
When I wrote about this years ago, I was surprised to see such negative reactions from even godly wives about the word "discipline." Our current society only typically uses the word "discipline" in two scenarios: 1) Disciplining a disobedient child (the term typically used for spanking) and 2) Self-deprivation for the purpose of reaching a goal (i.e. running a marathon, losing weight, etc.). Discipline that I am writing about is similar to the word "intervene" or using means to change bad behavior as God does for us. "For those whom the Lord loves He disciplines, and He scourges every son whom He receives" (Hebrews 12:6).
When a citizen of a government speeds way too fast down a highway and is caught, he is disciplined by the government and has to pay a steep fine to hopefully teach him a lesson. When a student misbehaves in the classroom, the teacher finds some way to discipline them (going to the principle's office, missing out on recess, etc.), in  hopes of stopping the student from misbehaving. When an employee is continually late to work, they will be disciplined by their boss in some way, maybe even be fired.
All those in authority have some type of disciplinary actions they use upon those under them when they break the "rules" so why would it be different in a marriage? Some may say a husband is simply supposed to pray and hope the Lord will convict and change the wife. No, this is God's prescription given to women in 1 Peter 3:1 who are married to difficult men. They are to win them without the word by having godly behavior. Men are never given this prescription when they have disobedient wives. (Of course, women in difficult or destructive marriages can seek outside help and even separate if need be.)
Women will write, "My husband would NEVER discipline me." Then that's fine! Hopefully you aren't a rebellious wife and if he doesn't feel comfortable holding you accountable for any of your bad behavior or trying to stop it, then that should be his decision to make.
Our culture has made men impotent. Feminism has made men impotent to do anything to lead their homes. "Oh, but husbands are to love their wives as Christ loves the church." Yes, how does Christ love the church? "As many as I love, I rebuke and chasten: be zealous therefore, and repent" (Revelation 3:19). Part of loving is disciplining – trying to stop bad and/or destructive behavior. The wife does this by speaking the truth in love (yes, I absolutely believe a wife can call out a husband's sin and speak the truth in love and then allow God to convict and change her husband) but I believe a husband has the authority to do more. A requirement for a leader in the church (male) is to be known for ruling his own house well (1 Timothy 3:4).
Now, I am only going to give a few examples of what I believe a husband can do if he has a wife that could use some discipline. If his wife is spending way more money than they make, he has the authority to cut up the credit cards and put her on a budget. (Now, this doesn't apply to cruel husbands who are causing their wives to live in bondage and hardly have a penny to their name. In this case, a wife needs to seek outside help.) If a wife goes out frequently and gets drunk with her friends, the husband can take away the car keys and money before she goes. He has the responsibility to do what he can to stop this destructive cycle. If a wife is way too harsh in her discipline of the children, a husband needs to show leadership and step in and stop her. If a wife is a horrible housekeeper and her house is a disaster because she spends all day on her smart phone, then a husband has the duty to take away her smart phone. If a husband asks a wife to not put the knives in the dishwasher but she continues doing it, he has every right to not buy her a dishwasher and no, this isn't abuse! Women have been washing dishes by hand for centuries.
So, yes, absolutely I believe a husband has the authority to discipline his wife in a way that isn't physically abusive. He is head over her and God has put him in authority over her. He will be held accountable for how he has led her. It isn't love to allow her to continually get away with bad behavior if there's something he can do to help her stop it.
 Husbands, love your wives, just as Christ loved the church and gave himself for her.
Ephesians 5:25