Women Become Easily Discontented
Women Become Easily Discontented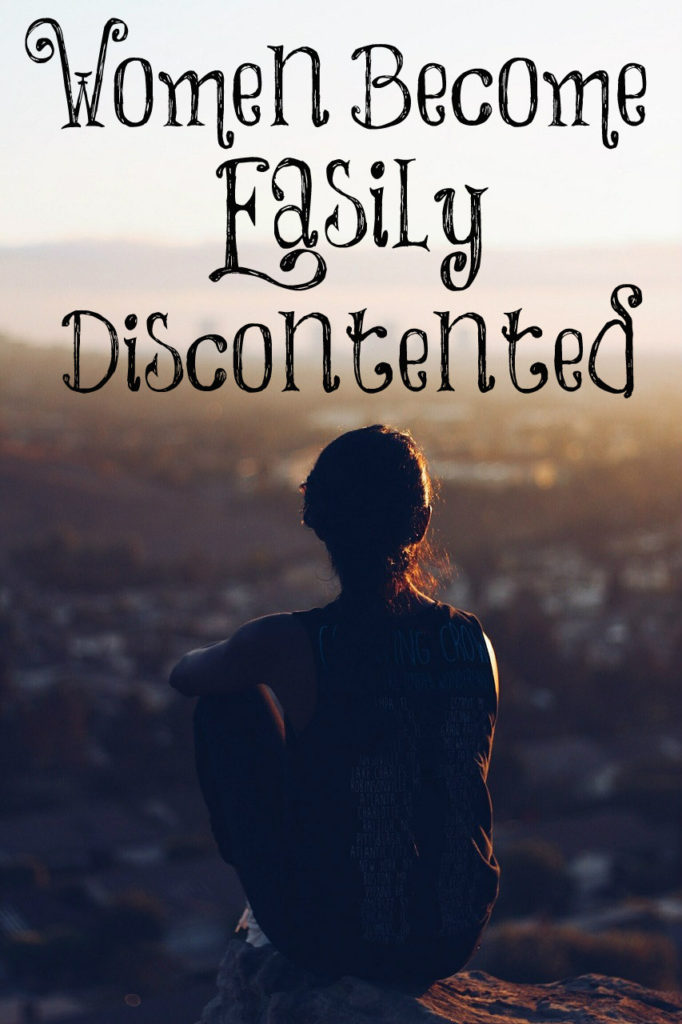 Elizabeth Prata wrote an incredible article called Discontented Women. Women are much more discontent with the role that God has given them than men are with the role God gave them. This is why feminism has spread so easily, even within the church. Women have been made to falsely believe that they need MORE of what God has called them to do. They want to be men and do what they do!
Discontent women believe they should be able to have careers and allow others to raise their children. They can teach men and even be leaders in the churches. They don't need to be submissive to their husbands because they are "equal." Housework is beneath them. Making a name for themselves and accomplishing something "out there" is so much more important than being a wife and mother.
"Discontent! Feminism, First Wave, Second Wave, Third Wave, wave upon wave of secular assault has taken its toll. It has infected women. Gangrenously killing the healthy flesh even while it races about the body calling for more, ever more yearnings that suck the blood from healthy tissue and turns it dead as it stands.
"Discontent is a killer.
"Satan whispers to women that being a wife and mother isn't enough. That unless you are a leader, out there, in front, you're behind. That staying at home means you are missing all the opportunities, all of them! … for what, he doesn't say. He just stirs up discontent with where women are, with what they have."
This is why women are divorcing their husbands at a rate of 75 to 80 percent! They wish their husbands were more spiritual. They wish their husbands were like their friend's husband: more romantic, listened carefully when they spoke, read their mind, didn't like TV so much, and on and on the list goes. (You will never have a good marriage if you don't accept your husband just the way he is and allow God to be the one to convict and change him in areas he needs changing. You are called to love him.) There are multiple things that women can struggle with discontentment (appearance, financial and living situation, to name a few) .
We must do everything we can to guard ourselves from the lies that are being told to women today. We must seek our calling that is clearly spelled out in Scripture rather than twisting it to make it say what we want it to say. God doesn't care about us making a name for us, making our own money, and having the admiration of others. He cares that we are obedient to what He has called us to do.
You bring glory to the Lord when you live in submission to your husband as his help meet, bear and raise children for Him, keep your home clean and tidy, and stay silent in the churches. This is His calling for women. Don't allow anyone to take away your contentment in God's perfect calling on your life!
For those who never get married, be content in your singleness. For those who never have children, find contentment in your barrenness. For those who can't be home full time, be content where you are until you may come home. Find contentment wherever you are. It is something we must learn, as the Apostle Paul told us, so learn to be content in all situations. Satan has had a field day with discontentment in women. Don't allow him to have one with you.
Not that I speak in respect of want: for I have learned, in whatsoever state I am, therewith to be content.
Philippians 4:11