Live Your Dreams. Forget Children.
Live Your Dreams. Forget Children.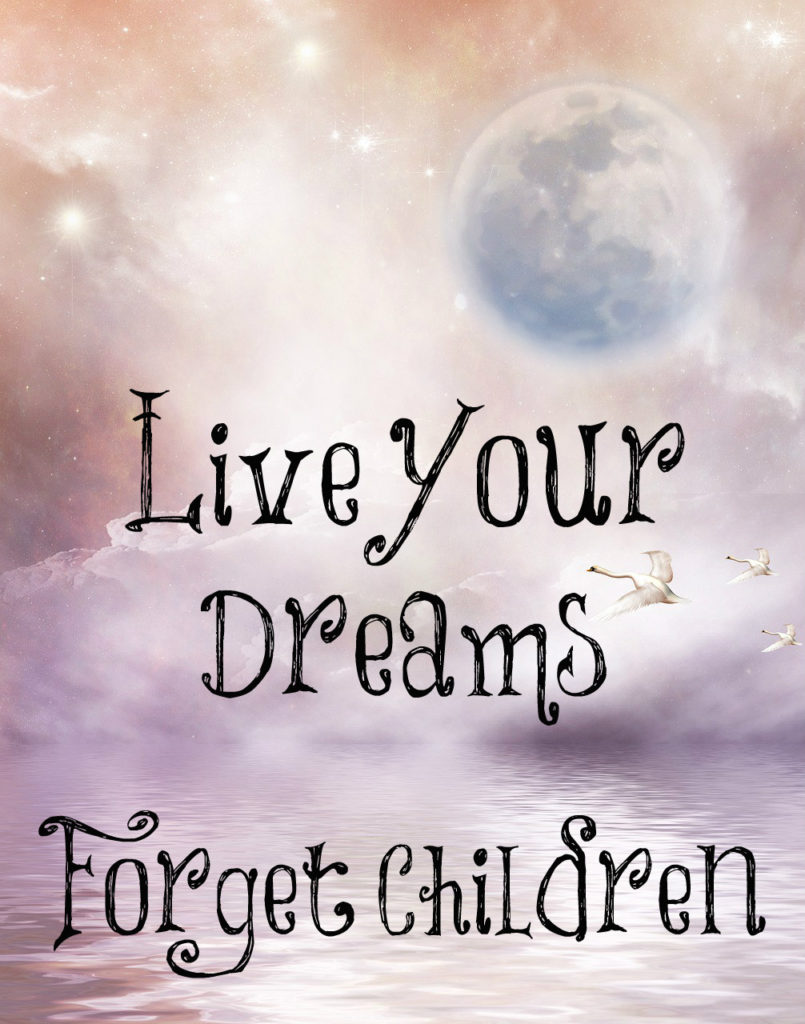 Almost every young Christian woman that I have ever known has wanted to experience college, a career, and traveling which is simply another way to explain the feminist lifestyle. These were their goals. Very few of them ever said they only wanted to marry and raise children. The feminist lifestyle is not from the Lord. He never calls young women to go to college, pursue careers, and travel. No, He tells us that marrying and bearing children are what young women are called to do. Unfortunately, there are very few of us encouraging young women to marry and bear children and we are ridiculed when we do.
Read these sad words from Ellie Bufkin in her article People Told Me to Live My Dreams, But Never To Dream of Having Kids who heeded the mantra that feminism proclaims to young women everywhere, even those in the Church.
"Since I was young, I've heard a non-stop stream of encouragement for me, as a 'modern woman,' to take charge of my own life, live independently, and chase my dreams. This seems like the obvious advice we should give children, except that many people spent so much time chasing their dreams and creating their bespoke lives that they forgot to have children.
"While growing up in the suburbs, my post-scholastic dream did not consist of finding a partner and having babies. I wanted to see the world, experience many cultures, and live without having to worry about caring for anyone else. I ended up in a fast-paced career with a propensity for hard partying, late hours, and a taste for travel and luxury.
"As years ticked by, I assumed my perfect life would simply fall into place when I was ready, my career would steadily improve, and I would be swept off my feet by a perfect man. I had many friends with the exact same expectations for their lives, and today, we are pretty much all still single and childless."
Then here are some wise words from Mary Pride in her book The Way Home and her views about having and raising children compared to the feminist lifestyle and lies:
"The real reason that couples are so attracted to family planning has nothing to do with the Bible. It has to do with fear. We're afraid that we can't afford a large family. We're afraid that we wouldn't be able to control so many children. Some of us fear that without family planning we would have to give up cherished parts of our present lifestyle…Have babies and raising them takes precious time away from their sadly shallow goals in life, which are, in the words of two evangelical feminists, 'pursuing individualistic interests and making their own name for themselves.'
"We are the richest people in history, yet the most fearful about the costs of child-rearing. Perhaps it's because we don't realize how superfatted our lifestyles are, and how little our children really need in order to grow happy, healthy, and godly.
"What 'freedom' do babies cost us? Do they interfere with our freedom to love and serve God? No; they interfere with our freedom to indulge 'the lustful desires of sinful human nature,' as Peter puts it, ranging from common childish selfishness to full-fledged adult depravity.
"Overpopulation is the great excuse for feminist barrenness. More than that, it is a slogan used to persecute those who hold out against a feminist lifestyle. The word overpopulation turns a couple who are sacrificing time, money, and energy out of love for their children into 'selfish' people who are 'aggravating societal problems."
As the author of The End Time wrote: "Happy is the woman who unashamedly says 'I am a wife.' 'I am a mother.' If we are not ashamed of the Gospel, we are not ashamed of any element within it, including the role He has given us to reflect His glory and image. 'Just a mom'? Might as well say 'Just a Christian' when in fact being a woman, a wife, or a mother is all, because we have all, in Christ."
Lo, children are an heritage of the LORD: and the fruit of the womb is his reward.
Psalm 127:3