Preventing Rebellious and Broken Children
Preventing Rebellious and Broken Children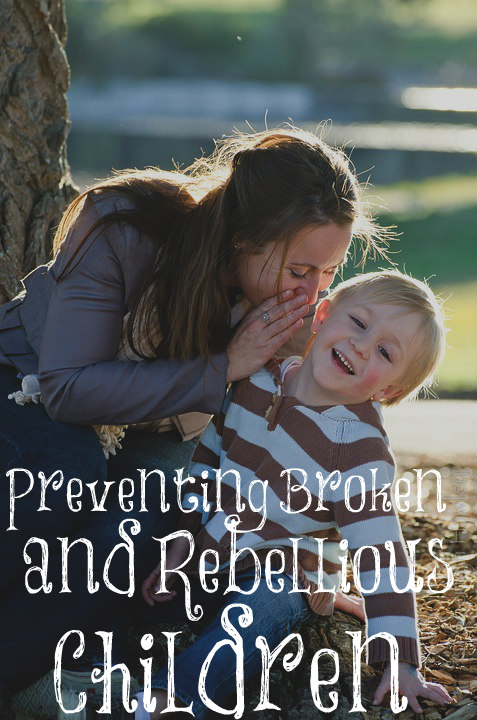 On the "Happiness Hour" that Dennis Prager has every week, recently he asked the question, "If you have a rebellious or broken child who is an adult, looking back, is there anything you would have done differently?" One woman called in and said she would have been careful to not allow her daughter to hang out with the wrong crowd but since she was a single mother who worked full time, she didn't feel she could do anything about it. Her daughter got pregnant at 14 years old and has lived on government assistant since then. She is now 40 years old, unmarried, and with three children from different fathers. This woman has no relationship with her daughter anymore.
My youngest daughter wanted to go to the public junior high. I told her before we sent her that if she began to hang out with wrong friends, she would be pulled out and homeschooled immediately. Within two months, she was home with me. She is 31 year old, married, and has three children with her husband. My daughter and I are best friends. Don't be afraid of keeping your children from harmful friendships. It's for their protection and good.
Bad company corrupts good morals, the Bible tells us. We are to walk with the wise. "He that walketh with wise men shall be wise: but a companion of fools shall be destroyed" (Proverbs 13:20). "Wherefore come out from among them, and be ye separate, saith the Lord" (2 Corinthians 6:17). Children are easily influenced. They must be protected from bad influences whether from TV, music, movies, and friends. Don't allow your children to hang out with fools, nor allow them to be entertained by fools.
Many children who are being raised in Christian homes are walking away from their faith after being saturated with the Marxist Feminism that is being taught in the public schools and universities today. Wake up, parents! Your children's eternal souls are in danger. Satan's goal is to steal, kill, and destroy. God's will is for YOU to raise your children in the nurture and admonition of the Lord. He gave this responsibility to no one else.
Another caller mentioned that she was consistently demeaning her husband and his authority in front of the children. In hindsight, she saw how destructive this was on her children. Even Dennis Prager, who isn't a Christian, stated that it's an obvious fact that the man is the head of his household and deserves respect for this fact alone. Children know this instinctively. They know their father is bigger, stronger, faster, and has a lower voice than their mothers. It doesn't take a rocket scientist to figure this out no matter how much women want to protest this. Never demean your husband in front of your children or anyone else for that matter. This is not only humiliating to him but to everyone who sees it happen. Divorce greatly damages children too.
Children need to be protected and modeled godliness. In this world, they will be modeled the complete opposite. God gave children to parents for a reason. He wants the parents to raise godly offspring. Yes, it's a lot of hard work and sacrifice, but it's completely worth it and there's NOTHING more important that you could be doing than raising the next generation of Christians.
I have no greater joy than to hear that my children walk in truth.
3 John 4