Are My Teachings Similar to The Handmaid's Tale?
Are My Teachings Similar to The Handmaid's Tale?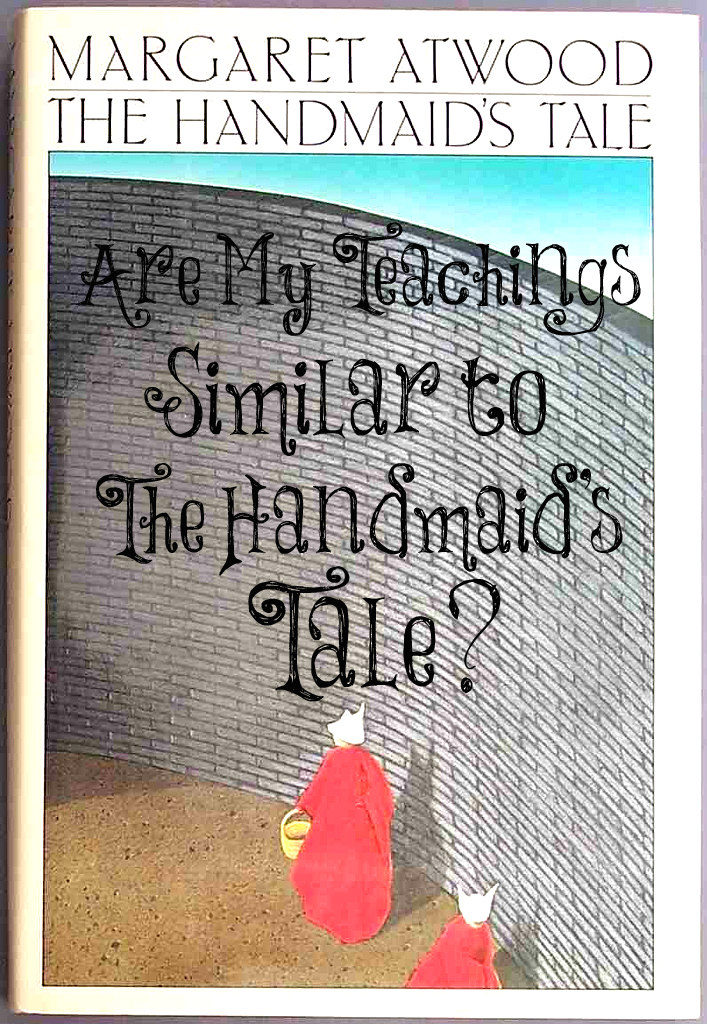 People who are blinded to the ways of the Lord have accused me of teaching things that are similar to those in The Handmaid's Tale. I had never heard of this movie before so I read what it was about on Wikipedia and this is a portion of what it said:
"The authorities take Kate to a training facility with several other women, where she and her companions receive training to become Handmaids—concubines for one of the privileged but barren couples who run the country's religious fundamentalist regime. Although she resists being indoctrinated into the cult of the Handmaids, which mixes Old Testament orthodoxy with 12-step scripted group chanting and ritualized violence."
First of all, I am not a part of a "religious fundamentalist regime." I am a born-again Christian who believes in the Bible which is the inspired Word of God. We are not forced to do anything and I do not force anyone to obey what I teach. We have freedom in Christ but our freedom is to be used to bring glory to the Lord in all that we do. The Bible is His Word and has everything in it that we need for life and godliness.
We are not a part of a cult. A cult is typically run by a man who abuses his power and makes people worship him and make him their idol. The only One we worship is the God of the universe. He demands nothing of us unless we claim to be His child. He has given us free will since He wants us to chose to love and obey Him. Love is not love if it is forced. Once we believe in Him, He adopts us into His family and we become His children, then we WANT to live in obedience to what He has commanded since His ways are good, right, holy, and pure.
We are living in the Church age so we are no longer under the Old Testament Law, thankfully. The Law was a cruel taskmaster since it exposed our sin, yet gave us no power to live righteous lives (Galatians 3:24, 25). This is why we needed a Savior, Jesus Christ, who fulfilled the Law perfectly for us, took the penalty for our guilt (for breaking the Law) as a sacrificial lamb, and was crucified for our transgressions. Now, all who believe in Him become new creatures in Christ and are given His Holy Spirit that lives in and through us. We will enjoy an eternity with Him where there will be no more pain, suffering, or sorrow. What a God we serve!
In Christianity, there is no "12-step scripted group chanting" or anything like this. We don't need to do this since we have God's Word that we can read, study, and be transformed by since it is living and active. It, along with His Spirit working mightily within us, makes us kinder, gentler, more loving, more sacrificial, and more like Christ. God doesn't want us to have repetitive prayers (Matthew 6:7). He wants us to speak to Him in prayer as a Father who loves and cares about everything in our lives.
There is no "ritualized violence" in Christianity. The Handmaid's Tale is a work of Satan, not God. The only ritualized violence I see is coming from those who are not Christians, like millions of babies being brutally murdered in the womb, other religions who believe they are rewarded in their false heaven for murdering people, and other horrible things like this. No, God condemns this kind of violence. Yes, He will have the last word on Satan and those who follow him but it will be in His timing and in His way. (Read the book of Revelation.) We are all promised that we will reap what we sow (Galatians 6:8).
I teach NOTHING even closely similar to The Handmaid's Tale. Willingly choosing to NOT deprive our husbands of sex is not rape. Willingly choosing to submit to our husband's leadership doesn't cause abuse. Willingly choosing to be keepers at home instead of career women is a choice we are thankful to make since we love being home with our children and making our homes places of peace and beauty for our families. We much prefer this to fighting traffic, working in submission to a boss all day long, the stress of meeting deadlines, and being exhausted by the day's end. No, thank you. We love what the Lord has called us to do. His ways are perfect.
For such are false apostles, deceitful workers, transforming themselves into the apostles of Christ. And no marvel; for Satan himself is transformed into an angel of light.
2 Corinthians 11:13, 14