She Looks Well to the Ways of Her Household
She Looks Well to the Ways of Her Household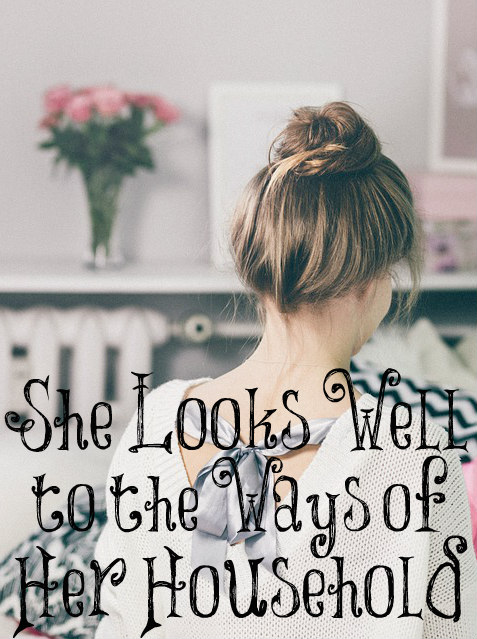 She looketh well to the ways of her household, and eateth not the bread of idleness.
Proverbs 31:27
"She diligently observes the management of her domestic business, and the whole carriage of her children and servants. Whereby he also intimates, that she spends not her time in gadding abroad to other people's houses, and in idle discourses about the concerns of other persons, as the manner of many women is, but is wholly intent upon her own house and proper business" (Benson Commentary).
Taking care of our home and family are our greatest concern; for this is God's ordained will for us – to be keepers at home. It's not keepers of the home, but keepers AT home. "AT" means we are there AT home. This is where people will find us the majority of the time. This is where our work needs to be done. This is where we are to stay busy. There is a lot to taking care of a home and family. There's always something that needs cleaning. Food needs to be fixed three times a day if you have children in the home. This isn't supposed to be done with our left-over energy. No, it's supposed to take all of our energy. Being a help meet to our husbands, a mother to our children, and a keeper at home is a full-time job and it's perfect for us as designed by our Creator.
"The business of her house, her domestic affairs; that her children and servants have convenient food, and in due season; that they have proper clothing, and keep their garments close about them, and unspotted; that everyone does the business of his calling, her several officers, and private members; that a good decorum is kept, that all things are done decently and in order; that the rules of her lord and husband are observed; that the conversations of all in her house are according to the word of God, and becoming their character" (Gill's Exposition).
As godly woman, our first priority is in pleasing our Lord and Savior. Whatever He instructs us to do, we do with His Spirit working mightily within us. Then we aim to please our husbands as our earthly lords. If they want the home to be kept a certain way, then we keep it that way. We learn to serve them cheerfully and willingly. Then we love and serve our children by disciplining, training, and teaching them all of the ways of the Lord and life. Since God is a God of order and beauty, let us strive to be women of order and beauty in our homes!
"As Almighty God, from His lofty watch-tower in heaven, observes all the minutest details of the manifold work that is going on in the busy hive of earth, so does she from her exalted position in which He has placed her, as mistress of the family, and as responsible to Him, observe 'the ways of her household'" (Cambridge Bible).
A woman who works outside of her home cannot possible be over all of the "minutest details" of her home and family. This is imperative for mothers to do since it's protection for their children. God has ordained mothers to watch carefully over their children and in order to do this, they must be the ones who are with their children continually. Children being sexually abused is rampant these days and it was probably not so common when mothers were home full time watching over their children. Mothers who are not keepers at home blaspheme the word of God (Titus 2:5). Yes, this offends many women today but I'm not the one who wrote this.
"She considers the ways of her house, because she accurately examines all the thoughts of her conscience. She eateth not her bread in idleness, because that which she learned out of Holy Scripture by her understanding, she places before the eyes of the Judge by exhibiting it in her works" (Pulpit Commentary).
She is not a different person outside of her home. No, the same person strangers see is the same person her family lives with. She is as patient and kind with her family as she is with others; for she lives to please her Savior and He sees everything! In order for her to live this way, she spends daily time at the feet of Jesus and learns His ways. She knows she has been given supernatural power (the Holy Spirit) to live this way so she trusts God to accomplish His work in and through her.
And whatsoever ye do, do it heartily, as to the Lord, and not unto men.
Colossians 3:23