Preaching a Sermon Without Words
Preaching a Sermon Without Words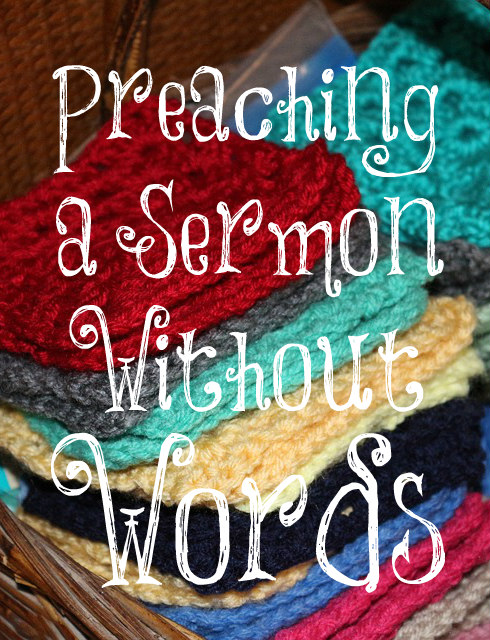 "There are so few older, wiser women online and even fewer to be found where I live. I grew up in a very 50s like small town in Alabama where everyone knew everyone. The wives and mothers stayed home while their husbands worked. My own mother worked outside of the home so my sister and I were mostly raised by my grandmother. I watched that dear lady all throughout my childhood. She would wake up 'in the dark', as we would say, fix breakfast for me, my sister, my two cousins and my grandfather every morning. She would take us to school, pick us up from school, take care of us all afternoon, and then cooked supper for my whole family: my parents, my aunt, my two cousins (and whoever they would bring home), my grandfather, my sister, and me.
She cooked and cleaned all morning and crocheted in the afternoons. I would sit next to her in her chair as she crocheted blankets for all of us. I learned more about Christianity from her than any sermon I've heard and the thing is, she never said a word about it. She didn't even speak that often, she just did. Her life was a giving life. She gave herself to us every day. I am so blessed to have had her set the example for me to follow. And I do follow. I am a stay at home wife and mother. I homeschool my children. I cook and clean and do laundry. It is wonderful."
This is a comment by a young woman named Emily who wrote me. Other women have asked her to begin a blog and teach women what she knows since she is a wise young woman but she is only thirty seven and doesn't believe younger women should be mentoring other women since the Lord has given this ministry to older women who have raised children and been married a long time, plus they have the time to do it. Unfortunately, there aren't many godly, older women who are willing to take on this role. Thankfully, Emily's grandmother took her mother's place and trained her in godly womanhood by the way she lived her life but few are blessed with a role model in their lives like this and this is the reason for Titus 2:4, 5.
If you had a mother or grandmother in your life who was an example to you of godly womanhood, you are blessed! It's not common in today's feminist culture but I doubt it has ever been common since Eve decided to go over her head (Adam) and choose her own way believing that her way is better than God's ways.
 That they may teach the young women to be sober, to love their husbands, to love their children, To be discreet, chaste, keepers at home, good, obedient to their own husbands, that the word of God be not blasphemed.
Titus 2:4, 5