Are You a Foolish or a Wise Woman?
Are You a Foolish or a Wise Woman?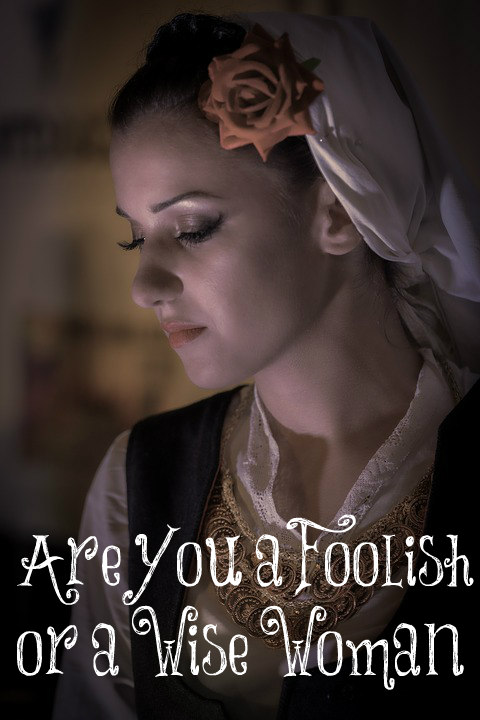 In James 3:14-17, we are clearly shown what a foolish and wise woman looks like. Unfortunately, there are many foolish women in our world. They don't know God nor do they want to worship Him. They want to be their own god, make up their own rules, and live life as they please. They will even twist scripture so they can do what they want instead of obey God.
"But if ye have bitter envying and strife in your hearts, glory not, and lie not against the truth. This wisdom descendeth not from above, but is earthly, sensual, devilish. For where envying and strife is, there is confusion and every evil work."
Foolish women have "bitter envying" as James refers to it. When I show a picture of my bathtub on Instagram, they will comment, "I sure can't afford a bathtub like that!" There is a ton of bitter envying among women today. "They lust and have not." This is why God commands that we be content with such things as we have. If you have bitter envying over someone else's looks, weight, husband, home, health, or even their bathtub, you are a foolish woman.
Foolish women cause "strife." They enjoy slandering others and causing contention among people. There is little peace in their homes. They tear down their homes with their own hands by insisting on being right and getting their own way. They refuse to live in submission to their husband's leadership but instead, try to forcefully take control.
Foolish women are "earthly." Earthly pertains to things of this earth and includes things that are vile and mean. They are of the worldly kingdom and not the heavenly kingdom so they only live for the here and now and what they can get for themselves. Their "glory is in their shame" (Philippians 3:19). They store their treasures on earth instead of in heaven. They are friends of the world and enemies of God. They dress and act in a way that pleases themselves, not the Lord.
Foolish women are "sensual." They are "devoted to the gratification of sense; given to the indulgence of the appetites" according to the 1828 Webster Dictionary. They give into all of their appetites regardless of the harm they do to themselves and others. They dress sexy and turn other wives' husbands on. They give into their gluttony, alcoholism, and fornication while think nothing of it.
Foolish women are devilish. "Partaking of the qualities of the devil; diabolical; very evil and mischievous; malicious." They are not the kind of women you want to be around because they enjoy causing destruction. They are Satan's agents and doing his work which is characteristic of Jezebel in the Bible.
Foolish women cause "confusion and every evil work." Do you want to know why our culture is in such a mess? Foolish women have destroyed the family by not being content in the role that the Lord gave them but instead sought after men's roles, thus destroying marriages and children. This has caused confusion on every level in our culture from the government down to the family. Children are being taught they can decide what sex they want to be! I am not sure what can be more confusing and evil than this.
Wise women are pure, peaceable, gentle, easy to be entreated, full of mercy and good fruits without partiality, without hypocrisy, and humble (James 3:17). "Who can find a virtuous woman? for her price is far above rubies" (Proverbs 31:10). Wise women like this are rare indeed. They abstain from all appearance of evil. They rid their homes of it. They pursue peace with all men. They are gentle with people knowing that we all have struggles thus showers mercy and grace upon them.
They aren't leaders or teachers in the churches. No, they are quiet and learn in all submission. They dress modestly and adorn themselves with good works and in submission to their husbands. They love bearing children and raising them, if they are able, while being keepers at home. They love their God-given role and are thankful to be a woman. They have no desire to compete with or be like men. They want to be feminine women who love their Lord and Savior by obeying Him and living for Him.
Who is a wise man and endued with knowledge among you? let him shew out of a good conversation his works with meekness of wisdom.
James 3:13