Dating is the Breeding Ground For Fornication
Dating is the Breeding Ground For Fornication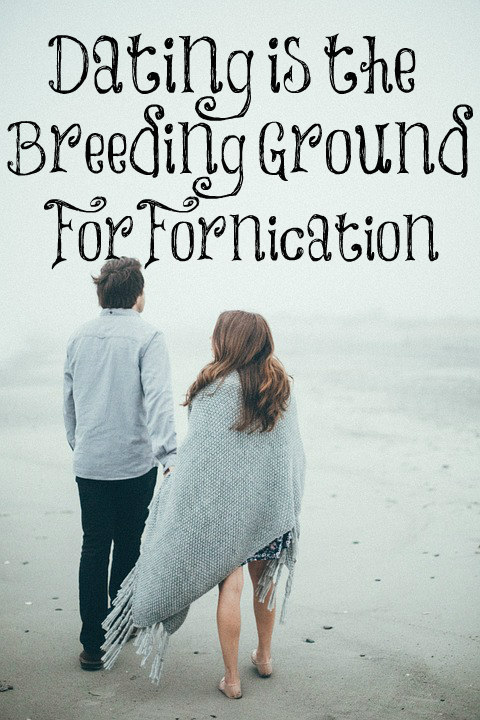 Modern dating is simply another name for sexual immorality and has damaged the institution of marriage which requires faithfulness and commitment. It leads to divorce and devastation instead. In an article I read recently, a man who is not a believer says that dating is a failure and doesn't work to find a life partner. (I will not link to it because of the bad language in it and I do not agree with what he believes.) He says the only good part about dating is that it is great for finding short-term sexual partners. The women give him sex by the first to third date. Yes, he enjoys it for the short term but thinks about how many other guys she has had sex with then realizes that she isn't marriage material. He would rather remain single than marry a woman who has been sexually promiscuous with many men.
A curious thought seeing that he, too, has slept with so many women outside of marriage. Dating for sex cheapens the marriage bed for both parties and defrauds their future spouses. Unfortunately, the Church isn't doing much better than the culture in the dating and marriage arena. Many young Christian couples are living together before marriage and the divorce rate is still way too high among Christians.
Dating isn't a great invention. Allowing two members of the opposite sex to go out and spend hours alone together without any accountability is a recipe for disaster. When kissing begins, the motors start to rev up. Kobe Bryant was asked when his daughter could start dating and he replied, "She can date when she's married." Dating has led to many harmful things like STDs which can cause sterility, alcoholism, selfishness, broken hearts, and on and on the list goes. None of these things prepare the young people for marriage, faithfulness, or commitment.
One woman in the chat room had this to say about dating: "Modern dating is not only a breeding ground for sexual immorality, but also heartbreak. I am beyond thankful that when I reached the age where I was ready to 'date' I knew that it was important to do so intentionally and with marriage in mind. My first boyfriend ended up being my husband!
"My philosophy for dating was first to guard my heart (Proverbs 4:23). My husband and I set boundaries (physical and emotional) from the very beginning. We also wanted to be poured into by older, wise believers who had walked the road we were walking. We surrounded ourselves with wise counsel. I'm blessed to have parents who walk with the Lord and were very involved in this process as well. We were (and still are) friends with couples that were older and wiser than us. In hindsight, there are boundaries that I think I would change if I could do it over again (I don't think I would have even kissed him before marriage), but overall I think our intentions were in the right place.
"I think it is unwise to spend lots of time alone with one another in private. That just breeds temptation. It would be wiser to get to know one another in groups or with family/friends nearby. Of course, there are private conversations that may need to be had before marriage, but that could easily be done over the phone or in a public place like a restaurant or coffee shop.
"One thing I tell Christian girls who are dating and ask me about boundaries is that I would rather be overly caution with boundaries than under cautious and end up in sin. Sexual sin is a sin that the Bible tells us to FLEE from. We shouldn't be asking, 'How far can I go?' or 'How close can I get to the line without going over it.' We should be asking, 'How can I best glorify God in this?' and 'How can I strive towards holiness in this?' There is plenty of time in marriage to explore sexual intimacy and get to know one another's bodies, so save this for where God intended it to be."
In regards to this man's article that I referred to at the beginning, I have no answers for him. When there's no moral foundation like Jesus Christ and godly principles to live one's life by, everyone sets up their own moral standards which change over time. I feel badly for culture at large and what has happened to the marriage institution when in times past, most couples, even unbelievers, married out of high school and would remain married until death do they part. No, they might not have been "happily married" but they knew about faithfulness and commitment which marriage is truly about.
It's a huge blessing to be married for many years (almost 39 years now). It's a blessing to raise children together and enjoy the tremendous blessing that grandchildren bring. No, I don't think that modern dating is healthy nor good. It provides way too much sexual temptation so while raising your children, you are going to need to talk to them a lot, teach them the truth of God's Word and what He expects of them since His ways are perfect, and set boundaries with their protection in mind. If you have trained and disciplined them well, and they respect and love you, they will appreciate the boundaries and be protected from the modern day dating scene.
Flee fornication. Every sin that a man doeth is without the body; but he that committeth fornication sinneth against his own body.
1 Corinthians 6:18