Are You Raising Your Daughters to Want a Successful Career or Marriage?
Are You Raising Your Daughters to Want a Successful Career or Marriage?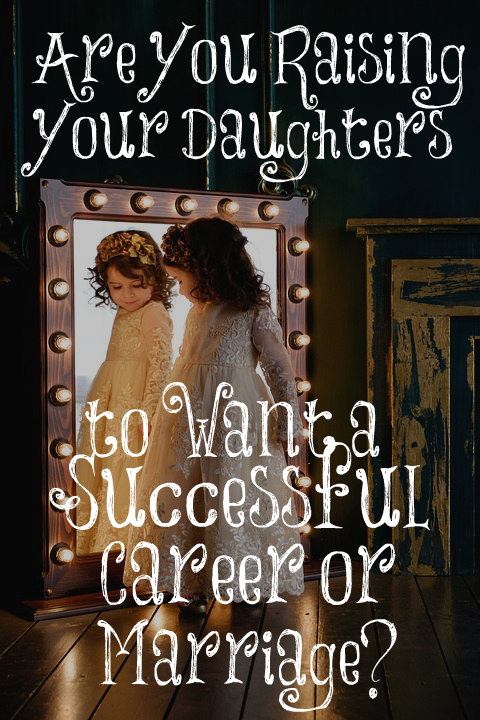 Every Thursday, Dennis Prager has a "Happiness Hour" on his radio program. Yesterday, he asked if parents are raising their daughters to want to be married or have careers. He has asked many women this question through the years: "If you could choose to have a successful marriage or successful career, which one would you choose?" He said the women answer 50/50.
One time he was talking to a pretty, young woman in her early thirties who was an up and coming actress. She was a believer so he asked her this same question. She answered that she wanted a successful career more than a successful marriage. He was surprised since he thought Christianity taught young women to value being wives and mothers. Sadly, it does not anymore.
During the program, he spoke about a man who had written a book about happiness and fulfillment. The author came to the conclusion that a career can never bring long-term happiness nor fulfillment, yet this is what most young women are taught to pursue. Dennis shared that when he heard that his own book had reached number one on the New York Times Best Seller List, it didn't bring him any lasting happiness or fulfillment. Money, fame, and careers have no ability to do this. God created us for families. Careers are for men to make a way to provide for their families, not for women to find fulfillment in their lives away from their families.
Many young women are chasing happiness and fulfillment in their careers or fame. I watch Christian young mothers of many children become popular on social media then leave their children for book tours and speaking engagements, as if the money and fame from this can come close to the long-term fulfillment that raising one's own children can bring. (I love seeing young women sharing the truth of God's Word and biblical womanhood on social media, but this doesn't mean they need to leave their homes and their children in the care of others!)
This quote is from Elizabeth Gougde's book The Bird in the Tree: "Nadine was clever, there was no doubt about that, and Lucilla hoped she was enjoying selling chairs and living her own life. It was that declaration of Nadine's, that she wanted to 'live her own life,' that had exasperated Lucilla beyond anything else in this whole wretched business. It was a remark frequently on the lips of the modern generation, she knew, and it annoyed her. For whose lives, in the name of heaven, could they live except their own? Everyone must look after something in this world and why were they living their own lives if they looked after antique furniture, petrol pumps or parrots, and not when they looked after their own husbands, children, or aged parents?"
I love watching the Bates and the Duggar family TV shows. The parents raise their children to want to be married and have children. How do I know? Their older children are getting married and they're having children as soon as the Lord blesses them with them. The young mothers don't have careers and are raising their own children. These shows make being married and having children look like a wonderful blessing instead of a curse as many see today. It's a joy to watch children being raised in the nurture and the admonition of the Lord and desire to do His will.
I raised my daughters to want to be married and have children. I knew that this is what God ordained and what brings the most blessings. Children are called "blessings" in the Bible, yet most are taught to find freedom from these blessings through birth control, abortion, careers, daycares, and public schooling. Satan continues to deceive women the same way that he deceived Eve in the beginning of time. Instead of following God's plan for their lives, they seek what the world calls "good" and "fulfilling."
As you are raising your daughters to know the beauty of being a wife and mother? Let them know that you find joy in loving their daddy and spending your lives raising and caring for them. This is your great responsibility! God gave them to you and wants you to be the one training them in His ways. It's the highest privilege you can have if you are blessed with children.
Favour is deceitful, and beauty is vain: but a woman that feareth the Lord, she shall be praised. Give her of the fruit of her hands; and let her own works praise her in the gates.
Proverbs 31:30, 31