Biting on the Feminist Lie
Biting on the Feminist Lie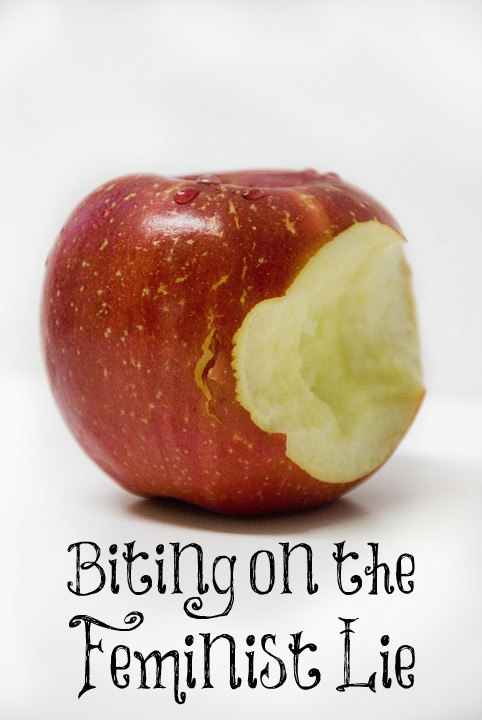 The Facebook page called Fix the Family-Citadel Catholic Media shared one of my handwritten posts about women being keepers at home. No, I am not a Catholic but this site teaches almost everything I do about mothers being home for their children full time which I fully appreciate and they clearly understand the harm that feminism has done to the family unit. Here is a comment they received from my post which is similar to the many comments I receive on this same issue.
Margaret: "I know PLENTY of devout Catholic women who are married, have kids, and work. Guess what?? They STILL run their households like magicians! My Mom went back to work after being home for us and with us for 14 years. Women CAN be Mothers AND work out of the home if they choose to do so. Motherhood is a 24/7/365 job, anyway, and it's all about balance. I agree ? that there's enough guilt that Moms might feel about EVERYTHING they do to be present in their families, so let's just be supportive either way. I'm grateful for my husband, my parents, and my support network of wonderful friends who all help me be the best Mom that I can be ?❤️?"
Fix the Family-Citadel Catholic Media: "Well no, I cannot be supportive either way after seeing the vast majority of those who try it fail. And you know who suffers? The kids. The mothers might think it's them, but no, the kids need two parents in the home. Way too often women bite on the feminist lie that they can 'have it all' and enter into a job under some emotional wave that it is a glamorous 'career' so they can 'fix society' or 'make a contribution.' It's all bunk and destructive to family life which is the goal of feminism.
"It was introduced to society by Communists and Marxists. It is NOT God's design for the family. So sometimes times get tough and situations make it so a mother MUST work. Let it be, so but let it be very temporary if at all possible, and let it be seen as so so so unfortunate for them. But still today, CATHOLIC parents are pushing their daughters to be 'career women.' How hypocritical is that!! After our Church has taught for generation after generation the utmost importance of a mother to her children. You may feel like you can support working mothers, but know what you're supporting. And be there for them when they fail as chances are their marriages will fall apart."
He maketh the barren woman to keep house, and to be a joyful mother of children. Praise ye the LORD.
Psalm 113:9
***People have asked what denominational church I attend and my answer is always the same, "I am a born again believer in Jesus Christ (a Christian) and a follower of Him!"