Are You Truly Pro-Life?
Are You Truly Pro-Life?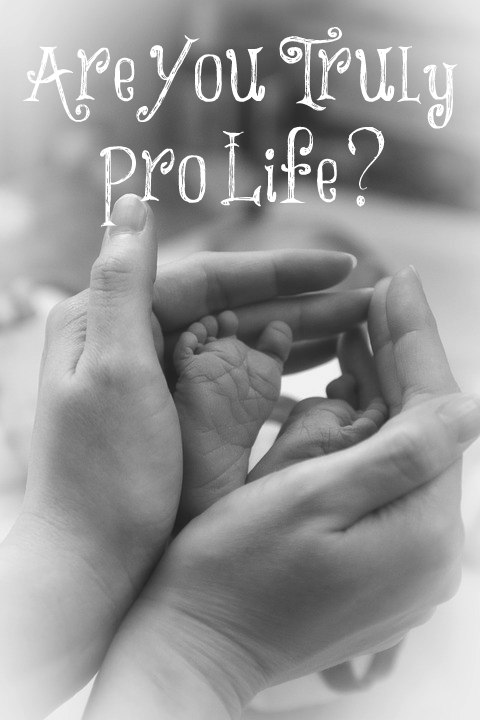 We are living in an anti-child culture. This culture seeks pleasure and self over all else. Whatever makes them "happy" is what they want. Consider this article from CNBC in which they want you to know that kids make you poor and you'll save a lot of money if you don't have them, as if money is everything. "Your friends may tell you having kids has made them happier. They're probably lying. Research shows that parenthood leads to a happiness gap. Maybe that's because the pleasures of parenthood are outweighed by all the extra responsibilities, housework and, of course, the costs."
Is seeking happiness everything? Is this all there is in life? I can tell you that if you seek happiness, you probably won't find it because happiness is a choice. It's a choice to be thankful and content. What this article fails to understand is that it's in giving our lives away in serving and loving others that brings the most joy. Yes, raising children is hard and takes a lot of work and sacrifice but the blessings are many! Nothing in life worth having comes easily.
Emily Thomes replied to the article from CNBC this way: "Children are a blessing from the Lord. Being a mom is my favorite role so far in this life. I can't imagine a world without our girl and wouldn't go back even for a day for all the extra sleep, money, or time in the world. We live in a culture that is particularly selfish when it comes to kids. We're not pro-life. We're not pro-parenting.
"Most of us push the ones we've been entrusted to love and train up in the Lord into formal institutions as early as they'll accept them. We don't want to be around our kids because we've not taught them how to be people that are pleasant to be around. We shove devices in their faces to entertain and distract them and wonder why they're insatiable without them. My heart just grieves for this kind of thinking and knows that without a doubt I would be first in line to pass off my kid, should I have ever had one, without the mercy of God in my life.
"What it takes to truly love and value your children is a heart that believes God when He says that they're blessings and not burdens and that seeks to see them and regard them in that light. It takes a heart that knows we deserve nothing good at all and still He gives us these little people who look at us with awe and adoration and love just for being there. I'm nowhere near the perfect mom, but as He is making me more like Christ, I take comfort in that He will continue also growing me in the role He's given me as Dorothy's mommy. People that aren't yet parents, do not buy the lie. Parenthood, for those that He calls to be parents, is such a weighty and fulfilling responsibility to take on, and our children are worth every bit of it."
The article from CNBC does admit something very important in the end, however. "If you don't have kids, in short, you'll save a lot of money. Then again, you might lose it all to a nursing home when there is no around to take care of you." When we die, we can't take money with us. All of the stuff we have accumulated will one day burn but the time and sacrifice that we have invested in our children and in others will reap eternal rewards. In the end, this and believing in Jesus Christ as our LORD and Savior are all that matters.
Lo, children are an heritage of the Lord: and the fruit of the womb is his reward. As arrows are in the hand of a mighty man; so are children of the youth. Happy is the man that hath his quiver full of them: they shall not be ashamed, but they shall speak with the enemies in the gate.
Psalm 127:3-5