The Strawman Argument For Abortion
The Strawman Argument For Abortion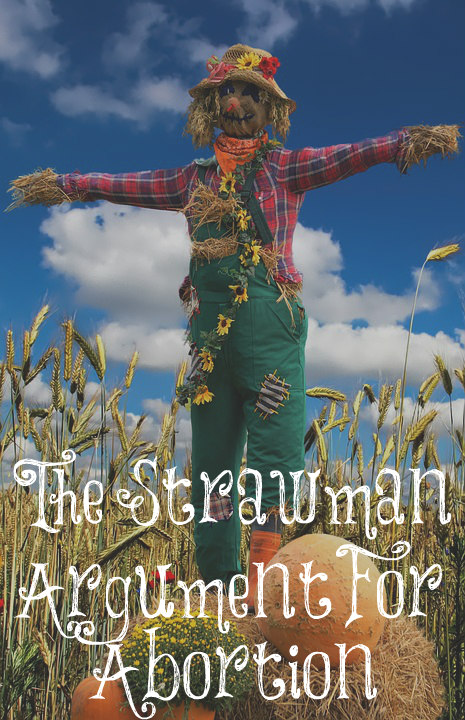 Recently, I have been sharing things about abortion on my Facebook page. I have seen a reoccurring theme among those who are for abortion. When you say that abortion is murder and wrong, they will come right back at you with these questions: "Are you adopting children, especially all of the ones in foster care and those who are non-white and severely disabled? Are you willing to help pay for all of the single mothers to care for their children?" They never want to talk about the lives being snuffed out in the wombs of the mothers.
 As I have found through the years of blogging and as one woman in the chat room succinctly put it, "When a person cannot defeat your pro-life argument (or any other biblical argument), it is typical for them to go after you and your reputation. The aim is to discredit the person, because in doing so, it would appear to discredit the truth of their position – that abortion is murder."
Meredith, in the chat room, wrote, "Those are red herring arguments. Whether or not people are adopting children, supporting pregnant women, etc., is completely irrelevant to the fact that abortion is wrong on moral grounds. Abortion would be wrong if all children were adopted out of foster care and all single pregnant women were cared for. Abortion would STILL be wrong if no children were adopted out of foster care and no one supported single pregnant women.
"Abortion is wrong because murder of the innocent is wrong. Caring for orphans and single pregnant women are important, in fact, very important and Christians need to step up to the plate, but those are separate issues that have nothing to do with abortion being immoral and wrong. Saying that abortion is less wrong because Christians aren't adopting as much as they should be is like saying euthanizing the homeless is fine since people are not taking care of them like they should be."
Another woman wrote, "Well, as someone who has had an abortion and studied the topic extensively, I say that's a strawman argument. ABORTION and ADOPTION have nothing to do with each other. They are two separate tragedies. Orphans have always existed. Before abortion was legalized, there were orphans. Believers are called by God to care for them. But it doesn't legitimize or justify abortion. In addition, women's help centers are totally funded by church donations and benevolent pro-lifers. One of their primary operations is to help women find adoption options should they choose to not keep their baby. So the true church IS helping. We could do more, but again, that has nothing to do with the necessity of legalized abortion, because it ISN'T necessary!"
Becky wrote, "So, they are trying to put someone else's responsibility onto another person. The person deciding to murder has been given this life to nurture. This person decided to make a choice to have sex resulting in pregnancy. They need to take responsibility for their actions. That is not my responsibility. That is theirs. I'm not responsible for their sexual relationships, they are. And, that is the problem, women are fornicating because they want to do it without the responsibility or consequences that could come from it. And I'm tired of people talking about the rape and incest argument. We know that is by far an insignificant percentage." (Besides, two wrongs never equal  right.)
Deena added, "Generally I'd ask them if they would agree to outlaw abortion if all their criteria were met. The response is 100% of the time 'no.' So then I can point out that they are not asking out of compassion and a desire to see children taken care of, they are just trying to use a conversation stopper under the guise of morality. Passive inaction is not an excuse for malicious action. If not one single child was ever adopted, if no charity or crisis pregnancy center ever existed to help mothers keep their babies, it would not justify the brutal murder these little ones are subjected to through abortion.
"It's interesting to observe that most people who are pro-abortion are also against the death penalty. Asking them if they are prepared to house feed and care for the worst of the criminals for the rest of their natural lives to outlaw the death penalty is never entertained by them. 'That doesn't matter,' they say, but it is the same argument they themselves make to justify the horror of abortion. 'Well, are you going to pay for them?'"
Don't allow those who are for those things that God hates silence you and don't allow their accusations to pull you down. Keep speaking the truth in love as we are commanded to do. Truth needs to be told, especially the truth of a Savior who has saved our soul from the wrath to come for all those who believe. This is the most important truth that people need to hear. Once they believe in Jesus Christ, their hearts will be softened to the truth in all areas, including the horror of abortion.
For God so loved the world, that he gave his only begotten Son, that whosoever believeth in him should not perish, but have everlasting life.
John 3:16