Are You Walking Forward or Backwards?
Are You Walking Forward or Backwards?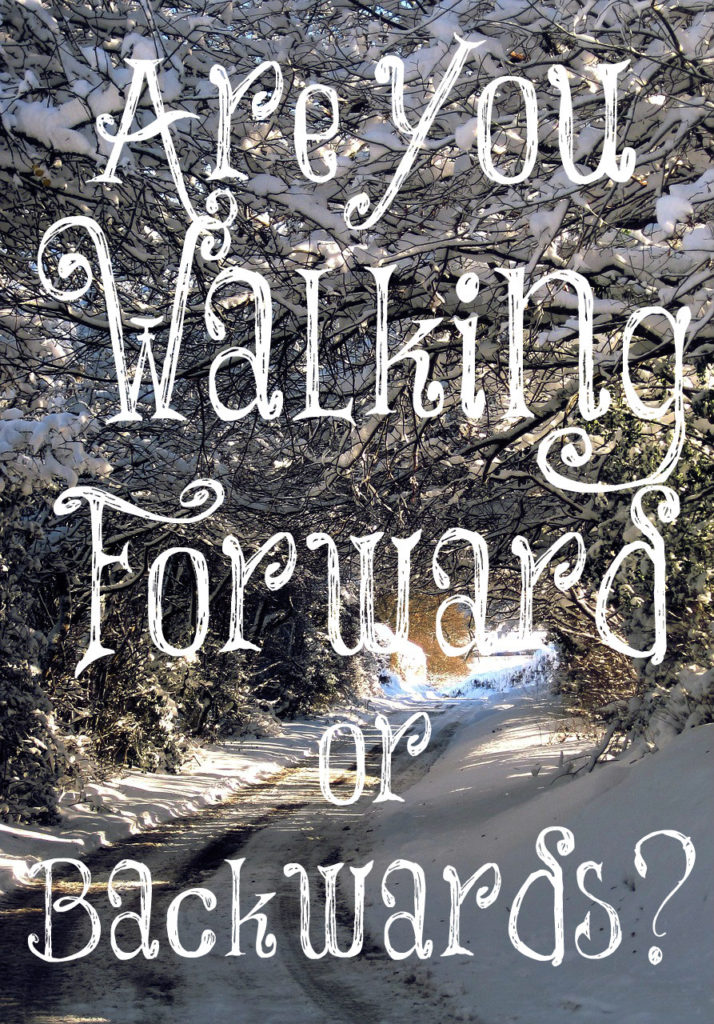 All throughout the Old Testament, God's people were blessed when they lived in obedience to Him and were punished when they lived in disobedience to Him. Yes, He wants our obedience because He knows that His ways are best for us just as we know that we want our children to obey us because we know that our ways are best for them. Why would it be any different with our Heavenly Father?
I am reading through Jeremiah. All throughout it, God is trying to woo His people to return to Him and obey Him. You can see this common thread all throughout the Word of God. God wants His children back! He loves us and this is why He sent His Son to die for us. He wants a family. And they shall be my people and I will be their God (Jeremiah 32:38). He wants children who freely choose to love and obey Him. He fills us with His Holy Spirit and gives us the grace needed to obey.
When we obey Him, we are blessed; for we are promised that we will reap what we sow. "Thus saith the LORD, Stand ye in the ways, and see, and ask for the old paths, where is the good way, and walk therein, and ye shall find rest for your souls. But they said, We will not walk therein" (Jeremiah 6:16). What can be more valuable than rest for our souls? Everyone is seeking to fill that emptiness in their souls. God fills that emptiness with rest. There's nothing better than this!
"But this thing commanded I them saying, Obey my voice, and I will be your God, and ye shall be my people: and walk ye in all the ways that I have commanded you, that it may be well unto  you" (Jeremiah 7:23). Do you want it to be well with you – well with your soul? Then obey God and walk in all of His ways!
Be a submissive wife to your husband. Obey him in everything. Dress modestly and don't try to draw attention to yourself. Be content with the way that you are; for godliness with contentment is great gain! Be silent in church and listen with submissiveness. Learn to have a meek and quiet spirit. Be a keeper at home and take good care of your home, children, and husband with joy. Be discreet in all areas of your life. Learn to be feminine instead of a feminist. You will reap beautiful fruit if you obey God in these areas!
Many will choose to not walk in the old paths but will choose instead to walk in the "new, improved, and culturally relevant" path instead. "But they hearkened not, nor inclined their ear, but walked in the counsels and in the imagination of their evil heart, and went backward, and not forward" (Jeremiah 7:24). You see, the "new, improved, and culturally relevant" path is really going backwards and receives no blessings at all. There is no rest for their souls and it is not well with them.
"They have rejected the word of the Lord; and what wisdom is in them?" (Jeremiah 8:9). They have no wisdom because wisdom only comes from God. "For my people is foolish, they have not known me; they are sottish (foolish) children, and they have none understanding: they are wise to do evil, but to do good they have no knowledge" (Jeremiah 4:22).
"Your iniquities have turned away these things, and your sins have withholden good things from you" (Jeremiah 5:25). Do you want good things to be withheld from you? No! There are blessings that come from obeying God just as you want to bless your children when they obey you. No, it's not always easy living in submission to your husband. No, it's not always easy finding modest clothing and not dressing as culture dresses. No, it's not easy being with your children 24/7 and raising them up in the nurture and the admonition of the Lord but there is great reward. You are storing your treasures in heaven when you walk in obedience to the Lord on the old paths He created for us. Keep eternity in your mind and you will never lose your joy while obeying the Lord!
Amend your ways and your doings, and I will cause you to dwell in this place.
Jeremiah 7:3