Back When There was Decency and Modesty
Back When There was Decency and Modesty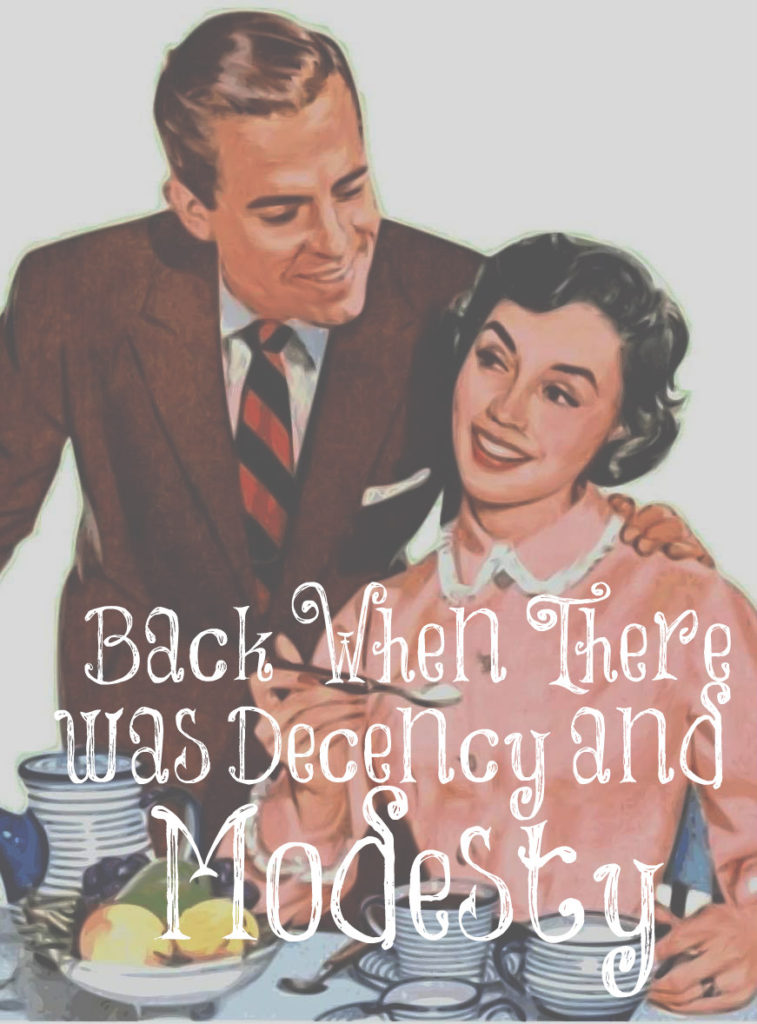 My mom was raised before the sexual revolution. Decency and modesty were valued in America. Sexual deviancy and immorality were frowned upon. Here's a comment that was left on my Facebook page under my post from last Friday called The Progression of Sexual Sin in Our Culture:
"Not to mention such things were not openly discussed; it was improper and shameful. Women used to take an escort when attending outings and gatherings so she would not look like a loose woman. It was the job of a brother/male relative to protect a woman's reputation. He could vouch for her that she was never left alone in the presence of a man and therefore, her proprietary would not be questioned.
"It used to be expected that women would be virgins on their wedding day, no matter their age. Maternity clothes were loose, not because of shame but because it wasn't anything you should draw attention to; how a woman became pregnant was not discussed. Sitcoms had twin beds so nothing immodest was implied even between 'married characters' on the show. Living together before marriage was a big no no. It would bring great shame and embarrassment on a family. If a couple were so bold to cohabitate, it was a big secret families didn't want to let out of the bag.
"Times have changed a lot! And in a very short amount of time. I'm afraid young people don't even know society was ever like this. They have all been raised in an era where improper things are openly discussed and embraced."
Now, families like the Duggars who embrace these qualities of decency and modesty are mocked. We, as believers in Jesus Christ, should be willing to be mocked for following God's plan for our lives rather than culture's.
There has always been wickedness in America, but it has only grown worse as Romans 1 clearly states. In past generations in America, however, the ways of the Lord were not mocked but valued. Women valued chastity, modesty, discretion, and being wives and mothers at home. Some say that America wasn't founded upon biblical Christians and the Founders weren't believers, but I believe they are wrong. No, not all were Christians but even the ones that weren't Christians valued good morals and values that were in line with Scripture.
Our culture has veered way off of the paths of the Lord but that doesn't mean that we should. They are the good and perfect ways. Teach your children them even if you are ridiculed by family members. Live them out boldly and with joy! Be a light to all of those around you. The Lord is good and His plan for you is good. There are definitely blessings when living in obedience to the Lord.
Thus saith the LORD, Stand ye in the ways, and see, and ask for the old paths, where is the good way, and walk therein, and ye shall find rest for your souls. But they said, We will not walk therein.
Jeremiah 6:16