When Women Leave Their God Ordained Role
When Women Leave Their God Ordained Role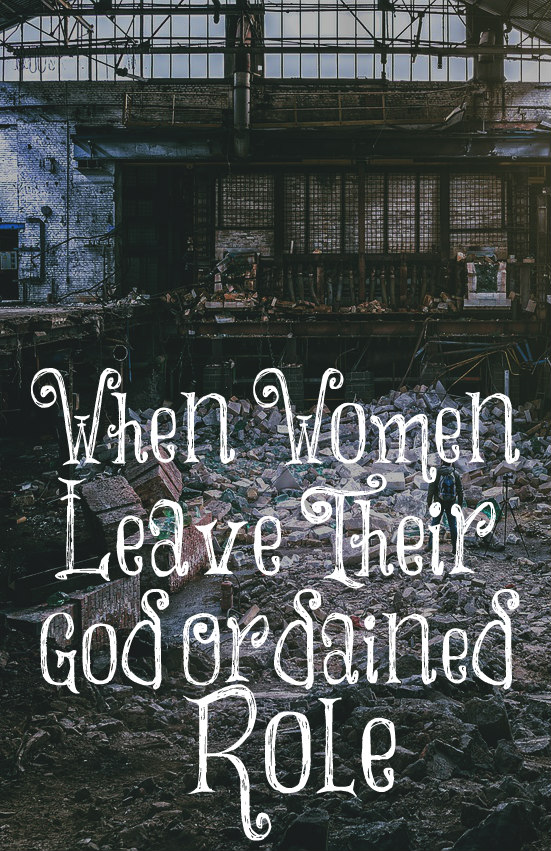 God didn't give men high sex drives so they could watch porn and masturbate, commit fornication with multiple women, or delve into homosexuality and pedophilia. No, God gave men high sex drives so they would want to marry and be fruitful and multiply. Many women will bemoan the fact that there are no good men left because they have all gone astray, therefore, there isn't anyone for them to marry. The problem stems from feminism. When women stopped being feminine and doing what God calls them to do, men stopped being masculine and doing what God calls them to do.
One woman asked this on my Instagram yesterday: "I still feel like I don't fully understand though. Is marriage the only reason why men are given a higher sex drive? Or is it just simply part of their nature?"
A man responded to her: "It's both. It's our nature to have the higher sex drive. God gave us marriage so we can take that energy and channel it into being fruitful and multiplying. Without marriage and with birth control, our sex drive very quickly leads to degeneracy and hedonism."
Another man responded to her: "No, it's not the only reason, but we are made to procreate. Marriage is a healthy way to express procreation with a strong family unit. Higher sex drive is also what allows men to work longer hours and gives us the drive to invent and create things that we have in this world today."
Feminism taught women to hold off getting married and pursue higher education and careers instead. Essentially, they were told to become men. In order to do this, they were taught that they must become liberated with your bodies and enjoy sex outside of marriage (fornication) by using birth control. THIS was and is the feminist message that young women hear! What happens when most of the young women decide to delay marriage, sleep around, and use birth control? Men no longer have a healthy sexual outlet in marriage and instead find sexually available women to meet their sexual needs or resort to porn or other sinful activities.
When women left their God ordained role, men left theirs. When women because immodest and promiscuous, men stopped having the goal of getting married and having children. And culture is being destroyed while everyone suffers. Women weren't created for men's roles and men weren't created for women's roles. It's as simple as that. When women want to become men, chaos ensues. Chaos will always ensue when God's will is ignored.
I will therefore that the younger women marry, bear children, guide the house, give none occasion to the adversary to speak reproachfully.
1 Timothy 5:14