The Progression of Sexual Sin in Our Culture
The Progression of Sexual Sin in Our Culture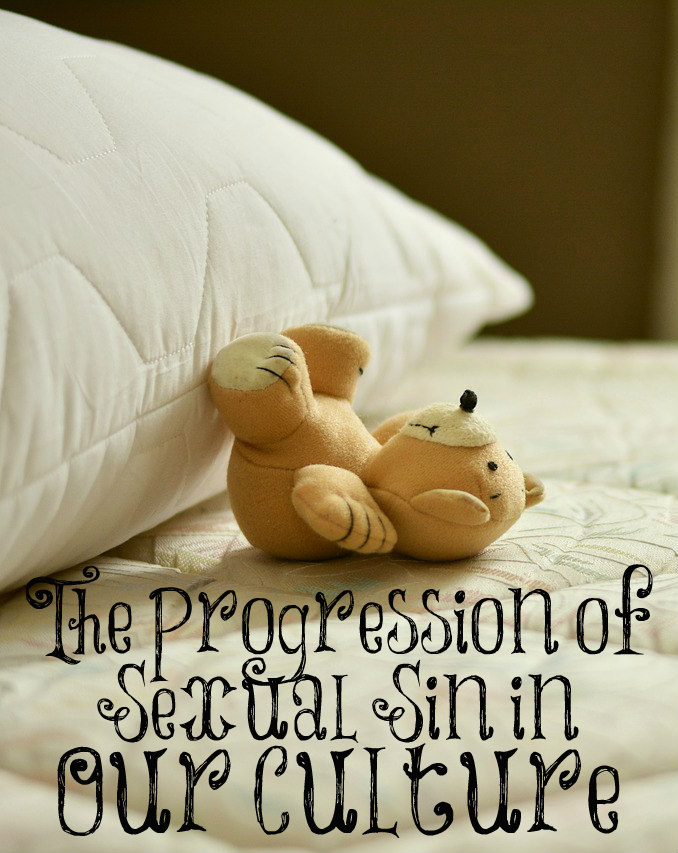 When I went to a public high school in the mid 1970s, life was becoming highly sexualized since it was after the 60s sexual revolution. Most of my friends were sleeping around with their boyfriends and some were having abortions. One of my dates picked me up drunk and took me to a "party." He led me to a bedroom. I sat on the side of the bed and told him to take me home. I wasn't about to have sex with a guy before marriage even though most everyone else was doing it. I didn't know anyone who was homosexual (all the guys seemed to want women but I am sure there were some) and no one was changing genders back then. I didn't even know there was such a thing. There was no Internet so porn wasn't widespread.
I shared this with the chat room. Here are what one woman wrote, and it shows the progression of sexual sin in our culture.
"Yep. That and more! Graduated in 2011. It was just when the whole transgender LGBTQ movement came out. In eighth grade, if you weren't gay or didn't fit atypical gender roles, you were made fun of. By the time I was a senior in high school, if you were gay or trans, you were popular. Everyone wanted to be friends with the gay guys and girls."
One mother I know sent her son to the local high school a few years ago. She told me that it was the most oppressive place that she had ever stepped foot on. Why she sent him there is beyond me since she wasn't working outside of the home and a strong believer.
The Bible tells us that this "sexual revolution" takes place when people refuse to acknowledge Him. They know He exists (everyone does – Romans 1:20) yet they "hold the truth in unrighteousness" (Romans 1:18). Instead of glorifying Him and being thankful, they "became vain in their imaginations, and their foolish heart was darkened" (Romans 1:21), then God gives them over to reprobate minds (Romans 1:28).  "And likewise also the men, leaving the natural use of the woman, burned in their lust one toward another; men with men working that which is unseemly, and receiving in themselves that recompence of their error which was meet" (Romans 1:20-27). This is what happened to Sodom and Gomorrah and is happening to many countries around the world including America.
Women, the public schools are DANGEROUS! The LBGT agenda is being forced upon the children. Sex education begins when they are young and teaches them abominable things. They don't need to think about being the opposite sex. They need to be taught that the way God made them is perfect and that sex within the marriage bond between a man and his wife is the only way for a believer in Jesus Christ to live.
As pedophilia becomes normalized, it's more important than ever that mothers are home full time with their children teaching, training, and protecting them. All of God's commands are for our good and for the good of our children. God knows the best place for you to be is in your home, and He knows the best place for children to be is in their homes with their mothers.
It's your job to protect your children, help them to develop deep roots in Jesus, and grow up to be lights in a wicked generation. Many are lost and in need of a Savior. They will never find joy in delving into promiscuous, depraved sexual behavior. It will only lead to more and more pain and suffering. God promises this.
Flee fornication. Every sin that a man doeth is without the body; but he that committeth fornication sinneth against his own body.
1 Corinthians 6:18