Basing Our Lives Upon Truth or Opinions
Basing Our Lives Upon Truth or Opinions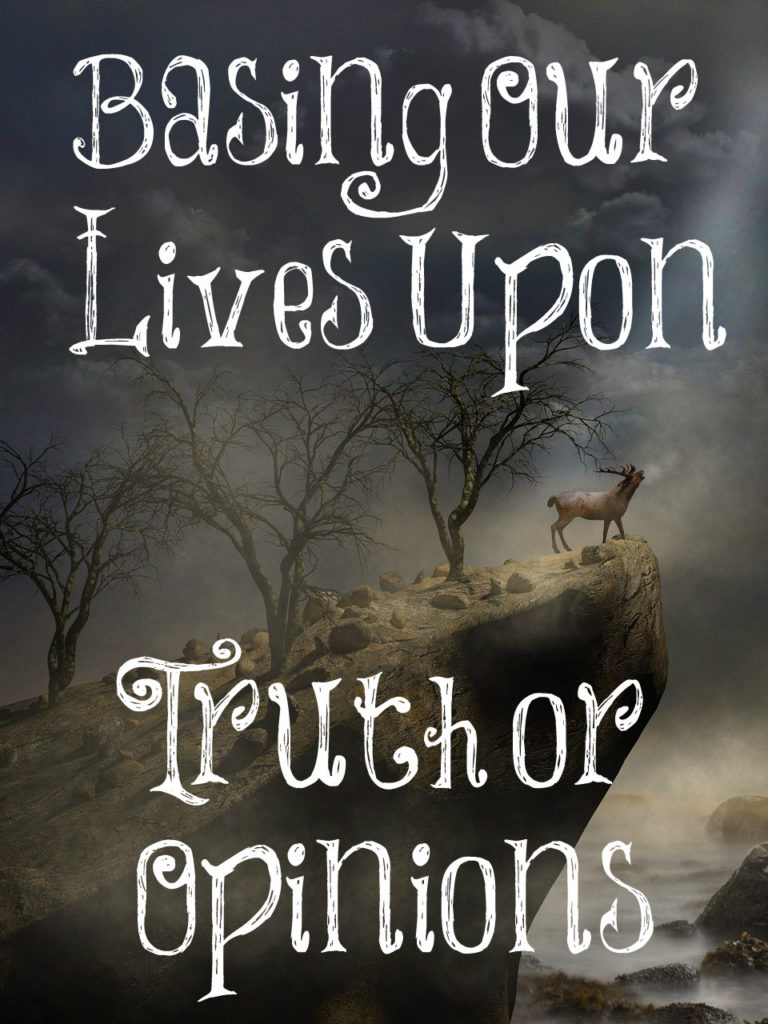 Written By Ken
Recently I spent some time engaged in discussions with various opponents who are against parts or all of Lori's blog. For some, the angst is based on a false fear that what Lori teaches is dangerous to the unlearned and unwise Christian follower who blindly follows allowing herself to be abused by her husband. No matter how Lori tells her audience not to submit to abuse it will never be enough to assuage their fears. For others its that "Lori puts down women" by her regular focus on wifely submission and keepers at home. After all, women are capable of so much more than being subservient to a husband and a house maid with children. The list is many and varied with much of the angst over how Lori runs her blog, not allowing detractors to plant their weeds of comments on her pages. In today's world of "no holds barred" social media, how can that be fair?
On the surface, the complaints have some merit and if only Lori could run the blog as 20 other women want her to run it maybe she would be a more successful blogger. I, too, know a few people who are convinced that it they could just run my life I could be far more successful, too. The problem is that Lori's blog only belongs to one person, the Lord God. He is the one who gave her the calling to be obedient to His Word in "teaching the younger women…" and He gave her exactly what He wants her to focus upon, "That they may love and obey their husbands and be keepers at home." If someone has a problem with her repeating in many ways these essential aspects of Christian womanhood, they should take it up with God and His Word.
God also is the one who gave Lori her personality, gifts, and strengths to carry out the ministry. He does not choose perfect people to ministry, but most often chooses those who are willingly placing their time, resources, and abilities into the Lord's hands to do with them as He pleases.
As the story goes, Lori had been mentoring women one-on-one for a number of years with great success, often on and off based on her health issues. It was always fun to have her whisper in my ear as we sat in church together, "Do you see that woman in the blue dress on the back row with that man? She's one I mentored whose husband left her and they are over there holding hands! I have not heard from her in a year." Then to meet them after church and as we are leaving the wife leans over to Lori and whispers to her, "You know, I can't thank you enough. Things are so good at home and to think I would have left him if it was not for you." Just a few simple yet powerful concepts from God's Word delivered by an obedient older godly woman proves again that the Word is living, active, and healing.
Almost every day, Lori gets one or more thank you notes from women who have been positively impacted from her imperfect ministry. A ministry God is using powerfully to help marriages and families, and yet we and our opponents know she is far from polished or perfect. When she hit a period of a heavy bout of 5-6-7's in pain on a scale of 10, and was basically housebound for a long period of time, it was then that she felt called to start an Internet mentoring ministry. Her goal was find women who would want her ministry in their lives, so she announced to me one day, "I am going to start a mentoring blog and see if I can get 30 followers!" My response returned her enthusiasm by saying, "I will bet that you get 100!"
With only a modest ability to just surf the Internet, she called our computer whiz daughter and began the process of setting up her original "Always Learning" blog. Soon the posts were coming out and comments started showing up. Many of the comments reasonable and others not so sound, but Lori was enjoying her small success and dreaming up new posts to write.
All seemed to be going according to plan until one day it seemed like a hornet's nest had found the blog and was leaving stinging attacks all over it. In frustration and perhaps tears she told me about it, and in my confident manner I assured her that we could handle this All we needed to do was reason with these people. And reason we did. Back and forth and forth and back went the merry-go-round of ideas where the two circles never seemed to be able to find common ground.
Some were attacking as they were sure we had never studied all of the many modern hermeneutical gymnastics that justifies why a wife no longer must submit to her husband and can choose to teach and be an elder in the church. Others claimed that what she teaches will lead to abuse, wives everywhere in Christianity being abused by their husbands all because they submitted. Even children will be abused if you teach modest spanking like the Bible and our parents taught us. To hear them talk, there must be millions of these gullible Christian women who are in danger of discovering that wifely submission will subject them to a husband who will take advantage of them if they choose to live a life modeled after God's call for Biblical submission. After all, many Christian husbands cannot be trusted.
Now to be fair, this idea does not exist in a vacuum as indeed some Christian wives have been and may be at this moment being mistreated by their husbands. In some cases these wives may be putting up with the abuse because they believe in God's promise that the "may win him without a word…" They have been taught or have read it for themselves that this is God's prescription for the Christian woman married to a disobedient man.
Lori and I have regularly repeated the mantra that if you feel you are being abused in any way, please seek local counsel on the matter. Take it up with more than one source. If it is physical abuse, don't allow it and pack up the kids and head to a relative's or friend's home. No one one can effectively counsel someone who may be in an abusive relationship with online comments. A real life set of persons needs to evaluate such situations.
So with this cry of "abuse!" many of the opponents tried to shut Lori down. There was an active campaign to slander us, bully us, twist the truth, and threaten my livelihood all in the name of saving women from the husbands they chose to marry and love for a lifetime. Don't get me wrong as far too many marriages do go wrong. Talk to many or most of these opponents and you will find they feel they were abused in Christian marriages or by Christian parents perhaps hidden inside ultra conservative churches. It seems natural for them to project their fears on most marriages, unwilling to acknowledge that the vast majority of Christian marriages and families have never had a hint of abuse within them. Just the possibility that a wife's submission could lead to abuse should invalidate Lori's teaching it, right?
As I left the most recent discussion with some of our detractors, a woman commented:
"All he does is keep repeating 'the Bible says and it's the long-time practice of the church.' Is that all he's got?"
Pretty much, yes. If our circles of understanding do not intersect, it is because we stand by God's Word as fully inspired by God and all that is within it is is the gift of wisdom God has given His church to show us how we are to live our lives before Him. All we need for life and godliness are contained in the Bible. So, yes, that is all I have and the proof of God's truths in my life and the lives of millions of Christians who have chosen to believe God at His Word throughout the centuries.
What all of these discussions most often come down to is "what is your basis for is knowledge on the matter?" How do you know what you know to be true or false? Do you get it from your experiences or from your fears? What is the basis for establishing what is the truth?
Epistemology is one of the first studies the Bible student undertakes as it is "the branch of philosophy that studies the theory of knowledge, especially with regard to its methods, validity, basis and scope. Epistemology is the investigation of what distinguishes justified belief from opinion."
Knowledge and belief systems go hand in hand and cannot be separated. Many nonchristians falsely believe that they have no belief system, but that is not true. Their belief system may not be as well formulated as is Christianity, but a belief that there are no valid religions is in itself a religion of humanism and self-worship as it exaults one's mind above the mind of God.
But back to the issue of my over-dependence on God's Word and the church history and practice of the Word by Christians throughout the last 2,000 years. To this we plead 100% guilty. I actually take it as a compliment to think that my arguments revolve primarily around what God says and the defense of our practice and teaching of the Word is the proof of how most of our fellow saints who went before us lived their lives. And guess what? Most Christian marriages pre-Feminism aspired to a Biblical understanding of a wife's submission to her husband. Most mom's were stay-at-home moms, watching over their young'uns and caring for the things of the family. Why would these two things be so prevalent throughout Christian centuries? Because God said so.
Our basis for knowledge and belief is found in what God says in His inspired Word and that "no prophecy of Scripture comes from someone's own interpretation. For no prophecy was ever produced by the will of man, but men spoke from God as they were carried along by the Holy Spirit." (2 Peter 1:20-21). Many want to claim that God's Word is hard to understand and that it is open to one's interpretation or in other words "one's opinions." But that is not so. To determine what the Bible is teaching is not a difficult task if one is to accept what it states at face value without interjecting opinion or wishful thinking.
We are with the majority of Christians who throughout history have believed that God, through His Word, has given to mankind an instruction manual loaded with "all we need for life and godliness." If that is true then looking at the practice of God's Word throughout church history should give us a good idea as to what God has desired from His faithful people. It doesn't take a rocket scientist to understand that the Bible twelve times gives the relationship of the wife to her husband without ever once asking a husband to submit to his wife. In fairness it does say we are to submit to one another in the church once. Twelve to zero and maybe just once in the context of introducing the matters God later delineates with specificity, twice here:
"Submitting to one another out of reverence for Christ. Wives, submit to your own husbands, as to the Lord. For the husband is the head of the wife even as Christ is the head of the church, his body, and is himself its Savior. Now as the church submits to Christ, so also wives should submit in everything to their husbands." (Ephesians 5:23 – 6:1-2)
Is there really any question as to what God's Word teaches on this matter? No. The only argument against it can be that it is "cultural so no longer applies to today's modern world." And what is your basis for knowledge that you can wipe out God's clear Word and the practice of the Church through the last two millenia? Your opinion? You can bolster as many arguments as you like as to why you have formed an opinion that is contrary to what God's Word clearly teaches, but those arguments are only supporting an opinion that has no basis in knowledge. You cannot create any firm basis for truth by an argument, "I don't think God wants wives to have to be submissive anymore. That may have been good for Peter and Paul's cultures, but not for today." This is not good epistemology.
So our circles cannot meet to find common ground so long as we try to stick to the inerrant eternal Word that we are told is our basis for all of life and godliness while our opponents and many in the modern church want to sweep it away with an opinion about how God must really think and what He really wants from the modern-day Christian woman. The crazy thing is we don't really care how our opponents want to think as that is between them and their Lord. I am sure there are some good Christians who have bought into this series of opinions about the Bible. All we care about is trying to be as faithful to the Word as we can be in communicating what God's desire is for those within the body of Christ. And Lori wants to keep our opponents' opinionated comments from distracting what the Word and her wisdom teaches.
If you want to live within an Egalitarian marriage and work a forty hour work week away from your babies… then go for it. It's your life, and only you will have to give an account for how you have lived it. But don't fault Lori for championing the Biblical directive for a SAHM as God's ideal. All that that is left to ask is how much time must  a mom be home to be a keeper at home? 100%, 90% 80%, at what point is God's desire fulfilled in your life and family? We are willing to see God's grace having various levels of practice on such matters of marriage and family, but when seeing the Church walking almost lock-step with the world on working moms, we know something is broken. Please don't fault Lori for sharing her opinion that being a keeper at home means full-time as much as a family can do so.
And what is sorely broken is that many in the church have traded what God hath said for their own opinions and it is beginning to look an awful lot like the days of Judges where "everyone did was right in their own sight" (Judges 17:6). The old sin of the garden rears its ugly head again and again throughout history and has now found its way into the Church where God's clear Word on the matter is doubted and ultimately replaced with man's opinion. After all, who would know better? "Hath God really said?" asked the Serpent of Old? What about your opinion Eve, after all, it is your life?
No thanks! We will stick with God's Word on the matter and our circles will never meet with those who are unwilling to accept the Bible and church history as our authority for knowledge and truth on these matters.  What Lori is teaching is most often plainly taught be the Word and yes, as to how it applies becomes Lori's well educated and experienced opinions as one older, godly woman doing what God has called all the older, godly women in the church to do: To zero in on a just a few things that the Word demands of younger women who desire to please their God by loving their husbands and family.
Every word of God is pure. He is a shield unto them that put their trust in him. Add thou not unto his words, lest he reprove thee, and thou be found a liar.
Proverbs 30:5, 6