Daughters Being Trained in Biblical Womanhood
Daughters Being Trained in Biblical Womanhood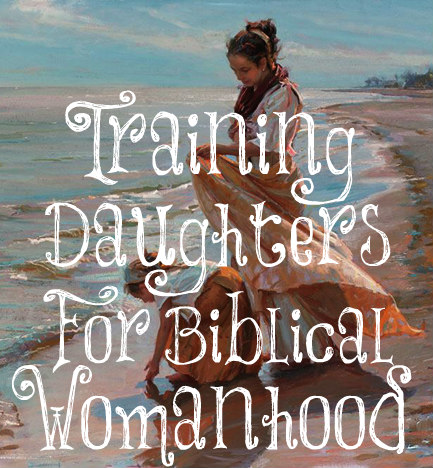 Up until a few generations ago, daughters were under their father's protection and provision until they were married. They found productive ways to stay busy at home and caring for those around them. They helped their mothers with homemaking and caring for the siblings and elderly parents. They helped in the community and wherever there was a need. Daughters were an integral part of their family until they were ready to marry and begin a family of their own. Then they were well prepared for taking care of their own home, husband, and raising children.
A godly mother would train her daughters in all of the ways of biblical womanhood including submission, gentleness, kindness, generosity, and hospitality. All of these would prepare her daughters to be great wives and mothers some day. The daughters would naturally be content being keepers at home because they were trained to be one from childhood. They learned that life is about self-denial and sacrificing for others. They were available to help young mothers, care for the sick, mourn with those who mourn, and bring joy to other's lives. They were trained in the art of serving others.
It wasn't until college and careers began being pushed on young women that daughters were no longer under the protection and provision of their fathers. Now, young women are taught nothing about homemaking, being help meets to their husbands, or how to raise children; all of the things that the Lord has called them to do.
Instead, many young women leave their fathers protection, go to college, mount up huge debts, live their lives for themselves and being entertained. Many of them are exposed to things they should never see and then experiment with evil, especially in the secular universities. Sleeping around with guys trains them for divorce.
There's nothing in the universities that train them for biblical womanhood. It trains them to be the complete opposite of what God calls them to be, yet many Christian parents continue to dole out the big bucks for their precious daughters to be defiled by universities. These daughters spend their most fertile years in college instead of being married and bearing children or least preparing for it.
Women are taught that they have no worth if they don't make money. Money does NOT define your worth! Jesus Christ defines your worth and He has called women to marry, bear children, and guide the home. Money defining your worth is from a wicked and adulterous culture. It's not wrong to have a small business from home if you have time and make a bit of money but this isn't what gives you worth.
Right after high school, all I wanted was to be married and have children but going to college was the "normal" thing for everyone to do after high school so I went. I didn't enjoy any of the classes. I tried but I just didn't. I would have much preferred studying things I wanted to study instead of things I had no interest in. The Christian college I attended never once mentioned anything about biblical womanhood – not one thing as if having a career was way more important for Christian woman than marrying, bearing children, and guiding the home. No, thank you. I much prefer God's ways!
I will therefore that the younger women marry, bear children, guide the house, give none occasion to the adversary to speak reproachfully.
1 Timothy 5:14
*Photo by Daniel Gerhartz