Be Prepared. The End Draws Near.
Be Prepared. The End Draws Near.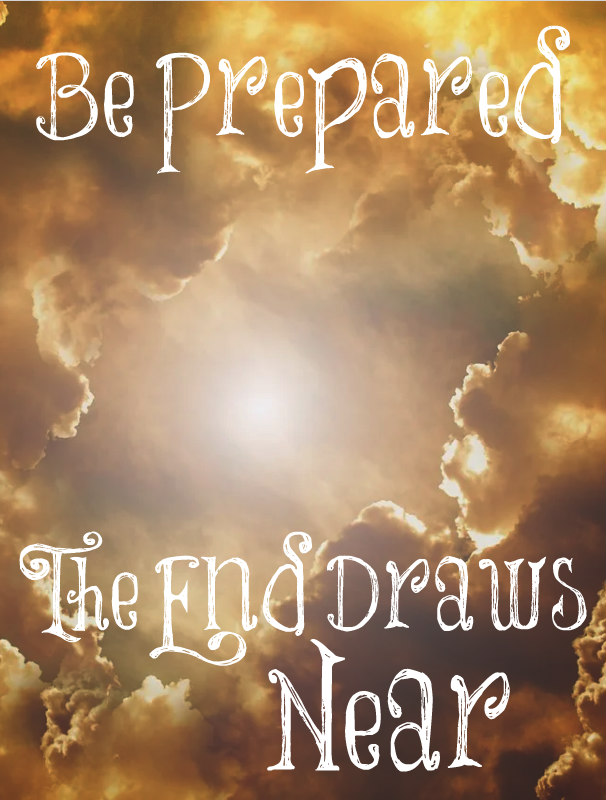 Written By Ken
If you are like us, you are seeing and hearing so many rumors emanating from both sides of the political spectrum. We can no longer trust our Media after they have proven themselves left wing outlets spreading so many lies about Trump and Russian collusion over many years. To some degree, many were just caught in a baseless conspiracy theory started by one campaign trying to dig up dirt on another, and it spiraled out of control. We do hope and pray that now another conspiracy is not dragging a lot of conservatives with it as information and disinformation blankets the Internet and our own personal communications.
There are a few things I have learned at my mature age and one is to be cautious in accepting rumor as facts. A friend told a friend who knows a military commander and they say "x, y and z" so it's a reliable source. Well, not really. A reliable source is hearing something first hand from the source themselves, so be careful with third hand information, especially in a volatile political time.
I also have learned how easy it is to go along with the crowd, especially if the friends you love and trust are in the crowd. Crowds, whether in person or online, can make us do and say things that we would not say face-to-face in person with someone from the other side. We find both husbands and wives are often pushed along in their bad thinking and behavior by their crowd of friends and family. Many divorces have taken place because the crowd pushed for divorce instead of quietly and gently focusing the hurt spouse back to the Word of God and His Spirit. How many parents pushed their child to get out of the marriage, dragging three children with her, when all they got was one side of the story?
When confusion comes our way, it is best to take a step back and first remember that God is on His throne and completely sovereign. Whatever is going to happen this next year is either His ordained or permissive will as He marches this world to the end of times. Even if we cannot control this slippery slide of immorality and governmental autocracy that is now running straight down to the pit, God knew this was coming and is fully prepared. He also knew that you and I were made for just such a time to shine His glory, love, and grace no matter what.
We are indeed in the end of times. I am not saying that to be alarmist, but the Church has lived in the end of times and anticipation of the return of Christ throughout its history. But it has been almost exactly 2,000 years from the time of Christ's death. If 2,000 years was given to the early beginnings of man until God intervenes with Abraham, and 2000 years of Israel from Abraham to the establishment of the Church with the death and resurrection of Christ Jesus, can the last 1,000-year reign of Christ be far behind?
"But, beloved, be not ignorant of this one thing, that one day is with the Lord as a thousand years, and a thousand years as one day" (2 Peter 3:8).
Yes, we have exposed our premillennial theology which we see in many places in the Word, especially in Revelations 20:4 where it flat out says:
"And I saw thrones, and they sat upon them, and judgment was given unto them: and I saw the souls of them that were beheaded for the witness of Jesus, and for the word of God, and which had not worshipped the beast, neither his image, neither had received his mark upon their foreheads, or in their hands; and they lived and reigned with Christ a thousand years" (Revelations 20:4).
So then how should we live given that Christ is returning soon? The same way we should be living moment by moment in the Spirit every day, knowing that Jesus is already with us! This means our walk of holiness and love. Holiness means to "separate" our lives to God and not follow along with the flow of culture as it heads to depravity. Love means to actually LOVE, even those who hate us or what we stand for in the Bible and a traditional values.
We don't need the world to be our circle, not even America, or our state or city to worry our souls. Instead, this is a time to focus on our small circle of friends and family including our fellow brothers and sisters in Christ and our neighbors. Keep them in your full focus as the things that count most in life are relationships, not wealth, health, or politics. Hold your babies, children, and grandchildren tightly and love on them without fear knowing that God has made them just for this time and has promised to "keep us from the hour of testing" (Revelation 3:10). Children are so precious and all we need is food, shelter, and our precious babies and family to live wonderful lives even in a degrading society.
Then cast a wary eye at the rest of what is happening, yet always keeping in mind that everything we are seeing today in the world has been promised to us, especially for the end of times. Let's face the fact that the end of times must come some time, so why not now? Almost all prophesies have been fulfilled for Christ's return except for the building of a new temple in Jerusalem, which may be ready to go up any day now.
We are to be prepared with watchful waiting. Jesus and the apostles speak of our need to be vigilantly ready. When we keep thinking, "Oh, my Master will not return for a long time as He has tarried so long already," it is then that we will be caught off guard and unprepared, hopefully not one like the virgins who fell asleep and were not allowed into the marriage feast of the Lamb.
And what a glorious day and celebration that will be when we see Jesus coming in the clouds riding on a white horse with a sword in his mouth. His name is called "The Word of God!" Oh let's have our hearts ready that we may not be ashamed in that day when we should be filled with great rejoicing with our loved ones who all claim that mighty name of Salvation. We're simply pilgrims passing through. This is not our home.
But be on your guard, so that your hearts will not be weighed down with dissipation and drunkenness and the worries of life, and that this day will not come on you suddenly, like a trap; for it will come upon all those who live on the face of all the earth. But stay alert at all times, praying that you will have strength to escape all these things that are going to take place, and to stand before the Son of Man.
Luke 21:34-36