Responding to Wickedness Abounding
Responding to Wickedness Abounding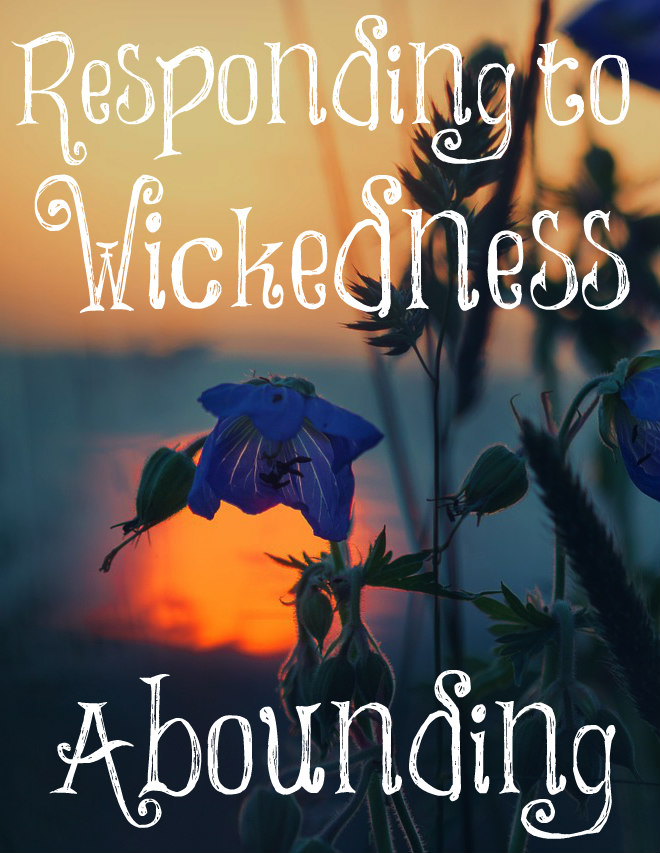 How are we as believers in Jesus Christ supposed to respond to the wickedness abounding in our nation? We are given the answer in Psalm 37:1-10.
"Fret not thyself because of evildoers, neither be thou envious against the workers of iniquity. For they shall soon be cut down like the grass, and wither as the green herb. Trust in the Lord, and do good; so shalt thou dwell in the land, and verily thou shalt be fed. Delight thyself also in the Lord: and he shall give thee the desires of thine heart. Commit thy way unto the Lord; trust also in him; and he shall bring it to pass. And he shall bring forth thy righteousness as the light, and thy judgment as the noonday. Rest in the Lord, and wait patiently for him: fret not thyself because of him who prospereth in his way, because of the man who bringeth wicked devices to pass. Cease from anger, and forsake wrath: fret not thyself in any wise to do evil. For evildoers shall be cut off: but those that wait upon the Lord, they shall inherit the earth. For yet a little while, and the wicked shall not be: yea, thou shalt diligently consider his place, and it shall not be."
We are not to be anxious and worried about wickedness abounding but to trust in the Lord and do good. This is His command to us. Trust and obey. Delight yourself in Him! Let His Word dwell in you richly. Praise and thank Him consistently. Commit your way to Him. Rest in Him and wait patiently for Him. Cease from anger and forsake wrath. Don't do any evil!
This is a spiritual battle we are in, women. It's for the souls of others. We are commanded to be salt and light to a lost and dying world. The wicked won't succeed. Sure, it looks like they are but they won't in the end. I encourage you to read all of Psalm 37. God is very clear with what will happen to the wicked. Speak truth in love wherever and whenever you can. People are hopeless and depressed. Our hope is grounded upon Jesus Christ, and He is immovable.
This is why we need to be in His Word daily. We need to be reminded of who we are in Christ and all of the riches we have because of Him. What did God command of His children when they were in bondage to a wicked people? "Build ye houses, and dwell in them; and plant gardens, and eat the fruit of them; Take ye wives, and beget sons and daughters; and take wives for your sons, and give your daughters to husbands, that they may bear sons and daughters; that ye may be increased there, and not diminished" (Jeremiah 29:5, 6).
Don't live in fear. God has not given us a spirit of fear but of power and of love and of a sound mind! Continually renew your minds with truth and remember, all things work together for good to those who love God and are called according to His purposes.
The Lord knoweth the days of the upright: and their inheritance shall be for ever. They shall not be ashamed in the evil time: and in the days of famine they shall be satisfied…I have been young, and now am old; yet have I not seen the righteous forsaken, nor his seed begging bread. He is ever merciful, and lendeth; and his seed is blessed. Depart from evil, and do good; and dwell for evermore. For the LORD loveth judgment, and forsaketh not his saints; they are preserved for ever; but the seed of the wicked shall be cut off. 
Psalm 37:18,19,25-28