Be Ye Angry and Sin Not
Be Ye Angry and Sin Not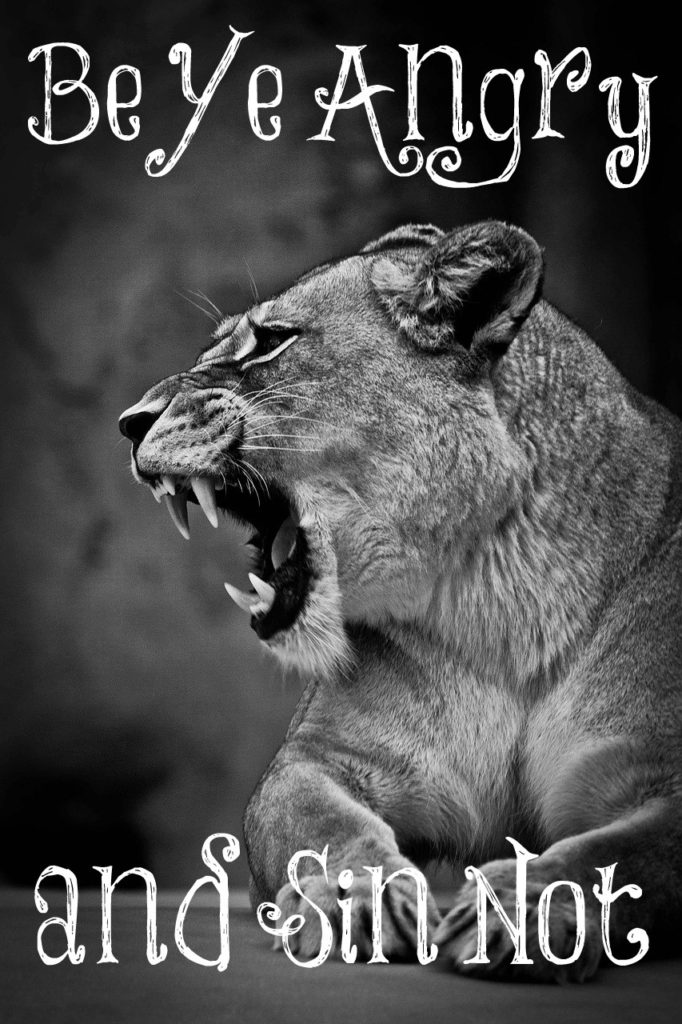 How can we be angry and not sin? The Bible commands that we do not sin in our anger: Be ye angry, and sin not: let not the sun go down upon your wrath (Ephesians 4:26). A few verses later it tells us NOT to be angry: Let all bitterness, and wrath, and anger, and clamour, and evil speaking, be put away from you, with all malice (Ephesians 4:31). There are so many other verses about being at peace with all men and not arguing and fighting with each other so what could this mean?
Out of all the old commentaries, Gill's Exposition of the Entire Bible has become my favorite. About this verse, he wrote:
Be ye angry, and sin not,…. There is anger which is not sinful; for anger is fouled in God himself, in Jesus Christ, in the holy angels, and in God's people; and a man may be said to be angry and not sin, when his anger arises from a true zeal for God and religion; when it is kindled not against persons, but sins; when a man is displeased with his own sins, and with the sins of others: with vice and immorality of every kind; with idolatry and idolatrous worship, and with all false doctrine; and also when it is carried on to answer good ends, as the good of those with whom we are angry, the glory of God, and the promoting of the interest of Christ: and there is an anger which is sinful; as when it is without a cause; when it exceeds due bounds; when it is not directed to a good end; when it is productive of bad effects, either in words or actions; and when it is soon raised, or long continues.
Let not the sun go down upon your wrath; there is an allusion to Deuteronomy 24:10 it seems to be a proverbial expression; and the design of it is to show, that anger should not be continued; that it should not last at furthest more than a day; that when the heat of the day is over, the heat of anger should be over likewise; and that we should not sleep with it, lest it should be cherished and increased upon our pillows; and besides, the time of the going down of the sun, is the time of evening prayer, which may be greatly interrupted and hindered by anger."
Be angry at sin and Satan but don' t allow it to turn into bitterness towards others for bitterness defiles many, including you, your children, and everyone around you. Looking diligently lest any man fail of the grace of God; lest any root of bitterness springing up trouble you, and thereby many be defiled (Hebrews 12:15).
When you are angry at the sin a person committed, put on the full armor of the Lord because you are fighting a spiritual battle being waged in the heavenlies, not the person. For we wrestle not against flesh and blood, but against principalities, against powers, against the rulers of the darkness of this world, against spiritual wickedness in high places (Ephesians 6:12).
If you find out that your husband is involved in pornography, be angry at his sin. Let him know that you are angry but before the sun goes down, find a place to get alone and hand it all over to the Lord, for this is His battle. Live out 1 Peter 3:1-6. Don't keep bringing it up but instead, keep giving it to the Lord and leaving it there.
If you find out your child stole something, be angry at his sin. Let him know that what he did was wrong and have him return what he stole. Then have a good talk with him about why it was wrong, discipline him, then let him know how much you love him.
If your best friend gossiped behind your back, be angry at her sin. Go over and talk to her about what she has done and let her know that it was wrong. If she asks for forgiveness, give it to her but if she responds angrily to you, go home and give it to the Lord. Refuse to hold any bitterness towards her. Remind yourself that love covers offenses and don't hold it against her.
If your MIL is consistently telling you how to raise your children and has a negative, critical spirit, be angry at her sin. Let her know in a kind way that these are your children and you will raise them how you and your husband feel is best. Carefully let her know that you don't appreciate her negative, critical spirit but do it in love. Then, no matter how she responds, give it to the Lord and love your MIL. For love is always the right response to others. Heap burning coals upon her head! (This means to kill her with kindness, not burn her.)
As we watch our culture deteriorate further into depravity and evil, be angry at the sin that is destroying people, families, and nations but don't allow it to consume you and don't focus upon it. Instead, pray about our leaders and our nation daily and give it to the Lord. It's not our burden to carry for it's way too heavy for us. We are called to be lights in this depraved culture without murmuring and complaining so find your joy in the Lord and rejoice always!
Humble yourselves therefore under the mighty hand of God, that he may exalt you in due time: Casting all your care upon him; for he careth for you.
1 Peter 5:6, 7