Beware of the Strange Woman
Beware of the Strange Woman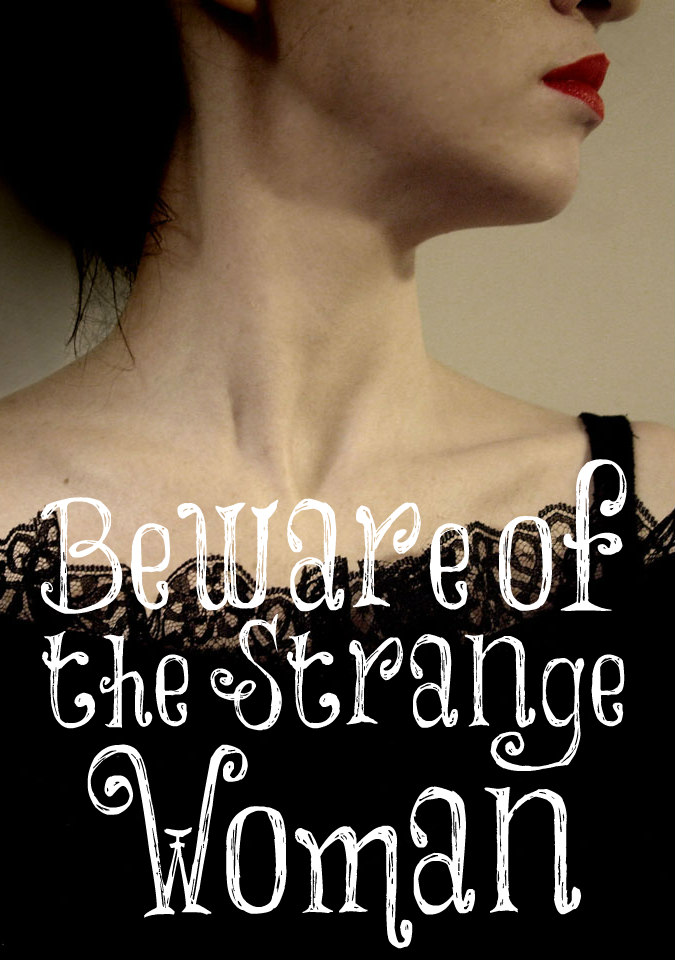 To deliver thee from the strange woman, even from the stranger which flatters with her words; which forsakes the guide of her youth, and forgets the covenant of her God (Proverbs 2:16, 17)
There are many strange women who are forsaking and divorcing their husbands today and forgetting the covenant they made with their husbands. Many more women are divorcing their husbands than husbands divorcing their wives and the reasons are all too common: "I am not happy" or "We were incompatible" or "He drank too much" or "He watched porn" or any number of reasons but not one of them is a biblical reason to divorce.
"Which forsaketh the guide of her youth,…. Not God, the God of her life, and who had provided for her from her youth up; nor her parent that had taken care of her in her infancy, and had been the guardian of her virgin state; but her husband, to whom she was married in her youth, and to whom she gave up herself to be guided and directed, ruled and governed, by: and as it is an aggravation of evil in a man to deal treacherously against the wife of his youth, and the wife of his covenant; so it is in a woman to forsake 'the friend' or 'companion of her youth,' as the phrase may be rendered; who loved her and espoused her in his youthful age, and with whom he had lived long in love and friendship, and in great happiness, but now forsakes him; her affections being alienated from him, leaves his company and bed, and associates with others" (Gill's Exposition).
God said in His Word that what He joins together, let NO man tear asunder, yet too many women have no qualms tearing apart their marriages and leaving their husbands, then going after another man to marry, thus committing adultery with him. Women, this is serious business in the eyes of the Lord. He created marriage to be an example of Christ and the Church. As the Church must never forsake Christ, so wives must not forsake their husbands.
Don't allow anything into your thought life or actions that will cause a schism between you and your husband. Watch for those little foxes that spoil the vine, such as a disrespectful attitude towards him, critical and negative thoughts about him, questioning and even rebelling against his decisions, or undermining his authority in the home by usurping it and doing things your way.
I seriously doubt many wives have given themselves up to be "ruled and governed" (as Gill's Exposition stated in the comments above) by their husbands even though this is what the Lord calls them to do. God has ordained wives to be their husband's help meet and not vice versa. Our main ministry in life is to our husbands to make their lives as good as we can and help their lives to be easier. Our husbands are the decision makers and we are called to obey and support these decisions joyfully and willingly, just as we do the Lord's decisions and commands to us.
We also need to protect our marriage by dressing modestly in the company of other men. We must be careful to not flirt with other men in any way but only give ourselves to our husbands since they are the husbands of our youth. We must never allow "strange woman" be used to describe us. We don't lust after other men, nor do we spend any time being entertained by them in our thought life but we take every thought captive to the obedience of Christ. Any man who attempts to flirt with us in any way, we flee; for we refuse to break the covenant of our youth.
"And forgetteth the covenant of her God: not the covenant made with Noah, in which adultery, as well as other things, were forbidden; nor the law of Moses, or covenant at Sinai, in which it was condemned; but the marriage covenant, which she entered into with her husband when espoused to him, and when they mutually obliged themselves to be faithful to one another: and this is called 'the covenant of God'; not only because God is the author and institutor of marriage, and has directed and enjoined persons to enter into such a contract with one another; but because he is present at it, and is a witness of such an engagement, mid is appealed unto in it; which, as it adds to the solemnity of it, makes the violation of it the more criminal." (Gill's Exposition of the Bible)
God created marriage between a man and a wife until death do they part. It's a commitment we entered with our husband and the Lord on the day we married each other. We love our husbands and what is love? God has clearly spelled it out to us in 1 Corinthians 13:
"Love endures long and is patient and kind; love never is envious nor boils over with jealousy, is not boastful or vainglorious, does not display itself haughtily. It is not conceited (arrogant and inflated with pride); it is not rude (unmannerly) and does not act unbecomingly. Love does not insist on its own rights or its own way, for it is not self-seeking; it is not touchy or fretful or resentful; it takes no account of the evil done to it (it pays no attention to a suffered wrong). It does not rejoice in injustice and unrighteousness, but rejoices when right and truth prevail. Love bears up under anything and everything that comes, is ever ready to believe the best of every person, its hopes are fadeless under all circumstances, and it endures everything (without weakening). Love never fails (never fades out or becomes obsolete or comes to an end)." (Amplified Version)
This is a good passage to memorize since love has NOTHING to do with our feelings and emotions. Not one woman who lives out this definition of love would ever divorce her husband or go after another man and be called a 'strange woman.' She would be kind, forgiving, loving, cheerful, and her hope would be in the Lord, not in how perfect her husband was supposed to be.
If her husband had been lured away by a strange woman, she would put on the full armor of the Lord and fight for her husband's eternal soul by obeying 1 Peter 3:1-6. She would understand that his eternity is more important that her earthly happiness and determine to not be a covenant breaker. Yes, she would let him go if he wants to go, as the Word commands that she does, but she would pray and ask the Lord to restore their marriage and then go about winning him back without a word by learning to have a meek and quiet spirit which is beautiful in God's sight.
Who can find a virtuous woman? for her price is far above rubies.
Proverbs 31:10