Live and Love Your God-Given Role!
Live and Love Your God-Given Role!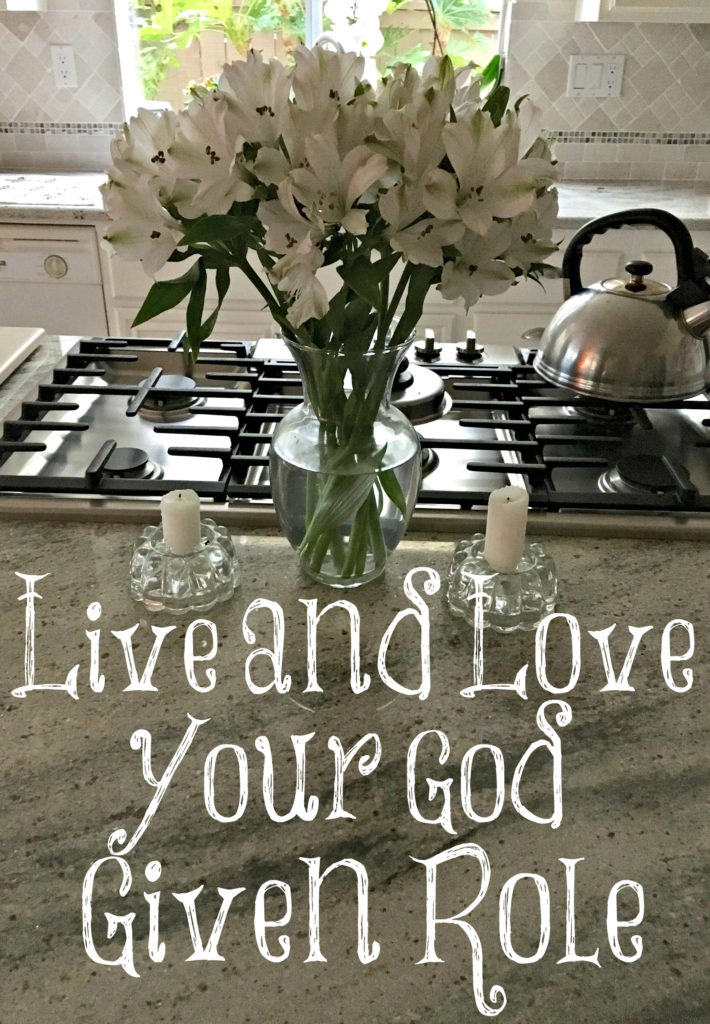 John MacArthur had this to say about women in the 90s but it still sadly defines too many women today: "What kind of woman is the prototype of the '90s woman?  What is the modern super-woman supposed to be?  Maybe something like this: she works, builds her own career, demands equal pay, refuses to submit to her husband, demanding equality with him in everything, has an affair or two, and a divorce or two.  She exercises her independence, relies on her own resources, doesn't want her husband or children to threaten her personal goals, has her own bank account. 
She hires a maid or a cleaning service, eats out at least 50 percent of the time with her family or without them, makes cold cereal and coffee, the standard breakfast for her family, quick frozen meals usual dinner fare, or she calls Domino's Pizza, expects her husband to do his share of the housework.  She is tanned, coiffured, aerobicized, into body-building shape, shops to keep up with the fashion trends, makes sure she can compete in the attention-getting contest, puts the kids in a day care center, makes sure each has a TV in his room, or a radio, or a CD player so they can be entertained.  She is opinionated, demanding, wants to be heard, eager to fulfill all of her personal goals."
Right after I read this, I received this comment that someone had just left on my post that went viral last year about housework and not expecting husbands to help with it: "This is astoundingly offensive. Women and men both work outside the home in most households and there is no reason the man should get a pass on helping around the house while the woman slaves at home and at work."
Yes, that post continues to receive comments on it and women continue to get "offended" by it. (The only things that should offend us, women, are Satan and sin, not others' opinions but many of today's women are easily led by their emotions and feelings, thus get offended easily.) Women today expect their husbands to help with housework, since they are the ones who decided they wanted to have careers and work outside of the home. Therefore, if they are bringing in some of the money, it makes perfect sense that their husbands should help with the housework. Now, many men want their wives to work since they like the thought of having extra money more than having a help meet (which most women have no desire to be). What a tangled web we have woven! It's so far from what God has intended for us.
We, as godly women, are to be keepers at home with meek and quiet spirits living simply within our husband's income, not demanding anything from our husbands but living in submission to their leadership. When we are at home tending to all of the details of running our homes and raising our children, our husbands can tend to working hard to provide a living for the family. God created male and female and He created us with different roles to fulfill. When these roles are filled with the husband and wife, there is harmony and peace within the home. The blurring of these roles has led to more divorce and devastation than anything else. Satan's goal is to destroy the family because if he can destroy the family, he destroys nations.
Love your God-given role, women. No, it's not bondage as many today want you to believe. It's freedom from having to try and live a man's role by providing plus having to do a woman's role of homemaking. We were created to only do a woman's role and it is good!
I will therefore that the younger women marry, bear children, guide the house, give none occasion to the adversary to speak reproachfully.
1 Timothy 5:14