Her Candle Goes Not Out By Night – Proverbs 31:18
Her Candle Goes Not Out By Night – Proverbs 31:18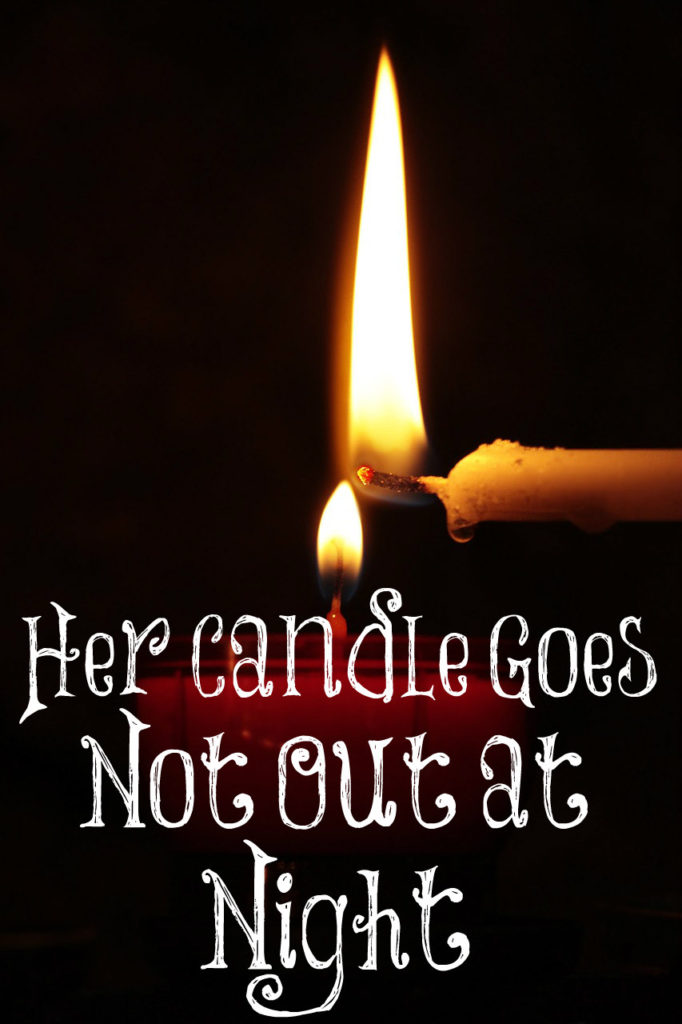 She perceives that her merchandise is good: her candle goes not out by night.
Proverbs 31:18
"She perceiveth that her merchandise is good,…. That it turns to good account; that her trading to heaven is of great advantage; that she grows rich hereby; that her merchandise with Wisdom, or Christ, is better than the merchandise of silver, and the gain thereby than fine gold; and though her voyages are attended with trouble and danger, yet are profitable, and therefore she is not discouraged, but determined to pursue them; she is like the merchant man, seeking goodly pearls, who finds a pearl of great price, worth all his trouble" (Gill's Commentary).
We are called to examine ourselves to make sure that we are in the faith. We are also called to walk circumspectly which means cautiously, vigilant, and with watchfulness. Are we using our time wisely or are we wasting the precious life that we have on this earth? Are we doing what the Lord has called us to do or are we seekers of pleasure instead? Are we training our children to love the ways of the Lord and hate the ways of the world? Life is short, women. Walk wisely with your time.
"…her candle goeth not out by night; her lamp of profession, which is always kept burning, or the glorious light of the Gospel, which always continues in the darkest times the church ever has been in; or her spiritual prosperity, which, though it may be damped, will never be extinct; when the candle of the wicked is often put out, Job 21:17; It may denote her diligence in working; who, as she rises early in the morning, Proverbs 31:15, so sits up late at night, and is never weary of well doing, night and day" (Gill's Exposition).
We have a hope and a future. Our hope and trust is in the living God and this is why we can continue on during the hardest of times, when there are fears without, and life seems tenuous. God is still on His throne. He's in control, and you are His child. We are called to be salt and light and how can we be salt and light if we are quaking with fear? We must be strong in the Lord, do what He's called us to do, and let others know of the hope we have in Christ.
"She perceiveth that her merchandise is good; Her prudence and economy leave her a large surplus profit, which she contemplates with satisfaction. There is no suspicion of arrogance or conceit, The pleasure that is derived from duty done and successfully conducted business is legitimate and healthy, a providential reward of good works. This comfort and success spur her on to further and more continued exertion. Her candle (lamp) goeth not out by night. She is not idle even when night falls, and outdoor occupations are cut short; she finds work for the hours of darkness, such as is mentioned in the next verse" (Pulpit Commentary).
Throughout this study, many of you will look at this imaginary woman and decide that it's impossible to be like her but it's not. God wouldn't have written it in His Word to tease and mock us but to encourage us to become like her; for her price is above rubies and she is rare but Christ Himself lives inside of us working out His good pleasure. All He wants is for us to take the first steps and His power will swoop in from on high and help to accomplish what we set out to do, whether that is being a help meet to our husband, a mother to our children, or a homemaker in our home. No, a mother's work is never done, but God's strength in us never wavers. He will be there in your fatigue, tiredness, and hopelessness to encourage and lift you up as you cast all of your burdens upon Him.
"Some take the lamp here in an allegorical sense, as signifying life, happiness, and prosperity; others, as denoting a bright example of diligence and piety. But the simple meaning seems to be the one intended" (Pulpit Commentary).
Diligence means the "constant effort to accomplish what is undertaken and exertion of body or mind without unnecessary delay or sloth." Piety means "the reverence of the Supreme Being and love of his character and the exercise of these affections in obedience to his will and devotion to his service." You know what the Lord has called you to do, women. It's very clear in His Word so get to work and do what you know you're supposed to do in obedience to the Lord and in the power of His strength.