Build Ye Houses and Dwell in Them
Build Ye Houses and Dwell in Them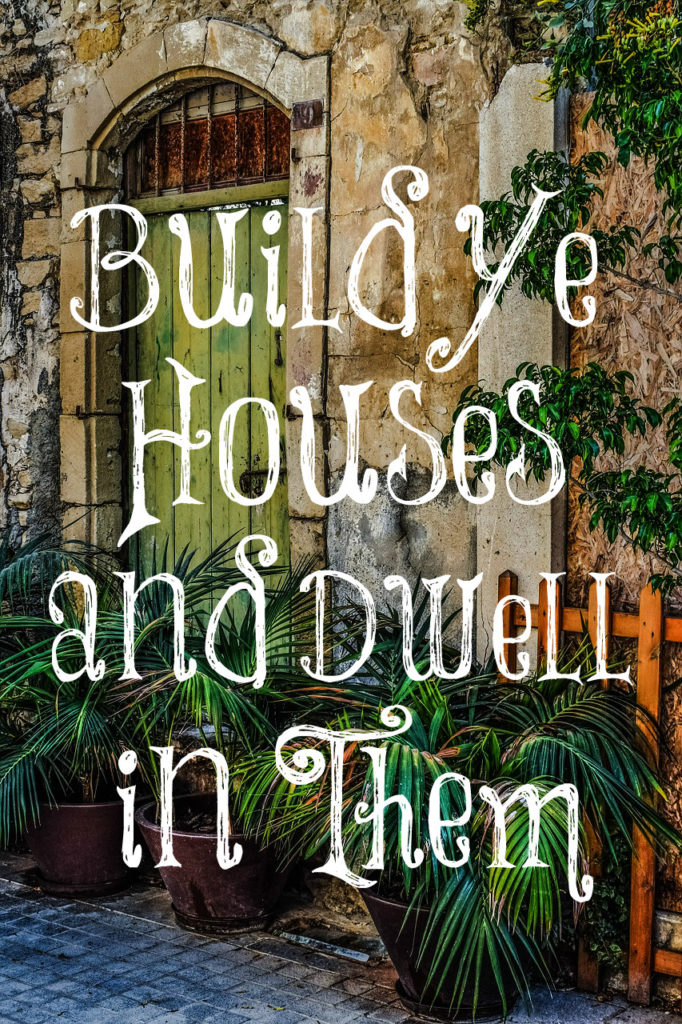 What were God's commands to His people when King Nebuchadnezzar carried them away from Jerusalem to Babylon? "Build ye houses, and dwell in them; and plant gardens, and eat the fruit of them; Take ye wives, and beget sons and daughters; and take wives for your sons, and give your daughters to husbands, that they may bear sons and daughters; that ye may be increased there, and not diminished. And seek the peace of the city whither I have caused you to be carried away captives, and pray unto the Lord for it: for in the peace thereof shall ye have peace" (Jeremiah 29:5-7). Dwelling in home, planting gardens, marrying, and bearing children were all part of His wonderful plan for His children even in a foreign and hostile land.
What were the Apostle Paul's instructions to young women while living in a wicked culture and for young women today? "That they may teach the young women to be sober, to love their husbands, to love their children, To be discreet, chaste, keepers at home, good, obedient to their own husbands, that the word of God be not blasphemed" (Titus 2:4, 5). And what were his instructions to young widows? "I will therefore that the younger women marry, bear children, guide the house, give none occasion to the adversary to speak reproachfully" (1 Timothy 5:14). God wants young women to marry, bear children, dwell, and work in their homes even in a culture that hates the Lord as a shining example to the beauty of His ways.
What about barren women? "He maketh the barren woman to keep house, and to be a joyful mother of children. Praise ye the LORD" (Psalm 113:9) from the Song of Hannah. What was the Proverbs 31 woman known for? Was she known for her career choice and how much money she made? No! She was known for looking "well to the ways of her household" (Proverbs 31:27). Her husband and children rise up and call her blessed!
It is abundantly clear what God's will is for women yet few women are being taught this as they are growing up. Being a keeper at home isn't even on their radar! So what about the women who are highly educated, have a mountain of debt, and must work to pay it off but want to be home with their children? What should they do? Or how about women who are single with children and want to be home? What about women whose husbands insist they work outside of the home? Do they have no options?
My encouragement to all women who want to come home full time regardless of their circumstances is to pray. Pray. Pray. Lay your burden at the feet of Jesus. Ask Him for wisdom. Let Him know that you now see how important it is for you to be home full time with your children and ask Him if He would make a way for this to happen; for with God ALL things are possible! Then walk in the grace, mercy, and strength that He provides while waiting upon Him.
If you have a mountain of debt and a well paying job, pay it off as soon as possible. This is a tough position to be in. Many will mock you if you tell them you are paying off your debt and leaving your prestigious career to go home full time but you aren't alone! Many women are finding out how empty their careers are and are choosing to go home to raise their own children. It may take awhile but once you step out in faith and begin to live simply and frugally so you can pay the debt off sooner, God will give you the grace and endurance to accomplish it!
If you are single for some reason, seek ways to make money from home if at all possible. Can you start a daycare to be home with your children? I know women who sell things from home and make good money (the internet has opened up a good resource for this). Tutor children from home. Teach piano or an instrument, if you know how to play one. Remind yourself that nothing is impossible with the Lord, pray daily for wisdom, and ask that He make a way for you to come home.
God's will for single mothers is to marry, bear children and guide the home. Yes, this verse was written to widows but those who are single through no choice of your own or from poor choices, getting married is a great solution but make sure to marry a man who wants to provide for you so you can stay home full time. Your children need a father, and if you can find a godly man who wants to marry you and provide for you, marry him! This is by far the best solution.
For the mother whose husband wants her to work, figure out how much money you are really bringing home after taxes, the cost of clothing, wear and tear on the car, lack of time to shop frugally and fix meals from scratch at home, and then make a gentle appeal to him. Read "Home By Choice" so you can show him the studies that prove how important it is for mothers to be home with their children. After doing this, keep praying and resting in the Lord's timing. He is the One who will convict and change your husband's mind if it is to be so, but make sure you are treating him with respect and kindness. Never grow bitter towards him!
Marriage was created by God. He said that it was not good for man to be alone so He created a help meet for the man. This is all good and a part of God's wonderful plan for us from the beginning. Marriage and women being keepers at home has become muddied in our culture. Always go back to the word of God for your instructions, dear women, then trust Him to provide what He commands.
For this is the love of God, that we keep his commandments: and his commandments are not grievous.
1 John 5:3