Can a Wife Disobey Her Husband if He Asks Her to Get a Job?
Can a Wife Disobey Her Husband if He Asks Her to Get a Job?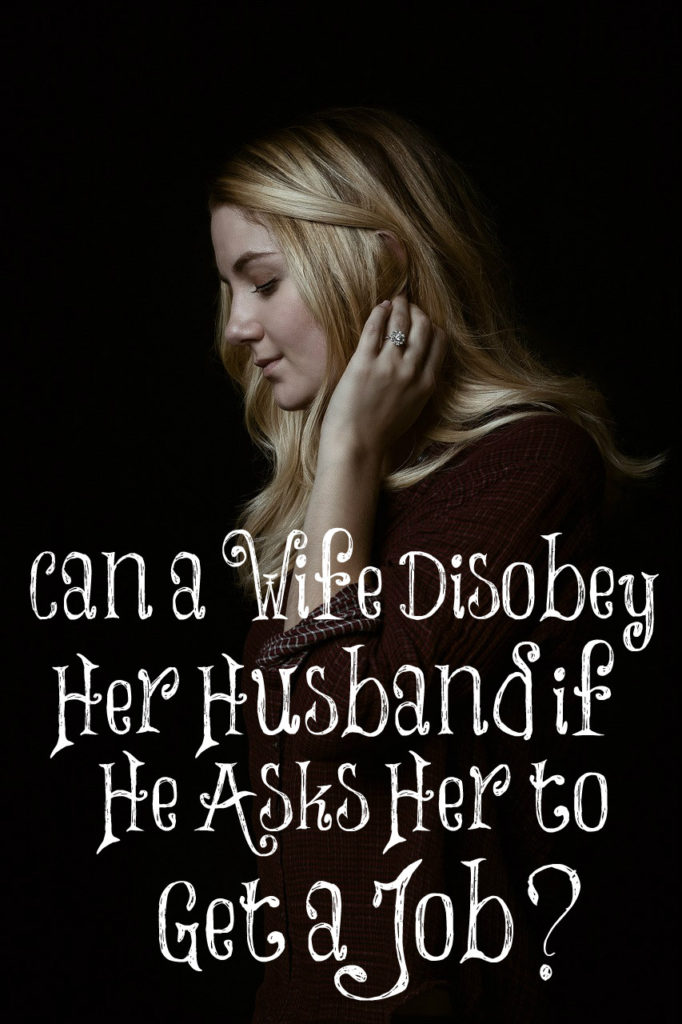 Should wives disobey their husbands if their husbands ask them to leave their homes, their children in the care of others, and get a job? This is a difficult question to answer. I do believe this would be a sin on the husband's part since he is the one called to be the provider unless he is unable to do so for some reason. Women are instructed to be keepers at home so they don't blaspheme the Word of God so the Lord takes women being keepers at home very seriously.
Lady Lydia wrote a post about this a few years ago and doesn't believe a wife must submit to her husband's request to be a provider: "The scriptures do not give husbands authority to turn their wives into co-providers. When a man asks a woman to 'help-out' financially, there are a number of ways to do this without leaving her post at home and working elsewhere. These include preventing the income from going out as fast as it comes in by reducing expenses. Many women can stay home, but do not want to do without visits to the nail salon, hairdresser, restaurants, daily coffee's at drive-ins, several vehicles,  extensive travel expenses, shopping at high-end clothing stores, and entertainment. These things can all be substituted in other ways that will not involve the wife going to work, which can perhaps be explained in a future post."
There is nowhere in the Bible that instructs women to make money. Yes, the Proverbs 31 woman made a little bit of money but she was never told she had to do this; for she was known for "looking well to the ways of her household." Any mother who is asked to leave her home and her children in the care of others will most likely not make that much money from the expenses it will take her to work, the work she won't be doing in her home, the taxes taken out of her pay, the fewer meals from scratch she will be able to make, and a whole bunch of other ways that frugal wives can make ends meet by living simply and carefully within their husband's income.
In my heart, I want to tell women that they don't have to submit to their husband's request to find a job but I'm just not sure this is the right thing to do since in 1 Peter 3:1-6 women who are married to men who are disobedient to the Word are told to live in subjection to their husbands without the Word and with a meek and quiet spirit. I know of women who didn't go to church because their husbands didn't want them to so the wives stayed home and ministered (served) their husbands instead. I know that some of these men have come to believe in Jesus Christ because of this.
Wives must remember that their husband's eternal souls are the most important thing, yet I know that their children's eternal souls are as well. A husband certainly couldn't force his wife to go to work each day but I believe the best thing for a wife in this position to do would be to make her home such a sanctuary of peace and rest for her husband along with delicious homemade meals that if and when she must go to work, he will immediately notice the loss to his home life without her there full time. This is living in subjection to them and winning them without the word by her gentle and sweet behavior which seems more in line with God's Word to me.
This is why the only times I encourage women to disobey their husband is if they ask them to do something evil, unlawful, or harmful. In all of the time I have been mentoring women, there's only been one time that a woman asked me if she should obey her husband and I said, "NO!" Even then, I'm not sure I was right because what he asked didn't fall into those three categories but I do know that some husbands ask (rarely demand) that their wives do something that falls into these categories.
I may be wrong and Lady Lydia may be right but each woman who is in this situation will have to prayerfully consider her actions and seek the Lord in prayer along with wisdom from older, godly women. Granted, Lady Lydia wrote a post on CAN a husband ask his wife to work and her answer was "NO." She didn't write about what to do IF a husband asks his wife to work (except for this line in her post, "Her response should be to fully carry out the duties of home keeping and to do it well, giving him a good example of a Christian woman's duties to the home and family") but women have come to me because their husbands do want them to work and asking what to do. We can't control what husbands do nor control what they ask their wives to do. All we can do is encourage them to seek biblical counsel and do what the Lord would have them do in this case, not what they want to do.
 That they may teach the young women to be sober, to love their husbands, to love their children, To be discreet, chaste, keepers at home, good, obedient to their own husbands, that the word of God be not blasphemed.
Titus 2:4, 5