Can Women Preach Under Elder Authority?
Can Women Preach Under Elder Authority?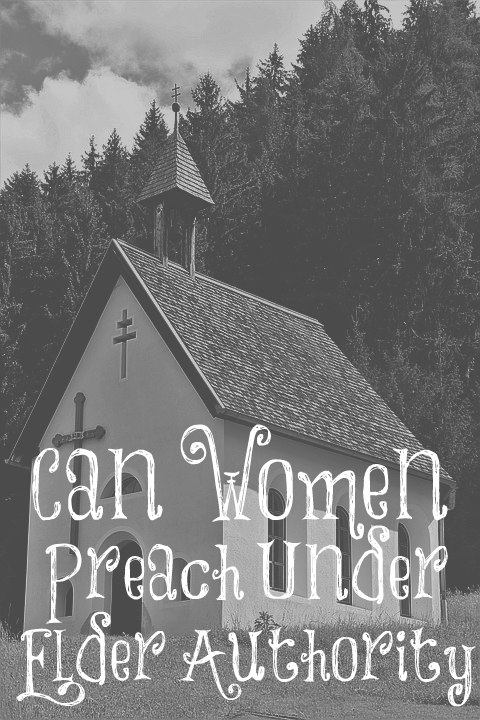 Nancy DeMoss Wolgemuth is a respected Bible teacher among many. She teaches about biblical womanhood but she also teaches other parts of the Bible. In looking at her site to find what she believes about women preaching in church gatherings and to men, this is what I found:
"At the same time, Nancy does not believe that occasional teaching by women in mixed audiences is inappropriate, as long as two things are clear. First, that it is taking place under the headship of male spiritual authority. (The word translated have authority means "to exercise authority on one's own account; to domineer over—one who acts on his own authority; to have dominion.") And, second, as long as the woman involved is not put in a position of ongoing responsibility for the spiritual direction of men. (The word translated to teach in 1 Timothy 2:12 is in a tense that indicates ongoing instruction.)"
I am going to have to disagree with her since the Bible is clear that women are not to teach nor be in authority over men and we aren't given exceptions to this command. What about being quiet in the churches has she missed as well? "Let your women keep silence in the churches: for it is not permitted unto them to speak; but they are commanded to be under obedience as also saith the law. And if they will learn any thing, let them ask their husbands at home: for it is a shame for women to speak in the church" (1 Corinthians 14:34, 35).
Women are commanded to "keep silence in the churches; for it is not permitted unto them to speak." We are also told that "it is a shame for women to speak in the church." I am not sure how God could have been more clear about this.
I don't know how the definitions she gives of authority or teach change this command: "But I suffer not a woman to teach, nor to usurp authority over the man, but to be in silence" (1 Timothy 2:12). There are zero examples of women preaching/teaching in the churches in the Bible. None. There are no examples of women teaching the Bible to other women either.
On Mother's Day, Beth Moore, along with other women, preached in churches. The Bible doesn't give special days that women can preach. It doesn't say they can preach under the elders' authority. The ministry of preaching/teaching the Word of God and spiritual authority has been clearly given to men and we can see this throughout the entire Bible.
According to the Bible, women cannot preach under the authority of the elders. The elders of the churches should not allow this to happen. It's becoming way too common in churches today as they bow to the feminist agenda. There's nothing wrong with women being quiet in the church services. In fact, it's good for us to sit quietly and learn, which we are commanded to do. Yes, we can sing and praise the Lord with the congregation but other than this, we are to be in silence. There is nothing wrong with silence, women. It's an act of submission to His divine will and it is good.
Let the woman learn in silence with all subjection.
2 Timothy 2:11