What Changed Pro-Choicers into Pro-Lifers?
What Changed Pro-Choicers into Pro-Lifers?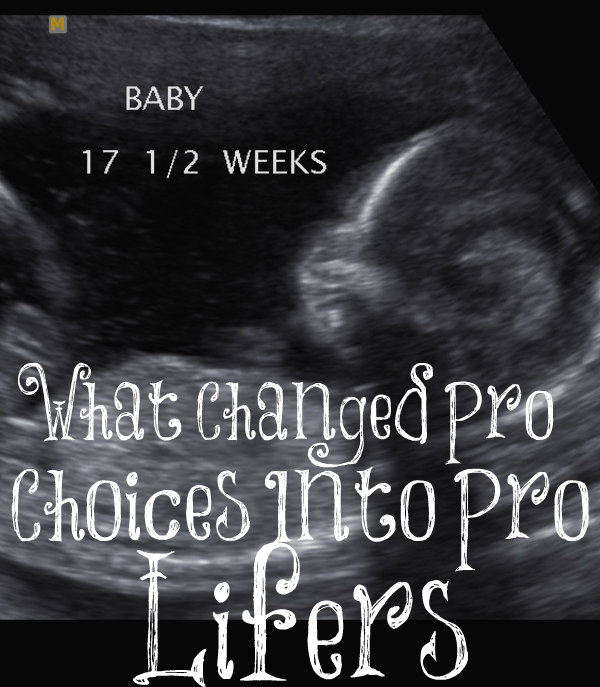 On the Facebook site called Secular Pro-Life, this question was asked, "How many of you used to be pro-choice? What changed your mind?" I am going to share some of the comments since they are powerful!
Luarissa: "I was pro-choice until I had an abortion. I've repented and been forgiven, so I no longer sit in shame or guilt. But that does not erase or minimize the tragedy of what I did. I am grateful to my forgiving Father. In his mercy, God used my baby's murder to change everything about me. It fuels my desire to speak for those who cannot speak. Because of God's mercy, my child's death will not be in vain."
Samantha: "I was 'Pro-Choice-For-OTHER-People-But-Pro-Life-For-Myself.' That is, until I was struggling with PPD after the birth of my son and someone on FB posted an actual clip of an abortion. I didn't have 'auto play' disabled and I saw it. I dissolved into tears, looked at my son, and I couldn't even condone it for other people anymore. No one should have the right to take anyone else's life. Period."
Beth: "I was. What changed my mind was realizing the reality of abortion (both the methods and the legal permissibility under Doe v. Bolton), and the inconsistency of claiming to care about the most vulnerable in our society while completely disregarding the unborn. Also, I think a more mature understanding of what feminism really ought to look/sound like. It should honor and promote the equality and value of women as well as that which is uniquely feminine – the capacity to bear and nurture new life – and insist that society do the same."
Kristin: "I was pro-choice until a few years ago. A close pro-life family member was challenging my conscious with facts against abortion. I felt I had to strengthen my argument with facts, too, so I went on a mission to educate myself with as much unbiased information as I could find. That journey led me to the truth, and the truth led me to becoming pro-life. I watched 'The Silent Scream' and an interview with Dr. Levatino, and I was forever changed, and glad for it."
Jenna: "I used to think abortion was okay in some instances. But the biggest reason I changed my beliefs about it is that it's so shocking how many people just don't believe this is a PERSON. And even more shocking how many people know that it is and just don't care. I have three daughters (and one son) and I loved them from the minute I knew about them. I want them to value life."
Lindsay: "I used to believe that it wasn't my place to tell another woman what to do with her body, but I didn't think abortion was good. At the end of my freshman year of high school an acquaintance told me she was pregnant and was going to have an abortion. I asked if she was sure, but when it seemed like she really didn't want to keep the baby, I asked if she needed me to go with her or anything and to let me know how she was doing after the abortion. I supported her like a good friend supposedly should. She had another friend taking her, so I just went home and waited for her to call at some point.
"I didn't hear from her all summer. The next school year, she wasn't at school. Second semester, she finally came back. After a couple of weeks, I finally found the courage to go up to her and ask her what had happened. She pulled out a locket around her neck and showed me a picture of her son whom she had given birth to and placed for adoption. When I saw his face, I saw the person I had almost supported her in killing. I knew I couldn't be ambivalent anymore and I knew even us young women were stronger than the voices of the pro-choice side gave us credit for because my schoolmate was an example of that strength."
Jackie: "I'm liberal so being pro-choice came with the territory but I'm also a professor and I've been teaching Anatomy and Physiology since 2002. When I started teaching an advanced Human Physiology class in 2008, something huge shifted inside of me. I can't teach about the wonders of development and ignore the wonders of development. I'm also inherently a tree-hugger and can't handle it when trees and animals are harmed and the cognitive dissonance started breaking."
Monique: "I was pro-choice just not for me. Then I had an unexpected pregnancy and went to Planned Parenthood to confirm. They pushed me to not tell anyone and have an abortion. The more I resisted, the more aggressive they got. I literally had to run out of the office. She's seven now, I'm married to her dad and just thinking about the possibility of not having our little family is crushing. Abortion hurts women and most are coerced into it."
Chris: "I was pro choice. I took the coward's way out. The standard cop out; 'I'm not a woman, it's none of my business.' By that logic, bank robbery is none of my business, rape is none of my business, child abuse is none of my business. homelessness is none of my business. The idea of self defense and or defense of another rests on the concept that I have agency to protect those who can't protect themselves."
Karen: "I was. I saw my child on ultrasound and realized she was a child. I expected to see a blob, not a baby sucking her thumb, at 20 weeks gestation. I knew then I'd been lied to and was furious."
Heather: "I was rather uncommitted either way, just not a problem I had to consider. Until I miscarried at 5 weeks. That was a life. I felt real loss, real grief. And the pro abortion side tells me it's just a clump of cells. It wasn't. It mattered. It had meaning. I know that now."
Natalie: "I was offered to terminate one of my twins for chromosomal defects that she could possibly overcome at 16 weeks. Didn't make sense to me to kill her. Why not give her a chance? Why terminate because she was different? Was her life less valuable than her sisters because her quality of life would not be the same as her sisters? Did they assume I couldn't handle a special needs child at 20 years old? Who were they to assume I wouldn't give her the best quality of life? She was my daughter. I made her. I loved her and I hadn't even met her. I miscarried my twins girls at 22 weeks and never felt so heartbroken in my whole life."
Rhonda: "I was one that said I wouldn't do it unless there was an extreme abnormality but then our first pregnancy ended up being a partial molar pregnancy. Our baby died at 15 weeks and I had to deliver him. Watching my husband hold our fully formed baby and confirm his gender at this early stage did it for me. Doctors tried to comfort me with the fact that if he had survived he would have had severe problems. But to me the pain and emptiness I was feeling was worse than anything else I could imagine. It's been 20 years and I still grieve that loss. And for people to dismiss his humanity cuts right through me."
Lo, children are an heritage of the Lord: and the fruit of the womb is his reward.
Psalm 127:3