Childfree is Freedom?
Childfree is Freedom?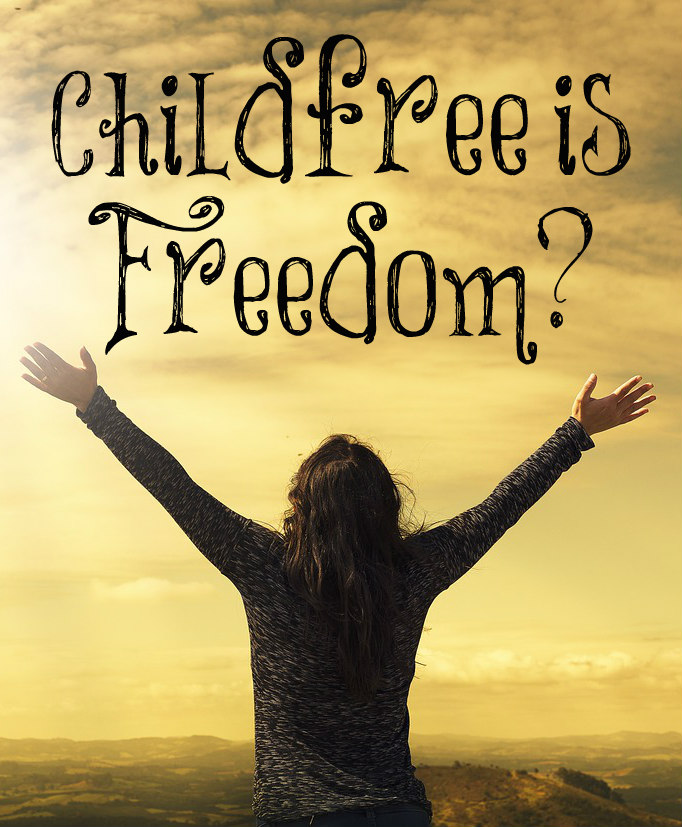 "Not all women want children. For me, it sounds like the worst deal like drawing the short straw of life. The man gets to have it all: a family, a higher education, a fulfilling career, free time, free will, friends. But the woman? Must stay home forever and only raise children, be a servant, and clean the house. No, thank you. Childfree is freedom." (Tiffany on Facebook)
My response to Tiffany: "You've bought the evil feminist agenda hook, line, and sinker. You would rather be a slave to a career, boss, and paycheck than lovingly serving your husband and children. Sad."
Emily's response to Tiffany: "It's no accident you think that. The school system and the media have spent your entire life hiding the truth from you. Like most modern women, without the influence of God's Word to show you the truth, you believe them.
"Those teachers, professors, movie actors, magazine article authors, and everything else you're being exposed to won't be there once you've lost all value to them. Once you no longer exist to consume and are 50 years old and not the latest model, they'll forget you. Meanwhile, you'll have made all the tragic choices they told you to and you'll be very alone. Think of your workplace right now. You likely work with several women who match the description I just gave. Unwilling to admit they made the wrong choice, they'll continue to use chemicals to medicate themselves while they encourage you to make the same choices that have left them feeling so terribly empty."
Tiffany never responded. Praying seeds were planted.
Many women have written to me privately and told me when they first found my blog and read what I write, they hated my words. They disgusted them but they kept reading. Then, the words I wrote began to make sense to them. They'd never heard what I teach before. It was all foreign to them but the more they read, the more they liked. They began putting it to practice and love their lives now! They can see that God's will is so much better for them than the feminist's agenda.
They've been taught since the time they were little girls to "be something" when they grow up. Of course, the option of being a wife and mother is never mentioned and if a little girl mentions it, they will be immediately told they "need" a career just "in case." So, they've been brainwashed with the feminist agenda since they were young and when they first read what I write, they're repulsed. But if they have any wisdom left at all, the words begin to make sense and their heart longs for God's perfect will for them.
There's an article in The Federalist called Nine Reasons You Should Have a Baby This Year If You're Young and Married. "The truth is, children are a reliably excellent investment in your long-term personal development and happiness. And you only have about a quarter of your adult life to make that investment. That, in a nutshell, is why, if you are young and married, you should consider having a baby this year." Our children are our greatest treasures on this earth. They are the gift that keeps on giving – grandchildren!
The Federalist article is pretty good but I don't agree with all of it, especially the warning of having babies after 35. I do think the warning of not putting off children after marriage for a woman's career is a good one since fertility certainly doesn't last forever. The longer she waits, the more difficult it is to get pregnant. Never take your fertility for granted, women! Fertility is a gift given to you by God.
There's a woman on Facebook that has had twelve children and six children after the age of 35. She shared an article called You're Allowed to Have a Baby After 35 which proves scientifically that it is good. As long as God gives you a period, then it's good to have children. Yes, there's always a chance of something going wrong even when a woman is young, but that's because we live in a fallen world.
Childfree is freedom in the feminist's mind. Freedom from what? Freedom from bearing children, then raising them in the nurture in the admonition of the Lord. Freedom from all of the laughter and cuddles mothers receive from their children. Freedom from having grandchildren in one's old age to snuggle with. Childfree doesn't sound like freedom to me. It's sound like missing out on God's best for women.
He maketh the barren woman to keep house, and to be a joyful mother of children. Praise ye the LORD.
Psalm 113:9