Can "Fat Shaming" Be Conviction Instead?
Can "Fat Shaming" Be Conviction Instead?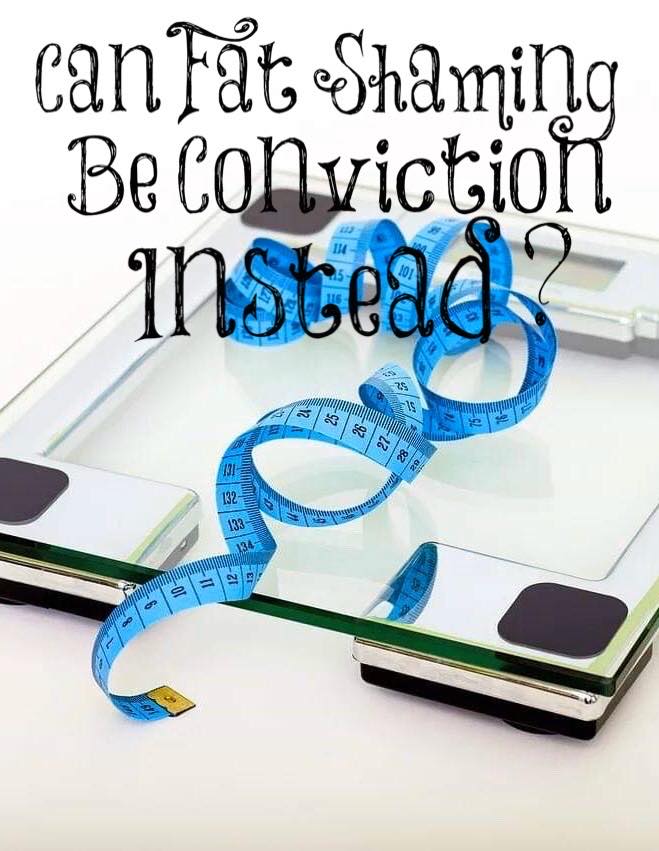 "Liz was 62 years old and had homeschooled her two daughters, who were now in their 20s, unmarried, and living at home. Liz and her husband adopted their three-year-old foster son and were raising him. Then, she suddenly died of a heart attack. She was dearly loved but greatly overweight. Liz exchanged the years of continuing to be a loving mom for the pleasure of a high-food-consumption life. This isn't judging her. We mourn with her family, but each of us needs to own the future impact of our daily decisions. Sometimes we love others by making hard choices for ourselves like eating in a manner to keep our bodies healthy and at a good weight." This is a quote from Teri Maxwell's great book "My Delight: Loving My Husband." Many would call this "fat-shaming."
Jillian Michaels was accused of this recently. "When the topic of Lizzo's messages about self-acceptance and body positivity came up, Michaels asked: 'Why are we celebrating her body? Why does it matter? That's what I'm saying. Like why aren't we celebrating her music? 'Cause it isn't gonna be awesome if she gets diabetes,' she continued. 'I'm just being honest. I love her music, my kid loves her music, but there's never a moment when I'm like, 'I'm so glad she's overweight.'"
God said this about a man: "And he brought the present unto Eglon king of Moab: and Eglon was a very fat man" (Judges 3:17).
Did Teri Maxwell shame the greatly overweight mother who died? Did Jillian shame the obese singer? Did God shame Eglon? Are they all guilty as charged?
The word "shaming" is a common word being used these day. Mommy shaming. Fat shaming. How can women feel shame if there's no reason to feel shame? Can shame be another word for conviction? Are women who are feeling "fat shamed" being convicted about being overweight and don't want to admit it so they use the word "shame" instead of "convict" because they don't want to be convicted of their sin?
"Let your moderation be known unto all men" (Philippians 4:5). We are commanded to be moderate. A fruit of the Spirit is self-control. Eating too much makes us feel badly and affects our health. A lot of problems people are suffering from are due to their own negligence concerning their health and care of their bodies. There's a good reason God warns us to be temperate and have self-control. There's a good reason that He tells us that we are the temple of the Holy Spirit and we are to glorify Him with our bodies (1 Corinthians 6:19, 20).
"When I step on a nail I feel pain. That pain is my body saying, 'Stop that.' When I sin I feel shame. That shame is my conscience saying, 'Stop that.' Shame, like pain, is an uncomfortable but necessary teacher. It exhorts us to turn from doing something destructive" (Michael Foster). "I speak to your shame. Is it so, that there is not a wise man among you? no, not one that shall be able to judge between his brethren?" (1 Corinthians 6:5)
If you aren't considered "thin" but you are doing all you can to be healthy by not overeating, exercising, and eating healthy, then you should feel no shame. There's no perfect weight. Most of us all will fluctuate at times, but we should always be striving to "keep our body under and bring it into subjection" (1 Corinthians 9:27). We need to be able to say "no" to our fleshly desires and appetites and "yes" to righteousness, temperance, and self-control because His Spirit works mightily within us (Colossians 1:29). We also know that we can do ALL things through Christ who strengthens us (Philippians 4:13).
But I keep under my body, and bring it into subjection: lest that by any means, when I have preached to others, I myself should be a castaway.
1 Corinthians 9:27