Complementarianism is an Appeasement to Feminism
Complementarianism is an Appeasement to Feminism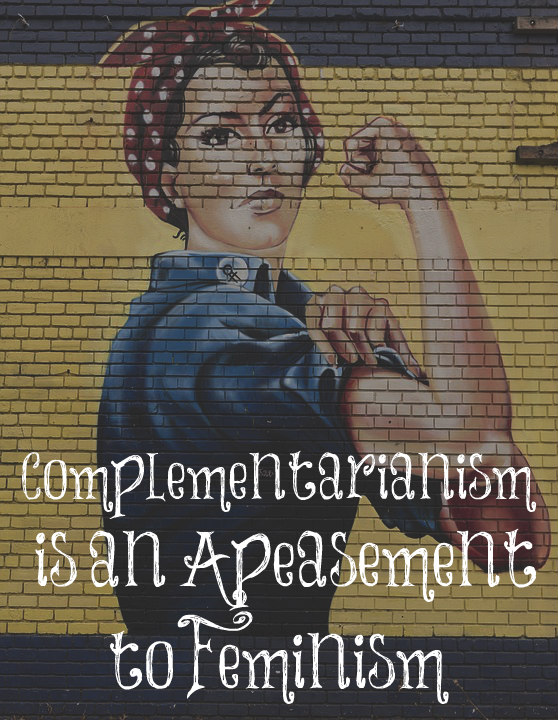 This post is based on a podcast by Hard Man called "Against Complementarianism." I listened to it and took notes so I will be writing some things that were taught in the podcast along with my own thoughts.
The public schools and universities teach Marxist Feminism. They teach that authority is evil. They want to rid society of hierarchy. They believe these are "tools of suppression and must be destroyed." This is why we are seeing a call by the Left to defund the police. They are also the ones who want gun control. Bottom line, they want chaos and anarchy. They support the criminals and hurt the law abiding citizens.
They believe patriarchy is evil since it's authority. The ironic thing is that feminists want to be at the top of the authority structure. They don't want men there. Complemenatrianism is an appeasement to feminists and the world. It accepts patriarchy as evil and rejects masculine authority. They falsely believe that authority isn't the right to rule, but the right to serve, thus the label of "servant leadership." It takes away authority in a sneaky way. As believers in Jesus Christ, we can't appease the world. We live only to glorify God.
Biblical patriarchy is God's ordained authority. The husbands' role is providing, leading, and protecting. Husbands weren't created to be their wives' helper. Wives were created to be their husbands' helper and live in submission to their husbands. God's roles bring order and beauty. They are perfect and for our good.
God created us to be married. He gave men and women a sex drive for marriage and having children, NOT to fornicate and watch porn. It is not good for man to be alone, so God created a hep meet for him. Marriage is God's design and it is good. His authority structure in the churches and in marriage is good. Let's not fight it but accept it willingly. God's path is the only one you want to be on, women.
Wives, submit yourselves unto your own husbands, as unto the Lord.  For the husband is the head of the wife, even as Christ is the head of the church: and he is the saviour of the body. Therefore as the church is subject unto Christ, so let the wives be to their own husbands in every thing.
Ephesians 5:22-24