Confessing Adultery Committed Long Ago
Confessing Adultery Committed Long Ago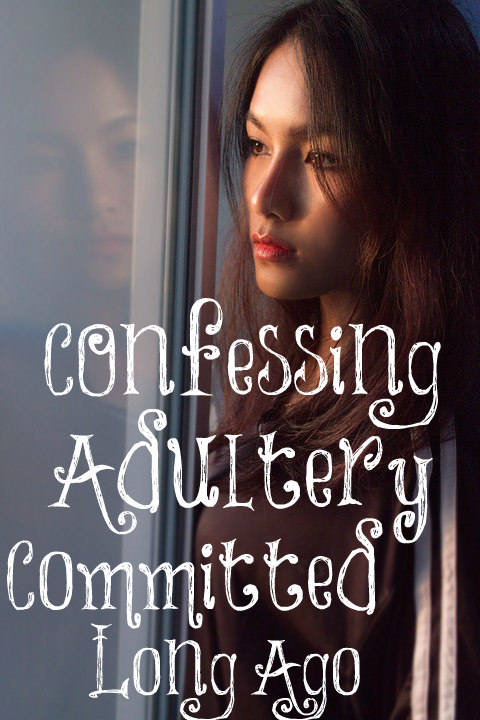 "If our attempt to make restitution causes more hurt than help, it can be the selfish therapy of unbelief that makes our actions more important than God's. When God has forgiven us, the what is crucial has been done. This is especially true in the area of sexual sins where some women feel constrained to confess all when the end result is only further hurt, not healing. God's forgiveness is enough in instances like these. And if no one else is involved in our wrongdoing, then the one to tell is God, not the whole world." (By Gladys Hunt in her book "Ms. Means Myself"*)
To a large extent I agree with her. There are some women and men who have confessed to their spouses of an affair 20-30 years ago which has caused great sorrow for the one confessed to. It has only caused pain and mourning for them. It did nothing good for them but to hurt them. This would be especially true of sexual sins before marriage. If you did not confess them when engaged, consider if God wants you to burden your spouse with these sins years into your marriage.
If you have committed adultery long ago and your husband doesn't know about it, I encourage you to prayerfully consider if your telling him will be helpful or hurtful to him and your relationship. Yes, you will always live with this regret, but regret is a consequence of sin. If you confess to your husband, you are putting the burden of the adultery on him.
The Bible tells us this: "Confess your faults one to another, and pray one for another, that ye may be healed. The effectual fervent prayer of a righteous man availeth much" (James 5:16). The purpose of confessing one's sin to another is to bring that sin into the light, be prayed over, and held accountable. It's wanting to rid one's life of that sin. If one had committed adultery many years ago, the confession to another doesn't help since the sin is no longer being practiced and may only cause a lot of harm and grief to the one who was wronged.
If you are presently committing adultery, get out now!!! Confession of current or recent adultery indeed is demanded of you by the Lord. Seek wise counseling on the matter. A strong relationship can withstand the awful sins of adultery, but most relationships do not.
Some will say there should be no secrets among spouses. As a rule, this is true, but some secrets of a long ago past that have been washed clean by the blood of the Lamb need to stay between you and the Lord. Only you, with the Lord's help, can determine after living with a spouse many years without confession if in your later years, exposing the secrets that will cause more harm than good. It often causes more harm.
This same principle applies to a husband's lust and sharing it with his spouse every time he lusted. If the wife is strong enough to be his accountability partner and is not grieved or angry after each confession, then this can perhaps be a good thing that can help the marriage grow stronger as they unite together to fight against the modern commonplace of porn. But if the spouse is not able to effectively process and deal with a husband's confession of his sins, she should ask him to seek accountability from another.
A Christian marriage is ideally a place of safety where two lovers accept each other fully and completely for who they are: quirks, sins, and all. The biblical idea of "to know" one's spouse should not be just with intimacy and sex but to know all about them and to choose to love them unconditionally just as God loves us. This is the ideal for all Christian relationships, to be like Christ, and abounding in grace one for another, even as accountability and discipline may be required.
It is up to each spouse to know whether their confession of sins will help or harm the relationship, especially if it will permanently destroy it. We need to become much more like Jesus in calling out sin wherever it exists, especially in our own lives, while giving grace upon grace to our spouse. But we must also be wise as to how we share our lives and secrets knowing that some are not mature enough yet in Christ to be able to truly forgive and forget.
The Christian life is a walk in the Spirit. On these vital matters of life and the sharing of our secrets, let us be wise with the wisdom that only God can give. There is no formula for sharing secrets long held from our past. It can be truly freeing to do so with a spouse, and when grace upon grace comes in to meet the horrors of the sin, the relationship can become as strong as glue. But if you are married to a man who cannot deal with your past and it was a long time ago, I do not believe God wants us to just throw out our secrets if it will shatter them without hope of reconciliation, or if it brings no good out it except perhaps assuaging your guilt. Take that to the cross until the right time comes to share and know that that time may never come.
Brethren, I count not myself to have apprehended: but this one thing I do, forgetting those things which are behind, and reaching forth unto those things which are before, I press toward the mark for the prize of the high calling of God in Christ Jesus. Let us therefore, as many as be perfect, be thus minded: and if in any thing ye be otherwise minded, God shall reveal even this unto you.
Philippians 3:13-15
*I enjoyed most of her book immensely except for chapter two where she waters down women being silent in the churches and she claims that women can indeed be leaders/teachers in the churches. I am not sure why so many of the female Bible teachers/writers believe this when it's clearly against God's Word.
** The reason I wrote this is because I know two elderly women (one has passed on) who both had affairs while married many years before (more than 40 years ago). One confessed to her husband and children on her death bed which has caused so much grief for them. If it were to be confessed, it should have been confessed years ago, not on her death bed so they would have time to process it earlier and share many more good times with her. It's a painful last memory of her, and they wish they hadn't been told. The other one never told her husband who is now dead and none of her children know. She still grieves over it but her children don't since they don't know.