Contempt Kills a Marriage
Contempt Kills a Marriage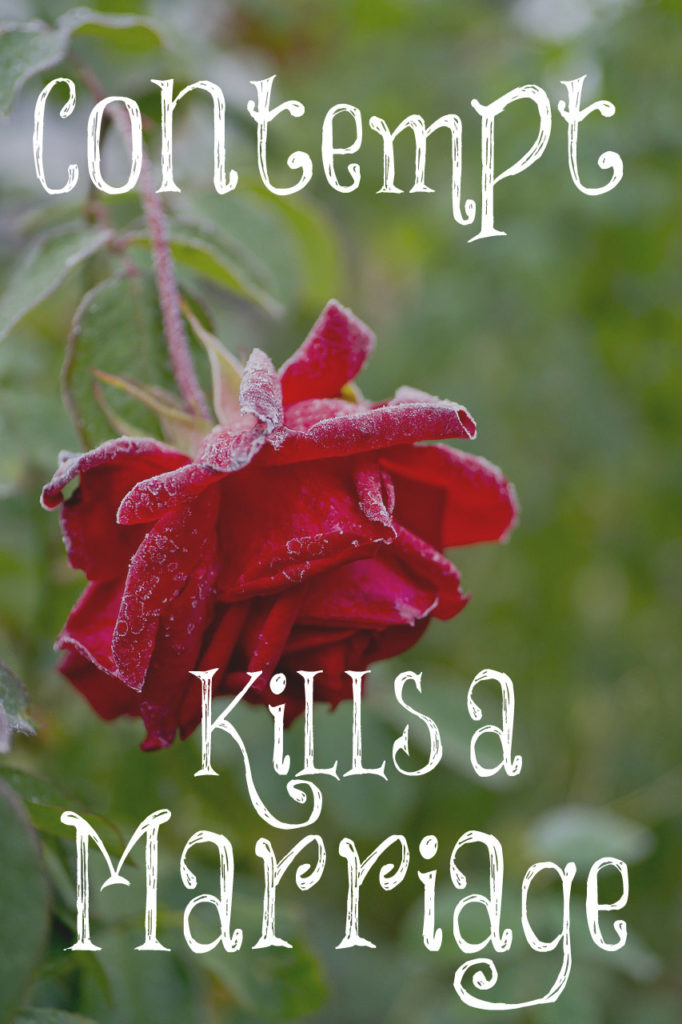 Many wives have contempt towards their husbands. I know since I used to have it towards my husband and I see many women having contempt towards their husbands by the way they treat them and talk about them. Contempt kills a marriage.
What is contempt? According to the dictionary, it means "the feeling that a person or a thing is beneath consideration, worthless, or deserving scorn." For some reason, it's easy for us wives to feel that we are better than our husbands so we treat them badly. How pathetic and ungodly is this? The very definition of love is being patient and kind. Contempt also means "lack of respect or reverence for something." God specifically commands wives to reverence their husbands since He knows how easy it is for us and our selfish pride to feel superior towards them. This is in direct rebellion to God's will for us.
The Pearls wrote an article for their 45 wedding anniversary and one of the things they have witnessed over their many years of mentoring couples is the destructive nature of contempt.
"Contempt (the act of despising) toward your spouse is deadly. It takes the form of silence—withdrawal, bitterness, or negative remarks. It is what the Bible calls 'constant drippings.' Wives are more likely to be guilty of expressing contempt, although some husbands develop and even perfect the art to their own unhappy demise. No marriage can undergo a regular dose of contempt and survive. Contempt is like arsenic: it is toxic and guaranteed to bring death. The constant drippings might take years, but they drain a relationship of all joy and peace.
"Resentment breeds contempt, whether the resentment springs from hurtful words, deeds undone, acts of selfishness, gross indiscretion, or any number of human failures. The key to remember is this: human failures are found in every marriage every single day. Even those who deem themselves the most perfect spouse are still given to human failures.
"But human failures are not the poison that brings slow death to marriages; it is resentment leading to contempt that is the ultimate destroyer. Often it is the 'good' spouse that kills the marriage with cool, reserved contempt. This is a truth that SCREAMS out to every counselor and therapist who deals with troubled marriages. It is the hardest thing to convey to the 'goodly wife.' As a young unmarried person, if you see any of this in your attitude toward your parents or others in authority, you will be bringing disease to your marriage. Get it straight while still single, or simply don't ever marry. As parents, when you speak of others in authority with contempt, whether it be a spouse or the preacher (constant drippings), you are instilling in your children a spirit that will be more destructive to their happiness than arsenic would be to their bodies."
How do we rid ourselves of showing contempt towards our husbands? We begin by actively choosing to love them by the way we treat them and the words we say to them. We immediately kick out any negative thoughts we have towards them. We show them kindness and grace. We are forgiving and merciful to them as our Heavenly Father is towards us. We confess our contempt towards them and ask for their forgiveness. We even ask them to hold us accountable if they ever sense we are disrespecting them in any way. This means we become vulnerable towards them which strengthens our marriages. Don't allow contempt to destroy your marriage any longer.
Love is patient, love is kind and is not jealous; love does not brag and is not arrogant,  does not act unbecomingly; it does not seek its own, is not provoked, does not take into account a wrong suffered, does not rejoice in unrighteousness, but rejoices with the truth; bears all things, believes all things, hopes all things, endures all things. Love never fails.
1 Corinthians 13:4-8